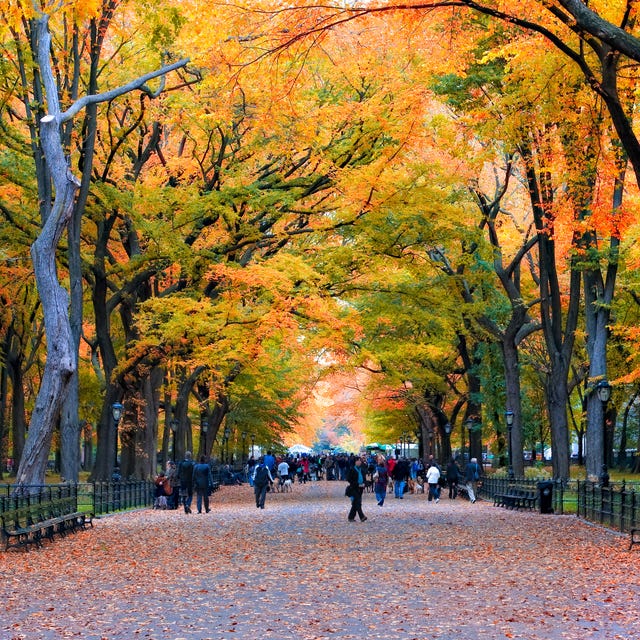 Kajo MerkertGetty Images
The end of the year is almost here and most of us likely haven't traveled nearly as much as we had planned—the pandemic, of course, made sure of that. But there is still time to make use of all the vacation days you've accrued for 2020 and finally peel yourself away from the endless routine of Zoom meetings and Netflix binges. While Europe is still closed to Americans, several destinations in the Caribbean, which are about to come out of hurricane season, are open and beckoning travelers with the promise of perfectly sunny weather, lots of frozen cocktails, and impeccable beaches. (Note: check with each individual destination's travel guidelines. Especially for the Caribbean spots on our list, while quarantines are no longer mandatory, a negative Covid-19 test usually is.) Prefer to stay in the U.S.? Several famous American locales, from Santa Fe to Charleston, are ideal spots this time of year, with pleasant temperatures and much culture to be enjoyed—with fewer crowds. Here is our guide to the ten best destinations for a November trip.
Advertisement – Continue Reading Below
New York City
Big cities haven't been the most popular destinations for coronavirus-era travel but hear us out: New York will be much less crowded than it usually is this time of year. Plus, the major museums (the Met, MoMA, Guggenheim, Whitney) are open, restaurants have begun limited indoor dining service, and November is peak foliage time in Central Park. There is really no time like now to experience the city like a local. Stay at the swanky Equinox Hotel at Hudson Yards, where—weather permitting—you can take an outdoor fitness class atop the Vessel or with panoramic city views from the Edge. For a classic experience, book a room at the Mark Hotel on the Upper East Side, which was one of the first luxury hotels in the city to reopen during Covid-19.
Read Reviews Equinox Hotel
Read Reviews The Mark Hotel
Riviera Nayarit, Mexico
Mexico never closed its borders to American travelers during Covid-19, making it a top destination for those in need of beach time and summer weather with an international vibe. On November 1, the posh One&Only brand of hotels will open its latest outpost, the One&Only Mandarina, located in Riviera Nayarit, a 200-mile stretch of Pacific coastline just an hour north of Puerto Vallarta. The hotel is both nestled in a lush rainforest setting and perched high on the edge of a cliff, so it's really the best of both worlds. Plus, all accommodations are standalone villas or treehouses, each with private pools and expansive terraces, which will surely make social distancing a breeze.
Book Now One&Only Mandarina
Santa Fe, New Mexico
Santa Fe is undoubtedly one of the most unique cities in America. It has rich Native American history, strong Spanish influences, and a vibrant arts scene. The Georgia O'Keeffe Museum is a must, as is Canyon Road, a half-mile stretch in the historic district that boasts the highest concentration of art galleries in the city, where you will find a diverse selection ranging from Fernando Botero sculptures to handwoven Navajo rugs. Also take the trip out to Ghost Ranch in Abiquiu (an hour's drive from Santa Fe). O'Keeffe was so impressed by this 21,000-acre retreat that she lived there for forty years and prominently featured its landscapes in her work. Back in Santa Fe, stay at the Rosewood Inn of the Anasazi, a boutique hotel located in the center of town with 58 rooms decorated in an elegant Southwestern style.
Read Reviews Rosewood Inn of the Anasazi
Charleston, South Carolina
It's no wonder this charming southern city, which turned 350 this year, has become an increasingly popular destination—it has rich history, so much delicious food (don't miss Fig and 167 Raw), swoon-worthy architecture, and, perhaps most importantly, unparalleled southern hospitality. Mild temperatures (think high 60s and low 70s) during the month of November make it an ideal time to visit. While you're in town, be sure to check out the South Carolina Historical Society Museum and the Gibbes Museum of Art for important lessons on Charleston's complicated history. Also consider a day trip out to Sullivan's Island, where you might go for a long stroll on the beach before stopping by the Obstinate Daughter for pizza. There are plenty of great boutique hotels to choose from, but a few of our favorites include 86 Cannon, Zero George, and The Dewberry.
Read Reviews Zero George
Read Reviews 86 Cannon
Read Reviews The Dewberry
The Ozarks, Missouri
The Ozarks may be known as a quintessential summer destination, especially with all the fun to be had on the lakes, but it is equally enticing in the fall. Plan a trip earlier in the month to take advantage of the region's foliage season and participate in season-appropriate activities like pumpkin picking and corn mazes. Avid golfers are in particular luck: Tiger Woods designed his first public access golf course, Payne's Valley, here, which opened in September. Book a cozy cabin at the Big Cedar Lodge, a wilderness resort that sits on 4,600 acres of lakeside land. Its owner, Johnny Morris, is known as the "Walt Disney of the Outdoors" so you can rest assured there will be plenty to do here, whether it's fishing, boating, or hiking. And here's a day trip idea: Bentonville, Arkansas, headquarters of Walmart and home of the Waltons, the company's ultra-wealthy scions, who have funded the city's museums (Crystal Bridges), parks (Osage Park), and much else, is less than two hours away.
Read Reviews Big Cedar Lodge
La Romana, Dominican Republic
The Dominican Republic is going one step further than other destinations in instilling peace of mind to incoming travelers. On September 15, its government announced that it would provide free travel and health insurance to all tourists for the rest of this year, covering emergency hospitalizations and any medical, housing, or airline change needs if a visitor is stricken with Covid-19 during his trip. Stay at the iconic Casa de Campo, which used to be the seaside retreat of industrialist Charles Bluhdorn, who commissioned Oscar de la Renta to do the interiors. Since 1984, it has been owned by the Fanjul family, who turned Casa de Campo into a sprawling 7,000-acre luxury resort with three championship golf courses, an equestrian center, a marina, and a robust selection of beautiful 3- to 12-bedroom villas (along with more than 200 hotel rooms).
Read Reviews Casa de Campo Resort & Villas
Palm Springs, California
Months of triple digit temperatures finally come to an end by November in this California desert oasis, making activities like hiking (put Joshua Tree National Park on the itinerary), pool time, and alfresco dining all the more enjoyable with temperatures in the high 70s. As for hotels, the Instagrammable options are endless. Opt for a classic like the Parker, Colony Palms, or L'Horizon, which are generally considered the area's top hotels, or stay in one of the area's signature Midcentury Modern homes (Airbnb has hundreds available) to live out your Slim Aarons fantasies. Or for a real splurge—and one-of-a-kind experience–rent out Twin Palms, Frank Sinatra's legendary Palm Springs hideaway, which has four bedrooms, a piano-shaped swimming pool, and tons of Sinatra memorabilia.
Read Reviews Colony Palms Hotel
Read Reviews The Parker Palm Springs
Read Reviews L'Horizon Resort & Spa
Read Reviews Frank Sinatra's Twin Palms Estate
Oracabessa, Jamaica
While on a World War II naval mission in 1942, British intelligence officer Ian Fleming became so enamored with this remote paradise in Jamaica that he later came back and built a 15-acre property—which he called GoldenEye—from which, over more than two decades, he would write each of his 14 James Bond novels. Today, GoldenEye is an idyllic resort of charming huts, cottages, and villas (Fleming's original standalone villa, preserved just the way he left it, can be rented out as well) that has mastered the home-away-from-home vibe. There is no signage on the road or the usual trappings of mega resorts, just authentic food, delicious drinks, and ultra-friendly service. The upcoming November 20th release of the latest 007 movie, No Time to Die, makes this the perfect month to pay a visit and live like Fleming for a little while.
Read Reviews GoldenEye
Arenal National Park, Costa Rica
Visitors from select U.S. states are able to travel to Costa Rica (currently that includes residents from New York, Pennsylvania, New Jersey, Connecticut, Massachusetts, Arizona, and Maine), along with meeting certain other requirements. Once you've made it past the borders, head to Nayara Tented Camp, the latest property from the company behind Nayara Springs and Nayara Gardens. Like its sisters, the tented camps are also located in Arenal Volcano National Park, the massive protected area of rainforest, hot springs, flora, and fauna that surrounds its namesake volcano. The property is glamping at its finest. Each luxuriously appointed accommodation is incredibly spacious (1,700 square feet), has outdoor showers, and is outfitted with a plunge pool fed by natural mineral hot springs. But the best part? They're all built on stilts to maximize views and minimize the carbon footprint, meaning every tent affords unobstructed views of Arenal Volcano.
Read Reviews Nayara Tented Camp
More: The Latest Trend in High-End Travel? The Takeover.
St. Bart's
The one percenters' island playground has been open to non-essential travelers since June. As it has only been a few years since the entire island had to rebuild itself after Hurricane Irma's destruction in 2017, expect everything to be fairly new. The latest to join the list of super upscale properties on St. Bart's is the Hotel Barrière Le Carl Gustaf. Opening in October, the hotel has 23 rooms, most with plunge pools and private terraces looking out onto the picturesque, yacht-dotted harbor of Gustavia. Then there's Hotel Le Toiny on the other side of the island, which reopens for the season on October 31, with its 22 uber-private and spacious villas, each one measuring over 1,000 square feet and equipped with private pools and ocean views.
Book Now Hotel Barrière Le Carl Gustaf
Read Reviews Hotel Le Toiny
This content is created and maintained by a third party, and imported onto this page to help users provide their email addresses. You may be able to find more information about this and similar content at piano.io
Advertisement – Continue Reading Below