Road trips are a quintessential way to see as much as possible in a single vacation. As more and more roads crisscross the country, it becomes more and more challenging to find the perfect route that makes the most of each stop. Certain interstates and highways create the perfect straight shot from one attraction to the next, while other states have convenient loops that lead travelers around the scenery.
Regardless of starting point, any well-planned trip has the ability to create once-in-a-lifetime memories. History buffs, hiking enthusiasts, and casual adventurers can all find their perfect route. While no one road can possibly hold all the country's secrets, each has a unique experience waiting to be found.
10
Route 2: The Great Northern Road Trip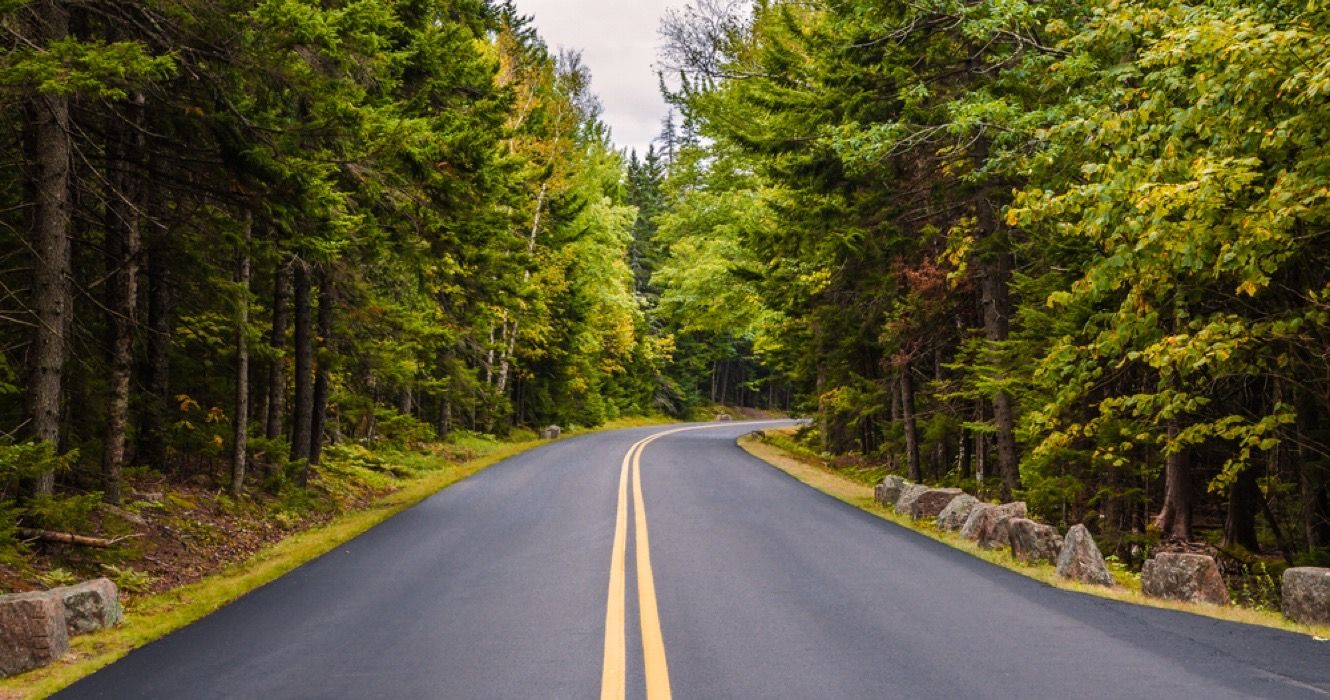 Road through Acadia National Park, Maine
Spanning the country from Maine to Washington, the Great Northern Road Trip spans over 2,000 miles. Travelers starting in Maine can immediately stop at Acadia National Park before leaving the country and venturing into Canada. Passing through Ottawa and Montreal, the route heads back into the states through Michigan, setting up detours by the Great Lakes for those with the time. From there, it's a straight shot through North Dakota and Montana and Glacier National Park, where a day or two has to be spent taking the Going-to-the-Sun Road. The grand finale is the big city of Seattle, with a number of metropolitan sites, including the world-famous Space Needle. With so much to see along one road, this is one road trip that could be done time and time again without ever getting repetitive.
Distance:
2,115 miles

States Visited:
Maine, Vermont, New Hampshire, Canada**, Michigan, Wisconsin, Minnesota, North Dakota, Montana, Idaho, Washington.
**This road trip does leave the country, and passports are required to cross the border to stay on Route 2.
9
Chicago To Los Angeles: Historic Route 66 Road Trip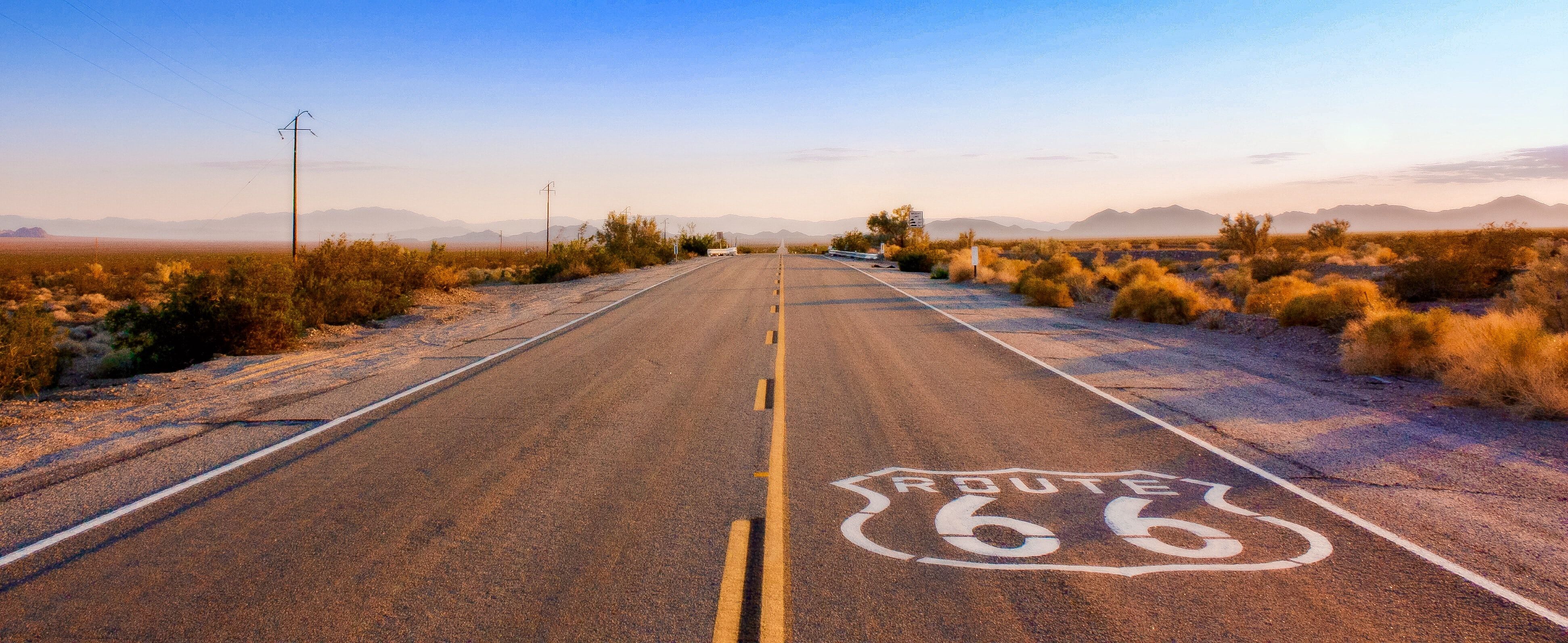 The world-famous Route 66
The original interstate road trip, Route 66, continues to be one of the most iconic routes in the United States. Starting in Chicago, Route 66's start is marked symbolically by Millennium Park, with the road itself pointed southwest. Passing through the Midwest, and Southwest, and winding through to the Los Angeles coast, this trip offers a little bit of every kind of scenery. Along the way, historical landmarks like the Rock Creek Bridge in Oklahoma are regular occurrences, and quirky roadside attractions pepper the highway. The entire trip has a very retro vibe, staying true to the 1950s heyday of Route 66.
Distance:
2,400 miles

States Visited:
Illinois, Missouri, Kansas, Oklahoma, Texas, New Mexico, Arizona, and California
Related: 20 Stops On Route 66 Worth Planning Your US Road Trip Around
8
Appalachian Mountains: Blue Ridge Parkway Road Trip
Blue Ridge Parkway
Those looking for a slower, less distance-heavy road trip can enjoy a calm drive along the Blue Ridge Parkway. Under 500 miles from Afton, Virginia, to Cherokee, North Carolina, the speed limit along this route never passes 45 miles/hour. Following the Appalachian Mountains, the many views along this relatively uninhabited road make it worth stretching the drive into multiple days. Little towns and historic points like Humpback Gap in Virginia pay tribute to the history of the area, marking where pioneers and their wagon trains used to cross. Craggy Gardens and Natural Bridge State Park each offer another day trip and beautiful views as travelers continue southwest toward their final destination. The shorter distance of this road trip gives drivers the perfect opportunity to add as few or as many stops as they need to make this the perfect trip.
Distance:
469 miles

States Visited:
Virginia, North Carolina
Related: 10 Beautiful Stops Along The Blue Ridge Parkway
7
Highway 1: Pacific Coast Highway Road Trip
the sunset over the pacific coast highway in big sur, california
Spanning most of the length of the California coast, the Pacific Coast Highway does exactly as it describes. Following the coastline, Highway 1 runs from Orange County in Southern California up to Mendocino County above San Francisco. Along the way are many picture-perfect spots along the beaches, as well as beach-side towns and eats. Drivers can stop and whale watch at Big Sur, eat lunch on Pier 39 in San Francisco and tour the Santa Barbara Mission. Multiple state parks and beaches are quick offshoots from the road, as are picturesque forests and national parks that reside just a little further inland. While the nature of this coastal drive requires more technique and a slower, more patient approach, the sheer number of sites to be found make it well worth the time.
Distance:
620 miles

States Visited:
California
Related: As Far As Solo Road Trips Go, California's Highway 1 Is One Of The Best
6
The Mighty 5: National Parks Of The Southwest Road Trip
Amazing view of Zion National Park, Utah
Many road trips are about the journey, but in this case, the Mighty 5 Road Trip is all about maximizing destination stops. The state of Utah is home to five of the most impressive National parks in the southwest, if not the country as a whole. Zion National Park, Bryce Canyon, Capital Reef, Canyonlands, and Arches National Park are all close enough to one another in the southern part of the state that determined travelers can visit all five bucket list items in one sweep. Each of these parks could easily be a trip in and of itself, so making the most of this road trip requires plenty of advanced planning. With numerous hikes, canyoneering, and general sightseeing to do, this point-to-point Road Trip is perfect for any outdoor adventurer.
Distance:
370 miles

States Visited:
Utah
5
California To New Jersey: I-80 Road Trip
Cuyahoga Valley National Park, Ohio
I-80 is perhaps the most quintessential cross-country road, starting in San Francisco and continuing all the way to Teaneck, New Jersey just outside New York. These two major cities are worthy of plenty of exploration, but the stops in between are equally exciting for those who take the time to get to know them. Travelers along this route can stop at some of the best rockhounding sites in the country as they go through Reno, Nevada, explore historically significant Ice Caves in Superior, Wyoming, and even enjoy a picnic at the Cuyahoga Valley National Park in Ohio. Major cities such as Salt Lake City, Utah, Omaha, Nebraska, and Des Moines, Iowa, mean that culinary options will be plentiful, as well as cultural offerings like museums and heritage sites. With 11 states worth of attractions to go through, the hardest part of this road trip is narrowing down the list of stops to make.
Distance:
2,900 miles

States Visited:
California, Nevada, Utah, Wyoming, Nebraska, Iowa, Illinois, Indiana, Ohio, Pennsylvania, New Jersey
4
Florida Keys: Overseas Highway Road Trip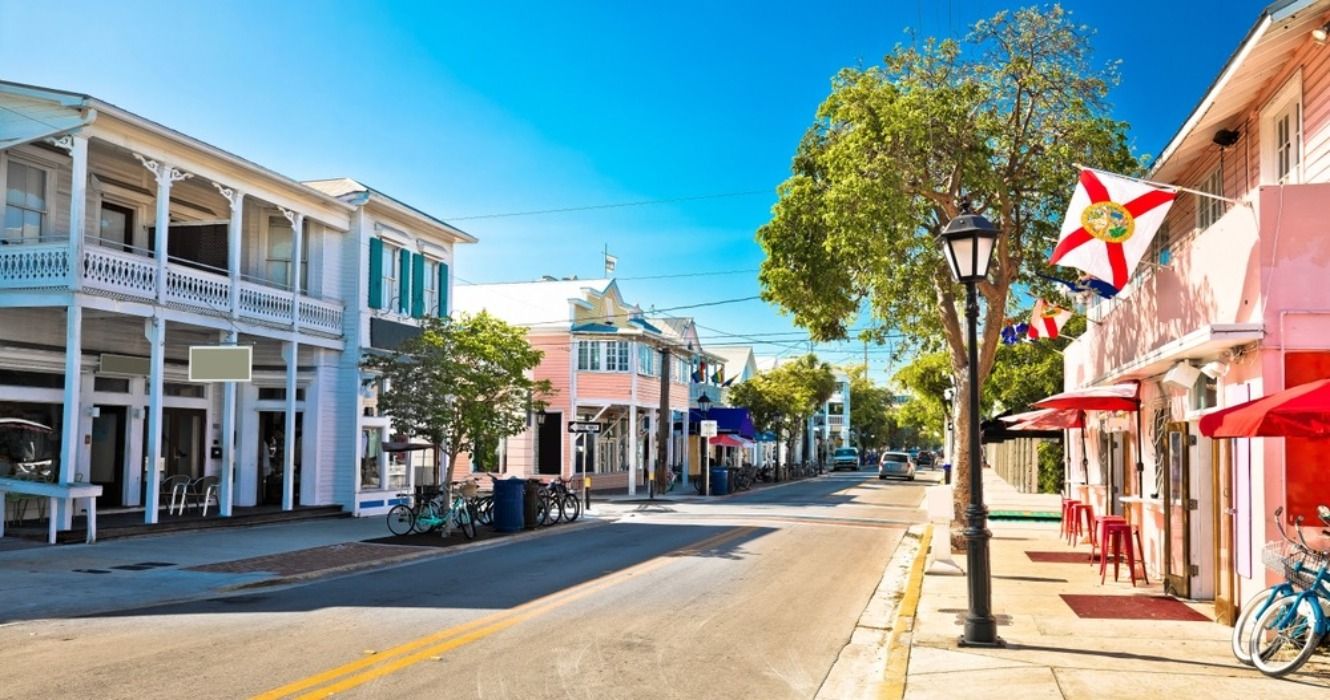 Duval Street Key West, Florida Keys
At first glance, the Overseas Highway doesn't necessarily stand out as a road trip path. The Overseas Highway was constructed to connect the hundreds of small islands that form the Florida Keys Archipelago. At barely over 100 miles, driving end to end only takes about three hours, but to do so would mean passing by nearly endless unique stops. The Florida Keys offer multiple opportunities to go snorkeling over the reefs, sunbathe on pristine beaches, or take a boat out to offshore landmarks such as the Christ of the Deep and Alligator Reef Lighthouse. Food options are plentiful along the islands, with fresh, local seafood available everywhere. The Laura Quinn Wild Bird Sanctuary, Dolphin Research Center, and multiple state parks give travelers plenty of opportunities to enjoy not just the beaches but the wildlife that calls this unique stretch of an island home. With so much to do, it's clear why this little stretch of highway is worth its own road trip adventure.
Distance:
113 Miles

States Visited:
Florida
Related: 10 Natural Attractions In Florida That Will Change How You See The State
3
The Loneliest Road: Highway 50 Road Trip
Lake Tahoe winter vacation spot 
The Loneliest Road may not sound like a fun path to follow on a road trip excursion, but this cross-country route is full of hidden treasures. Highway 50 starts at the same place as its busier counterpart I-80, in San Francisco. Before long, however, the paths diverge, with the lonely road favoring the less inhabited parts of the country. The first must-see is Lake Tahoe, which straddles the border of California and Nevada. This deep blue lake is a perfect day trip, with black sand beaches, boating, paddleboarding, and fishing all at one's fingertips. After a day on the lake, the terrain shifts to the deserts and red rocks of the southwest, passing through multiple state and national parks, including the Arches in Utah. The rough heat gives way to the Great Plains through Kansas and Missouri, before going over the Appalachians and heading towards Washington D.C. in Virginia. The grand finale is Ocean City, Maryland, just over 3,000 miles from where the road began on the opposite coast. While stretches of this lonely road may require extra planning for gas stops and resources, the vast stretches of natural beauty along the path make it worth the planning.
Distance:
3,073 miles

States Visited:
California, Nevada, Utah, Colorado, Kansas, Missouri, Illinois, Indiana, Ohio, West Virginia, Virginia, Maryland
2
Texas Hill Country Road Trip
Highway 71 bridge over the Llano River in Texas Hill Country
Unlike the majority of these routes that follow a point-to-point path, the Texas Hill Country Road trip makes a loop through some of Texas' best small towns and state parks. Starting and ending in Wimberly, travelers first head north towards the Hamilton Pool Reserve for a dip in the cool waters before heading west to Fredricksburg, a German-themed little town full of schnitzel and polka music, as well as numerous museums. Those hoping for an authentic Texan barbeque will have plenty of opportunities to pick their favorite hole in the wall as they turn south towards Natural Bridge Caverns, where tours are available to maximize exploration before heading to the Comal River for some tubing. Headed back to Wimberly, drivers can stop at any number of the small towns, scenic vistas, and tasty food stops that are all along this unique loop of Texas road.
Distance:
189 miles

States Visited:
Texas
Related: 8 Best Restaurants To Try In Texas Hill Country
1
Seward Highway: Anchorage To Seward Road Trip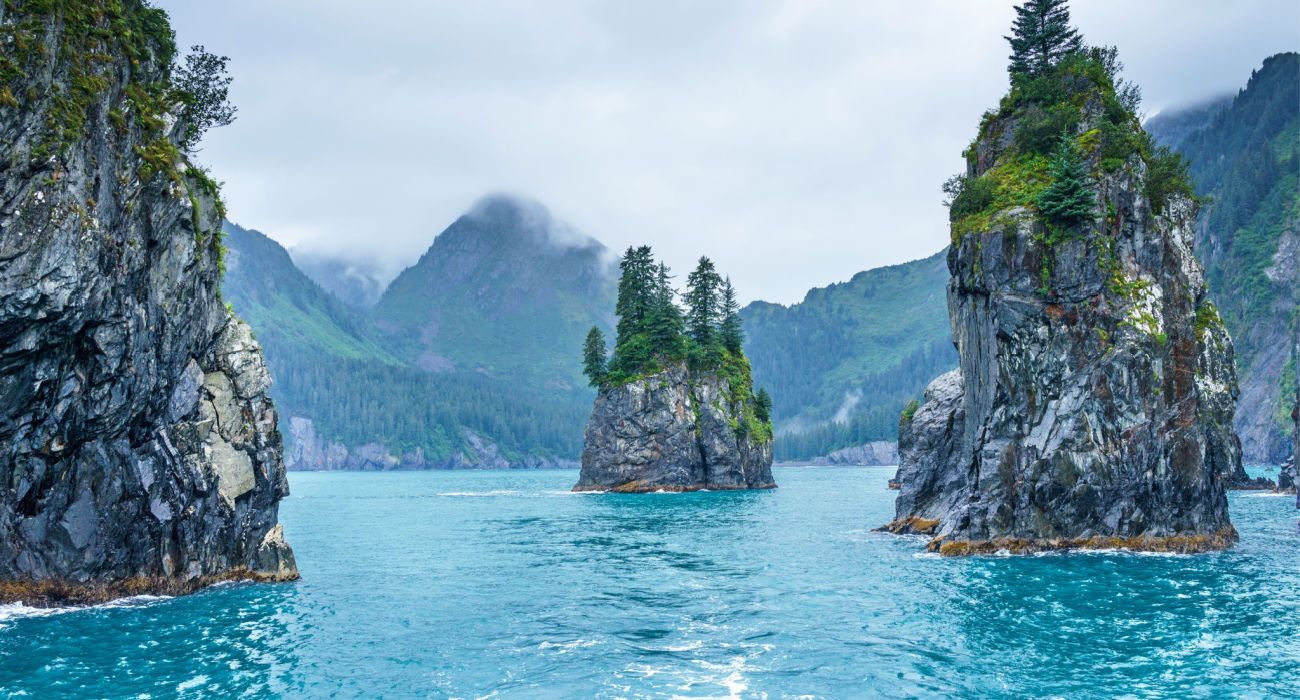 Porcupine bay at Kenai Fjords National Park, Alaska
Alaska is full of truly unique, picturesque scenery, and the drive from Anchorage to Seward is a wonderful snapshot of those landscapes. As the only road connecting these two cities, this road trip is fairly easy to navigate. Highlights include Flattop Mountain, Turnagain Arm, the Alaska Wildlife Conservation Center, and Kenai Fjords National Park, all of which offer walking and hiking paths, once-in-a-lifetime views, and unparalleled access to the native wildlife. Designated as a National Forest Scenic Byway, the stops along this route are numerous enough to stretch these hundred miles into a multi-day trip.
Distance:
127 miles

States Visited:
Alaska