Take a dinner cruise on the French sailing yacht Cru Classé. Photograph of yacht by Damon Bowe.
Affordable Picnics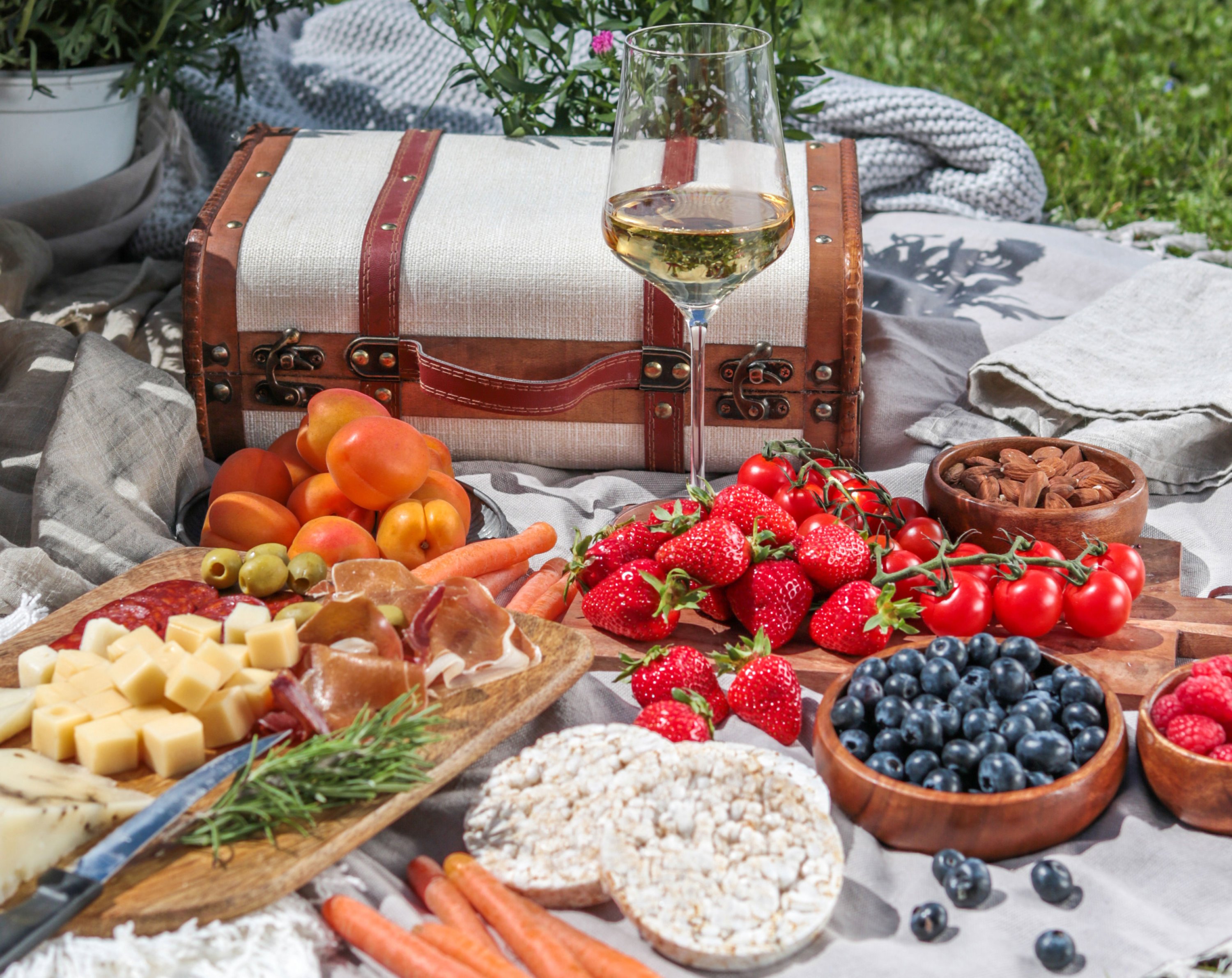 For a date with a flexible budget, stock a basket with fare from local markets and restaurants, then unroll a blanket for an open-air feast. Here are four pairings that make date plans a walk in the park.
---
Charming Waterfront
What to eat: Split a cheese-and-charcuterie board ($32) from Hummingbird in Old Town Alexandria. The tray comes with mustard, jam, and crostini for a complete spread—no forks needed. Where to go: Walk down the cobblestone street to Founders Park, where flowering trees and boats bobbing on the Potomac make for a romantic backdrop.
---
Classic Park Picnic
What to eat: Grab sandwiches ($8 to $11) from the deli counter at Mount Pleasant's Each Peach Market. The menu includes handheld options such as bánh mì and a ham-and-butter sandwich. Where to go: Take your haul to Meridian Hill Park's upper level, overlooking downtown DC. Hang in the central plaza or find a nook under the trees.
---
Mediterranean-Minded
What to eat: Green Almond Pantry in Georgetown has a variety box ($16) of Mediterranean salads to pair with crackers. Where to go: Georgetown's Waterfront Park is a popular spot, thanks to grassy expanses with river views. A seat on the steps brings you close to the ducks.
---
Picnic and Pedal
What to eat: Build a cheese-and-charcuterie box ($33 for a selection that serves two) at Grand Cata, the Latin market in La Cosecha food hall near Union Market. Where to go: The spacious lawn at Alethia Tanner Park. Looking for a post-picnic activity? The park is along the Metropolitan Branch Trail, providing easy bike access.
Take a Stroll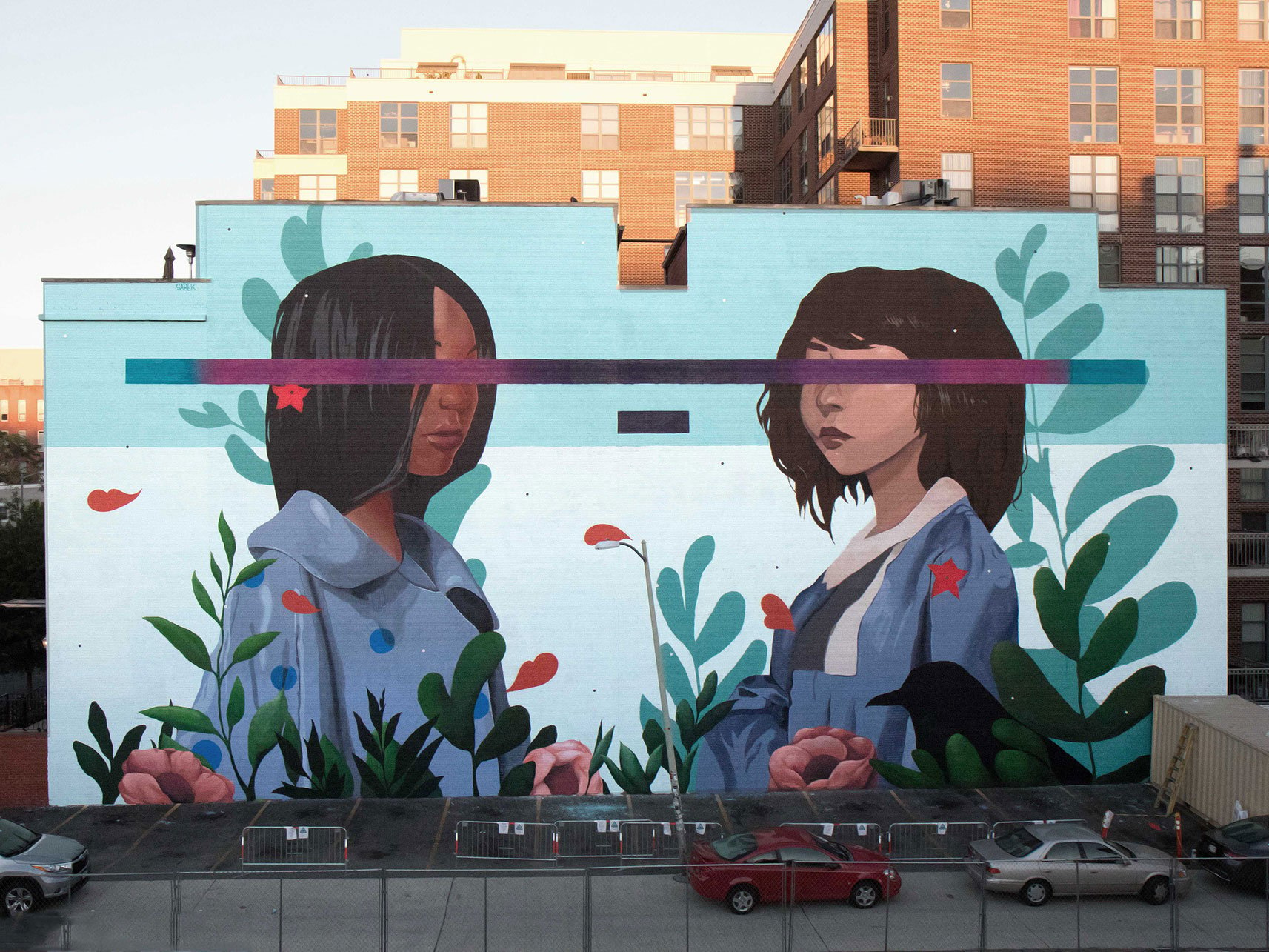 Take hand-in-hand strolls to the next level with self-­guided walking tours themed around different sights and subjects. Tours with compelling stories can spark conversation, whether you're just getting to know each other or out with a longtime partner.
---
Best for Cherry Blossoms
Crowds can make private moments hard to come by during peak bloom at the Tidal Basin. An alternative: the National Arboretum, which offers quiet­er places to sneak a kiss under the petals. Download the arboretum's app with 27 stops and information about trees flowering from early March to late April. The 3.2-mile loop meanders past romantic spots such as the azalea garden and woodland wildflowers.
---
Best for Colorful Art
More than 152 murals in the District offer an artsy pathway for aesthetes. MuralsDC's website supplies a map, for example, of ten paintings in the U Street corridor, some with images of aspirational couples Barack and Michelle Obama and Ben's Chili Bowl founders Ben and Virginia Ali. Depending on how long you pause at each, the walk lasts about 30 minutes, so find a cafe en route—we recommend the Wydown on 14th Street—to extend the date.
---
Best for Exploring History
Travel through time on self-guided tours compiled by the DC Preservation League and published on their website. A handful of excursions are better suited to cars, while those through neighborhoods such as Capitol Hill, Georgetown, Southwest DC, and Kalorama are walkable. The itineraries also share the story behind each spot. Other trails look at abstract sculptures, libraries, historic interiors, and more.
---
Best for Design and Architecture
Modern love meets midcentury-­modern design during a stroll through Alexandria's Hollin Hills. The neighborhood is known for its sleek, minimalist houses, inspiring a biennial tour of some interiors. The next official outing isn't until 2024, but the Hollin Hills House + Garden Tour publishes past programs online, so you can check out the facades, leafy landscapes, and outdoor art on your own. There are even modernist Little Free Libraries.
Splurge
Posh Picnics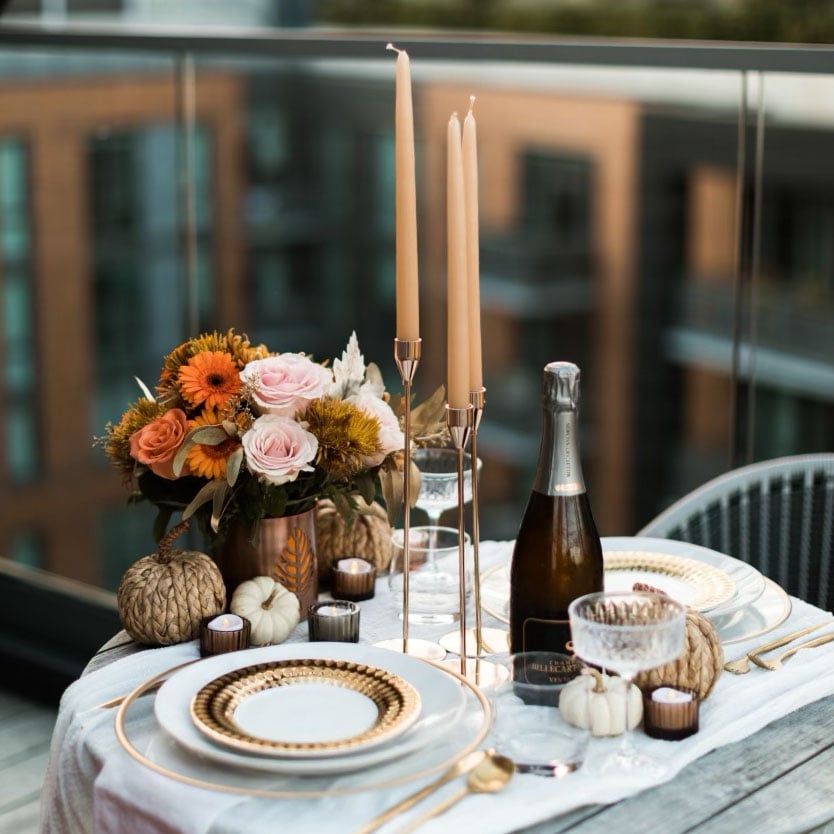 A picnic can also be a posh event—and you don't need to orchestrate the details on your own. Choose a pretty destination and these companies will arrange low tables, pillows to sit on, as well as elaborate table­scapes, shareable fare, and lush rugs for an extra-special outing. Once you've finished, they'll do all the cleanup. Many companies require picnickers to secure permits for public spaces, or to keep to private property, so be sure to inquire in advance.
---
Menus and Music
At Picnic and Unwind, a personal chef can prepare a four-course brunch, or it can deliver dinner from a restaurant within three miles of your location. Weather concerns? Dine in a heated igloo or opt for the shade of a cabana. The company can even recruit a violinist to play a dreamy musical score. Packages start at $275.
---
Picture-Perfect
If your date is all about the Instagram, Picnics and Peonies' over-the-top table­scapes are made to be photographed for the feed. The company works with you to select a color palette and accessories to suit the mood, partnering with vendors for extra touches such as flower displays, a portable fire pit for s'mores, and cascading balloon arches. Packages start at $349.
---
The Big Screen
Turn your alfresco meal into an intimate movie night with films projected on a 16-foot screen. Potomac Picnics can bring piles of pillows and blankets (for a thoughtful touch, select your screening partner's favorite hues), plus twinkle lights for ambience. You can even request your preferred candy and soda to go along with gourmet popcorn. Movie packages start at $500.
Venture Out in a Hot-air Balloon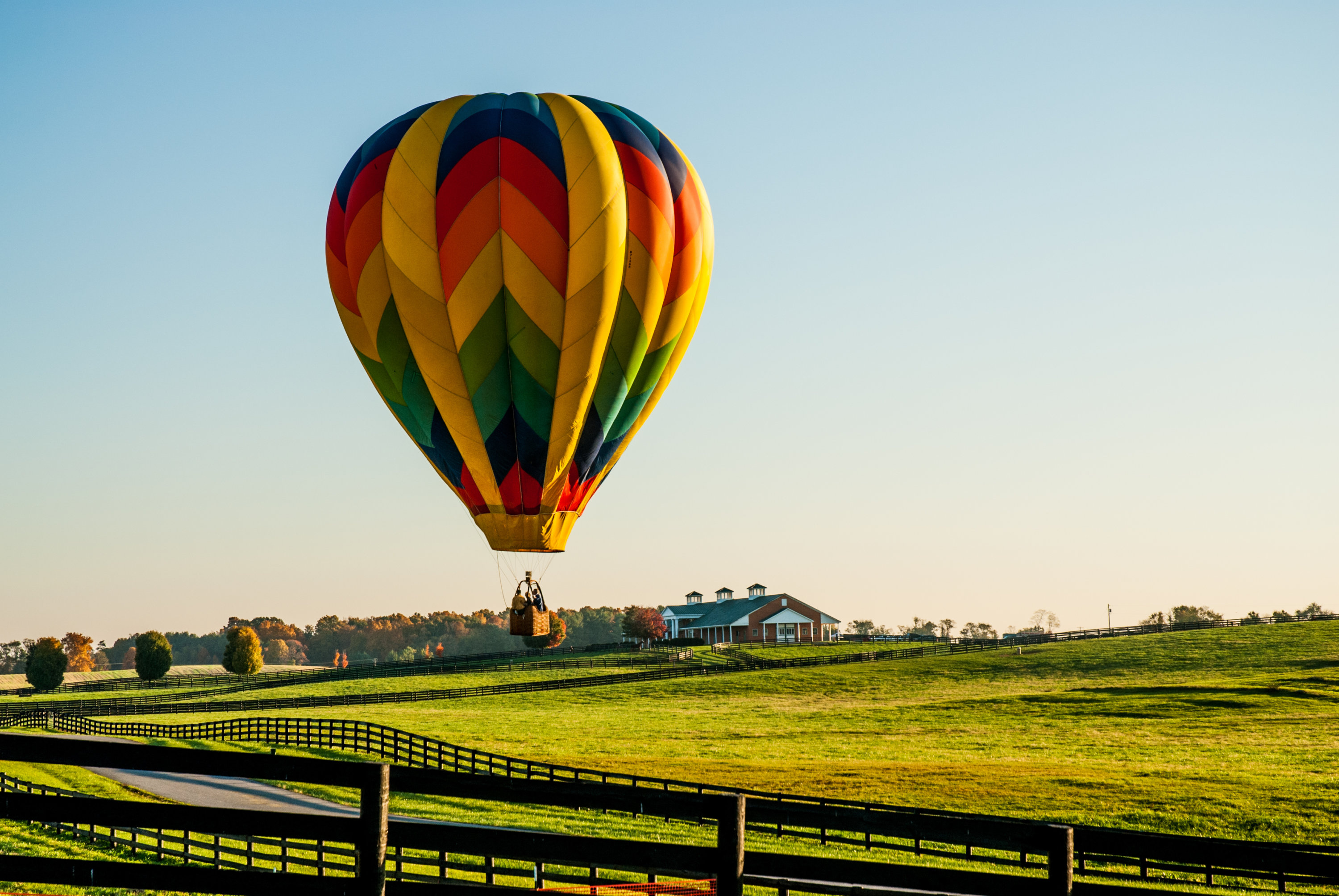 A hot-air-balloon ride can be incredibly romantic: snuggling in the basket, enjoying panoramic views, floating upward until you feel like you're the only people in the world. Drive out to Woodstock, Virginia, for your own scenic sail over the Shenandoah Valley. Valley Ballooning offers cruises in the morning and in the evening, when you might catch the sky changing colors as the sun sets behind the mountains. A private flight for two costs $800, and flights typically last 30 to 75 minutes. What you'll see depends on the wind's direction. You could hover above the seven bends of the winding Shenandoah River, see the Allegheny Mountains in the west or Massanutten Mountain in the east, or float over farmland. Excursions happen year-round, but the best weather for ballooning is typically April through November. If you fly in the morning, you could turn the day into a wine-country excursion, while evening trips can drift into a dinner date.
Cruise on a Boat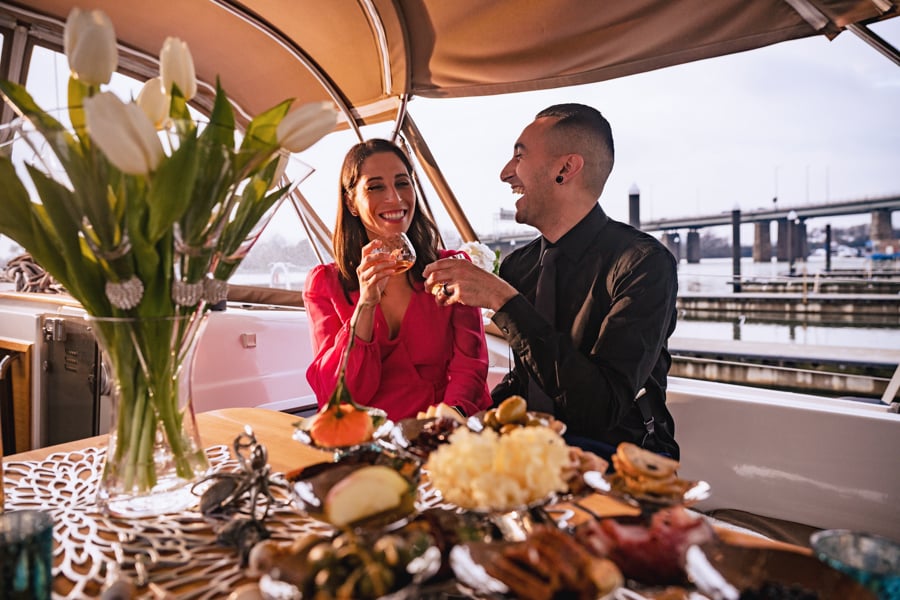 The yacht-charter company Nautiste brings couples aboard for sunset dinner cruises. The fleet features two motor yachts, the 72-foot Patriot and the more intimate 42-foot Independence, as well as the Cru Classé, a 47-foot French sailing yacht. Climb on deck at the Wharf, gliding to sights such as the Lincoln Memorial as the sun reflects off the river. The anchor drops, and dinner is served. Chef and sommelier Troy Knapp's four-course menu might have oysters with mignonette pearls or an elaborate charcuterie display, and there's an optional pairing with Champagne and Provence rosé. Prices start at $411 a person, with a minimum of four guests (ideal for a double date), or you can pay double for a two-person cruise. Bookings open March 1.
This article appears in the March 2023 issue of Washingtonian.