All eyes were on Kenya as the East African nation hosted the final leg of the inaugural World Athletics Continental Tour Meeting at the newly refurbished Nyayo National Stadium on Saturday.
Being the first major sporting event in Africa since the outbreak of Covid-19, the organisers left nothing to chance to ensure the historic Kip Keino Classic left a legacy for Kenyans.
The mouth-watering event tested Kenya's readiness for sports amid the coronavirus pandemic.
The Standard Sport followed the showpiece and below is how the events unfolded.
NOTE… the first event of the day (Saturday 3/10/2020) is at the bottom of this story.
Read More
Final race of the day:  
Kip Keino Classic: 3000m Women's Steeplechase
1. Beatrice Chepkoech – 9:29.05
2. Jepkemoi Hyvin Kiyeng – 9:34.07
3. Roseline Chepng'etich – 9:46.14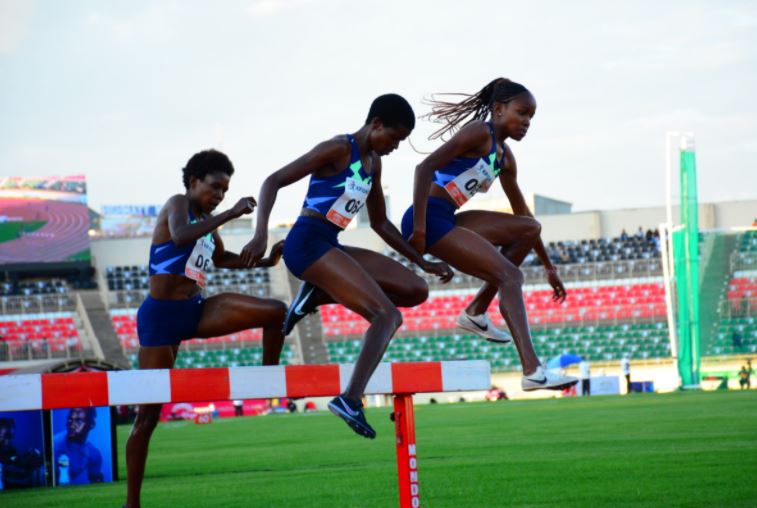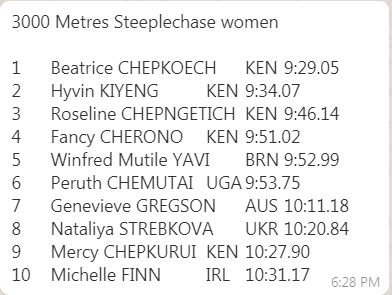 Kip Keino Classic: Men's 800m
Kenya's Ferguson Rotich won comfortably ahead of Australia's Deng.
1. Ferguson Rotich 1:44.78 (Kenya)
2. Joseph Deng 1:45.21 (Australia)
3. Wycliffe Kinyamal 1:45.52 (Kenya)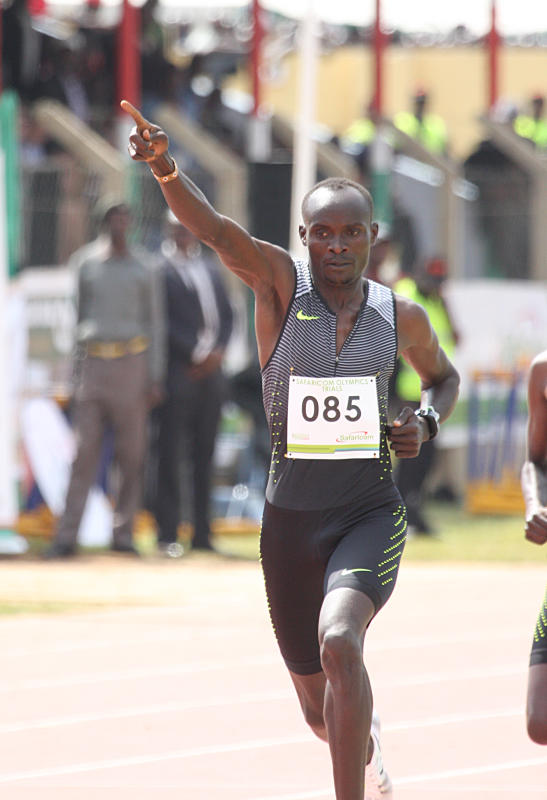 Kip Keino Classic: Women's 5000m
Kenya's Hellen Onsando Obiri won the 5000m in 15:06.37 as counterparts Agnes Tirop and Margaret Kipkemboi came second and third respectively.
Hellen Obiri 15:06.36 (Gold)
Agnes Tirop 15:06.71 (Silver)
Margaret Kipkemboi 15:11.11 (Bronze)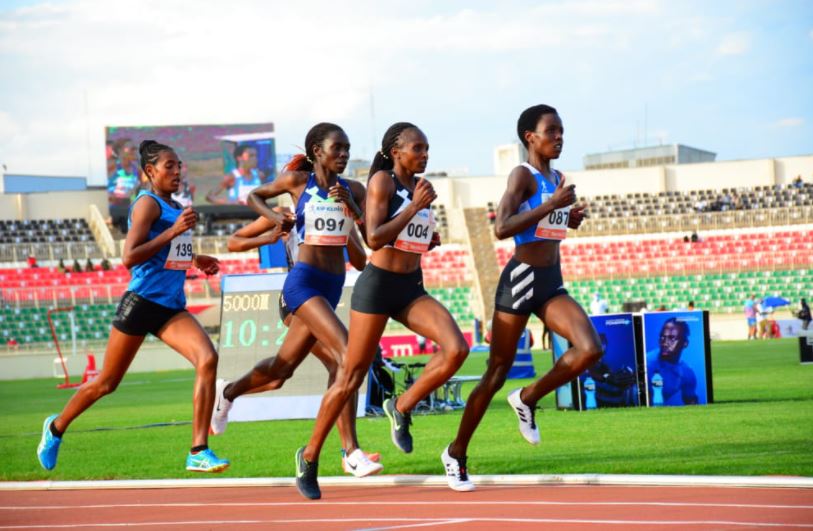 Kip Keino Classic: Men's 1500m
Kenya's Timothy Cheruiyot won it easily clocking 3:34.32.
Kenyans won the Gold, Silver and Bronze medals in this one.
1. Timo Cheruiyot 3:34.31
2. Kumari Taki 3:35.00
3. Abel Kipsang 3:35.43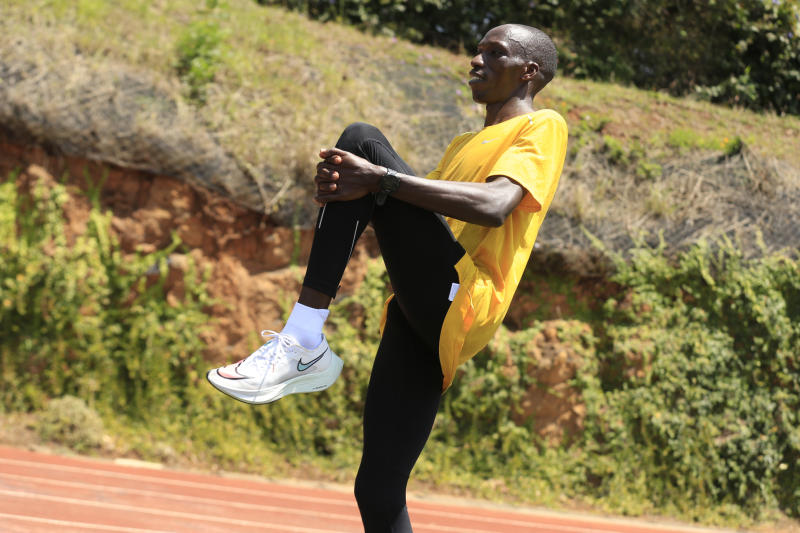 Kip Keino Classic: Women's 200m
British sprinter Kristal Awuah won the women's 200m race at the Nyayo Stadium in 23.04.
1. Kristal Awuah  23.05 (United Kingdom)
2. Bassant Hermida Flag of 23:13 (Egypt)
3. Njobvu RodahFlag of 23:18 (Zambia)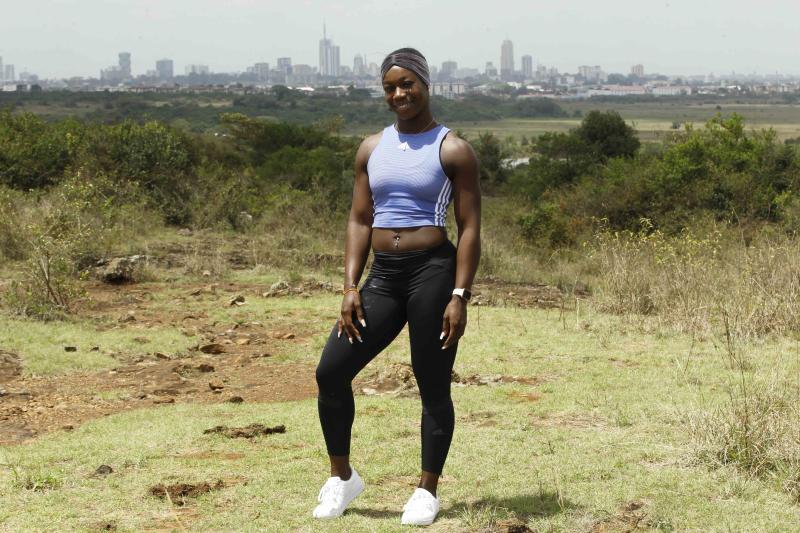 Kip Keino Classic: Men's 400m hurdles
1. William Mbevi – 51:27 (Kenya)
2. Nicholas Chirchir -51.48 (Kenya)
3. Edward Ngunjiri -51.91 (Kenya)
4. Aaron Koech -51.96 (Kenya)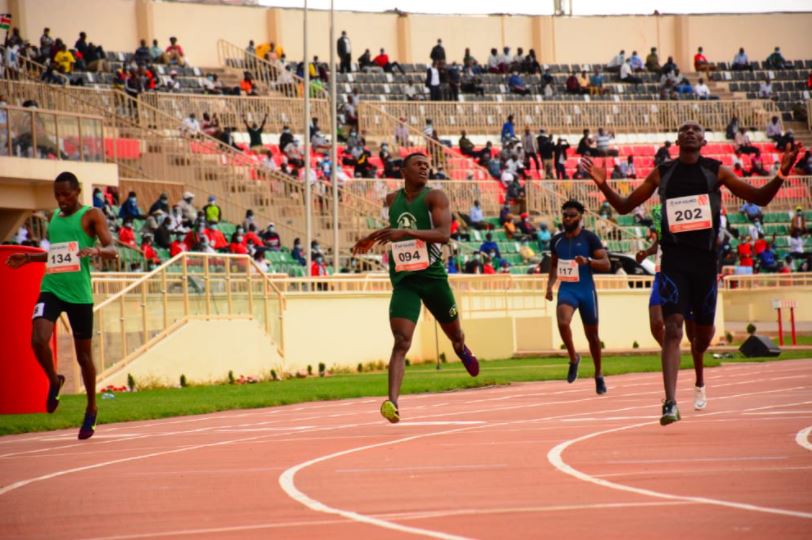 Kip Keino Classic: Men's 3000m steeplechase
1. Abraham Kibiwott 8:17.62 (Kenya)
2. Leonard Bett 8:17.63 (Kenya)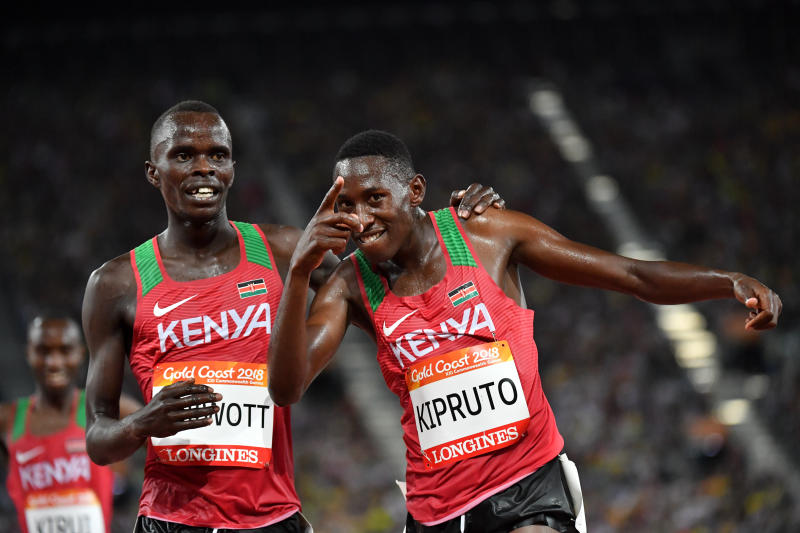 Kip Keino Classic: Women's 800m Final
1. Nelly Jepkosgei 2:02.07 (Kenya)
2. Eunice Sum 2:03.73 (Kenya)
3. Eglay Nalyanya 2:04.98 (Kenya)
4. Winnie Nanyondo 2:05.74 (Uganda)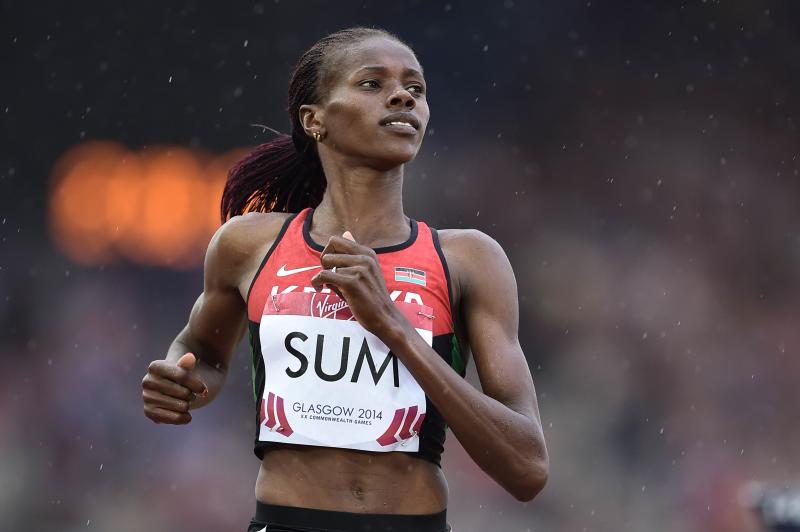 Kip Keino Classic: Men's 400m
Kenya's Jared Momanyi took Gold in 46.12 as Emmanuel Ojeli from Nigeria won Silver.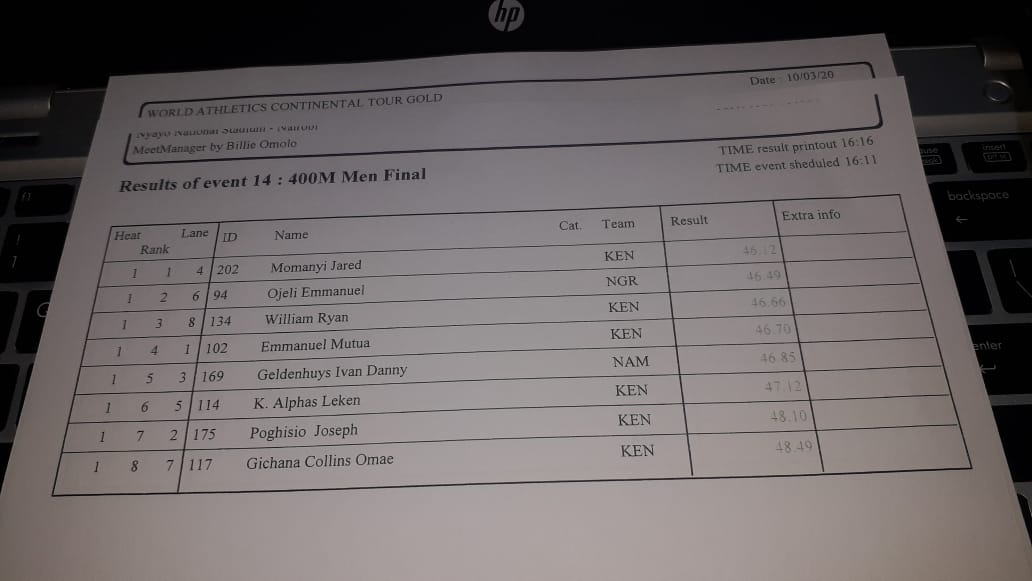 Kip Keino Classic: Women's 400m
17-year-old Beatrice Masilingi from Namibia won in 50.99 while Kenya's Mary Moraa settled for second place in 51.99.
1. Masilingi Beatrice 50.99 Namibia
2. Mary Moraa 51.99 (Kenya)
3. Shida Leni 52.77 (Uganda)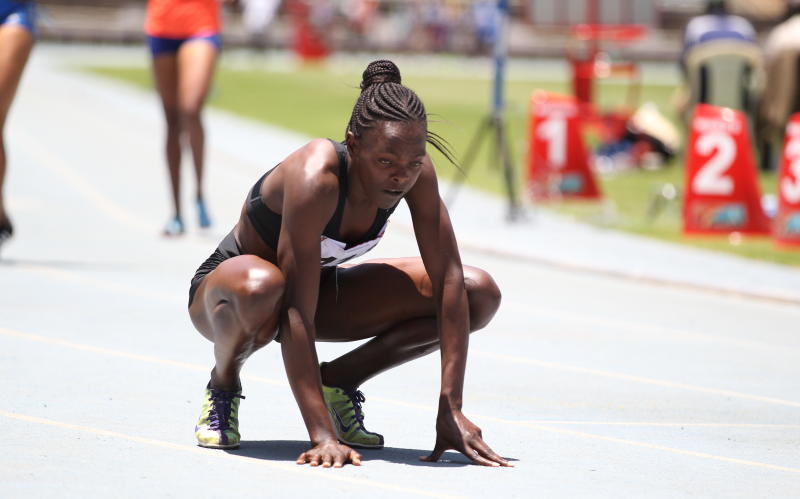 Kip Keino Classic: Men's 5000m
Kenya's Nicholas Kimeli fought off pressure to emerge victorious in the men's 5000m race with a time of 13:07.41.
Ethiopia's Argawi came in second at 13:08.91 as Kenya's Jacob Krop was forced to settle for Bronze in 13:11.88.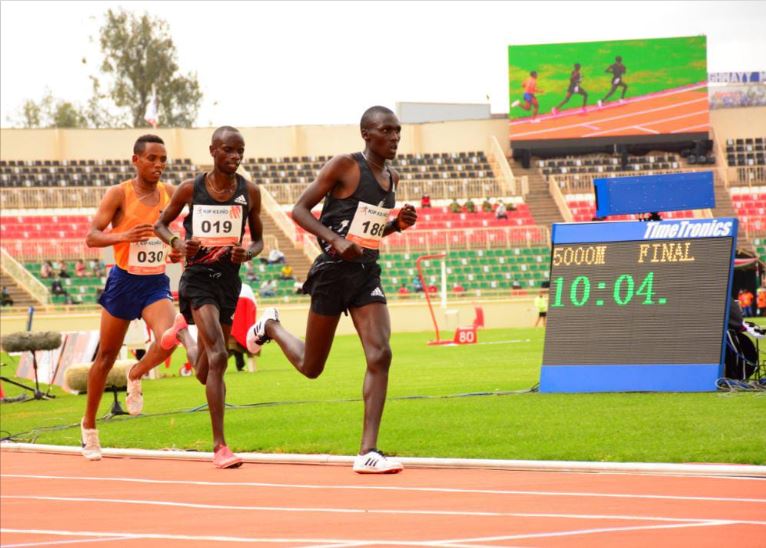 Kip Keino Classic: 1500m Women
Ethiopia's Hailu Lemlem won the 1500m women's race in 4:06.43.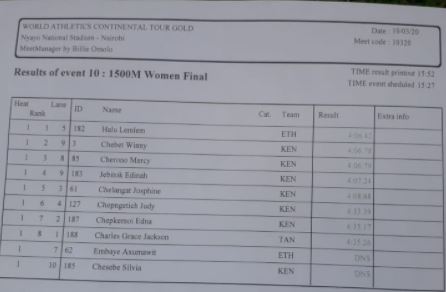 [Photo: Robin Toskin]
Kip Keino Classic: Kenyan javelin thrower  Alex Kiprotich? won the Gold medal
Kenyan javelin thrower Alex Kiprotich threw an amazing 76.71m at the inaugural Kip Keino Classic event in Nairobi.
The throw gave Alex nearly one-metre win over polish Chmielak Hubert who threw 75.47m.
Hermann Timothy of Belgium finished third with 75.18m.
Men's Javelin Throw results:
Alex Kiprotich 76.71m (Kenya)
Chmielak Hubert 75.47m (Poland)
Herman Timothy 75.18m (Belgium)
Kip Keino Classic: Kenya's Kipngetich took Gold in men's 10,000m
Kipngetich Tanui of Kenya produced a stunning performance to win the inaugural Kip Keino Classic 10,000m title at Nyayo stadium in Nairobi.
With 500m remaining, Kipngetich powered home to win the race in a time of 28:06.09.
Nathan Lagat, who tried to exhaust Kipngetich with three and a half laps remaining, won the silver in 28:22.28.
Yosei Mneria of Kenya came in third in 28:26.22.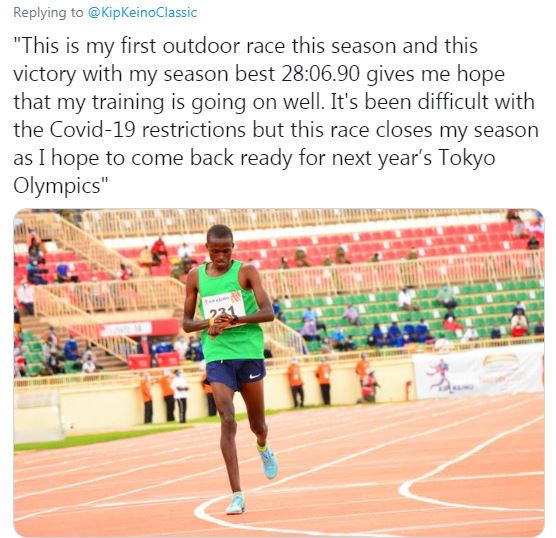 2020 Kip Keino Classic: Vanice Kerubo wins the 400 metres women's hurdles
Women's 400m hurdles
Vanice Kerubo 1:02.29
Caroline Waiganjo 1:04.82
Elizabeth Kimuyu -1:06.09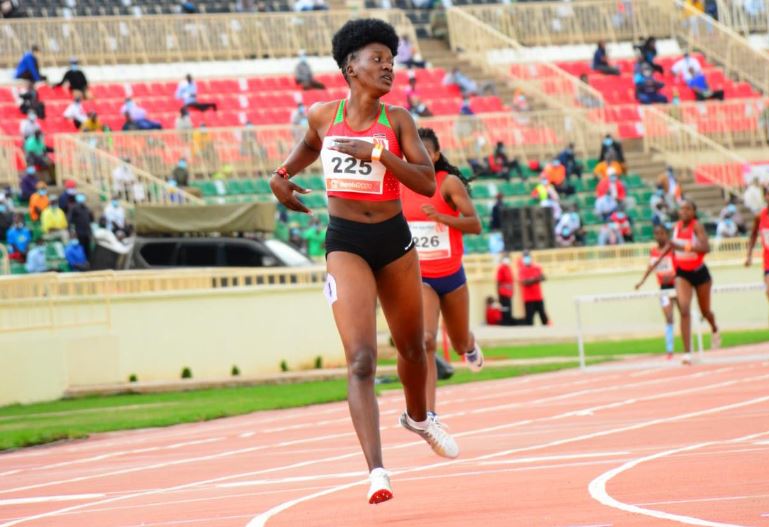 Kenya's Vanice Kerubo on Saturday afternoon powered to victory in the 400 metres women's hurdles at the Kip Keino Classic.
Vanice took gold with a time of 1.02.29 at Nyayo stadium ahead of Caroline Waiganjo who took silver with a time of 1.04.82 while the bronze medal went to Elizabeth Kimuyu in a time of 1.06.09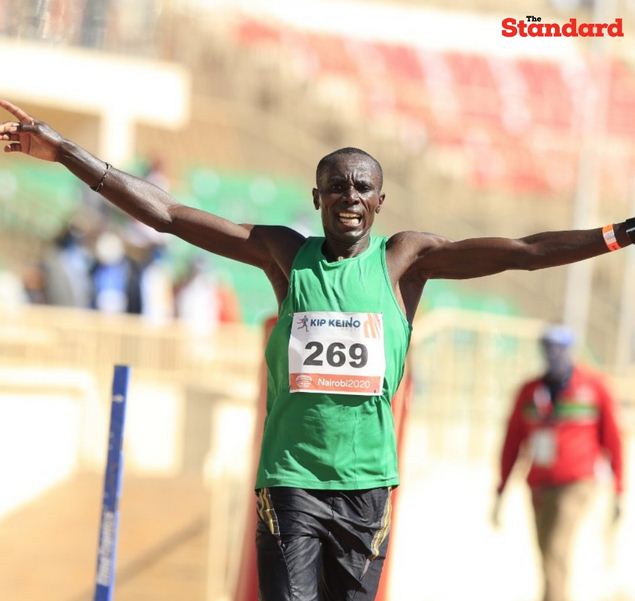 Samuel Ireri Gathimba on Saturday morning surprised the world to win the Kip Keino classic 20km walk race.
Gathimba won the race in 1.22.56 ahead of Simon Wachira and Erick Shikuku who came out second and third respectively.
Grace Wanjiru  Njue also dominated the women's 20km walk race, finishing in 1:46:40 ahead of Silvia Kemboi and Naomi Chepkirui respectively.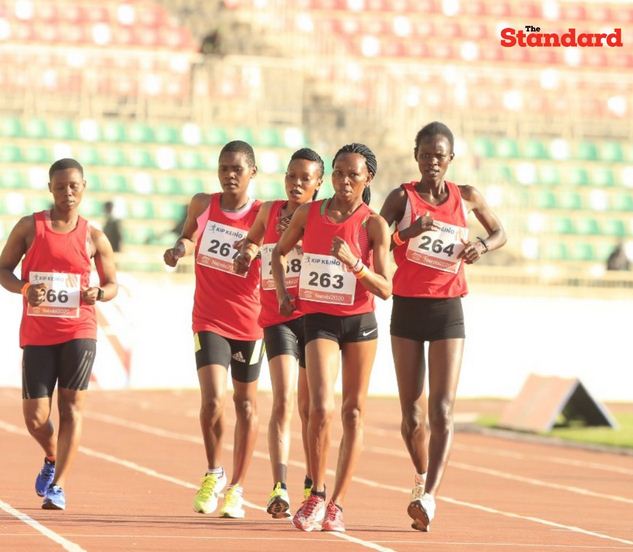 Below are the top finishers for the Men's and Women's race.
Leading 20km walk men Results:
1. Samuel Gathimba PRISONS  1.22.56
2. Simon Wachira KDF 1:28.14 1
3. Erick Shikuku 1:30.20
Leading 20km walk women Results:
1. Grace Wanjiru Njue KDF 1:46:40
2. Silvia Kemboi KDF 1:48.25
3. Naomi Chepkirui  KDF 1:54.24