This time last year I was sipping fishbowl gin and tonics in Ibiza (well… maybe not sipping). Unfortunately, much has changed since last September, and our world and way of life is unlike anything our generation has experienced.
Among many other things, international travel looks like it will be out of the picture for the foreseeable future.
RELATED: How Race Across The World works
Since my European summer of 2019, I've been on the lookout for the next big overseas trip. And during lockdown these travel shows have been the pick of the bunch for inspiration for when we are able to travel once again. Some are simply great armchair entertainment.
Race Across the World (Season 1)
Race Across the World is unlike any reality travel show you ever seen before. It has similarities to The Amazing Race, where couples travel around and need to make their way through checkpoints fastest, or run the risk of being eliminated. Checkpoints in Season 1 include places you may not have heard of, including: Delphi (Greece), Baku (Azerbaijan), Tashkent (Uzbekistan), Huangyao (China), Koh Rong (Cambodia) and Marina Bay (Singapore).
The big twist with Race Across the World is the teams of two need to find a way to get from London to Singapore without catching a single flight. They are only given a purse with money the equivalent amount to a one-way airfare to Singapore, and that's it. They don't even get mobile phones to help them navigate.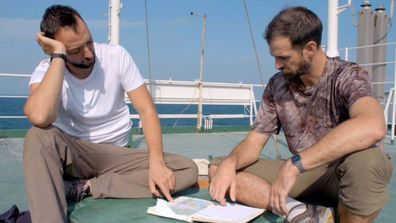 Along the way teams need to be conscious of their budget, resulting in the occasional detour to complete jobs in order to boost their funds. This detour also gives the teams time to focus on the experiences between checkpoints and appreciate different cultures.
Race Across the World is raw, different and extremely addictive. Watch the trailer in the above video.
Stream Season 1 of Race Across the World for free on 9Now.
Top Gear: India Special
You're probably thinking, 'Top Gear? Isn't that a car review show?' Jeremy Clarkson, James May and Richard Hammond have taken the program abroad many times, travelling through countries on modes of transport that may not be designed for that adventure, such as their Patagonian Special in super-powered cars whilst travelling through South America.
In Top Gear: India Special (currently streaming on Stan) the team embarks on a "trade mission" (purely satirical) to help boost the British economy and trade relations with India — all while driving second hand British cars.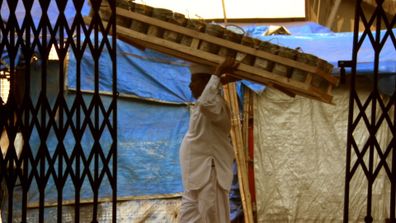 In one example they put themselves in the shoes of Dabbawalas, a group of people who deliver food tins between homes and offices.
The trio used their cars to deliver the lunchboxes/tins whilst trying to navigate through the busy streets on Mumbai, a task that is normally performed via train in India.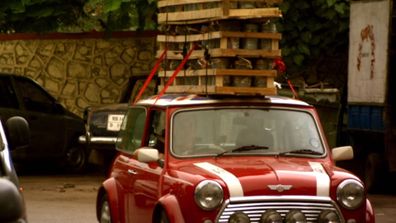 The tone of these travel specials is always comical while also showcasing different cultures and the amazing countries they are exploring.
Top Gear: India Special is streaming now on Stan.
Travel Guides
Narrated by Australian comedian Denise Scott, Travel Guides series consists of five very different families and friends, all with different ideas of what a holiday should look like, as they partake in the same activities from selected tourist spots from around the world.
In Season 3 the guides headed off to Israel, a country filled with amazing ancient ruins and spectacular beaches.
One key location the guides visited was The Dead Sea, known for its "healing mud" and for being "ten times saltier than the ocean, meaning it's impossible to sink".
Travel Guides is all about trying something new, with a laugh.
Stream every episode ever of Travel Guides for free on 9Now.
Hamish & Andy's Perfect Holiday
If you're after some more laughs with a bit of culture, why not armchair travel with Hamish Blake and Andy Lee. The pair is very well known for their different take on travelling with their hit series Hamish & Andy's Gap Year (streaming on Stan), but their latest travel series Hamish & Andy's "Perfect" Holiday takes trying out new things to another level.
RELATED: All the weird food Hamish and Andy have eaten on their travels
In "Perfect" Holiday the pair plan each other's "perfect" holiday activities without the other knowing. In Episode 1 Andy surprises Hamish by enrolling him in a boxing match. However the opponent was not your average boxer, rather the world's hottest chilli.
Stream Hamish & Andy's Perfect Holiday for free on 9Now.
Dark Tourist
Finally, if your taste in travel is a bit more unusual, check out Dark Tourist on Netflix. The program follows David Farrier, who explores dark tourism, which he says is "a global phenomenon where people choose to vacation in places associated with death and destruction".
In March 2011 the world was in shock after one of the worst nuclear disasters to ever occur happened in Japan. An earthquake-turned-tsunami hit the region, which caused destruction and a nuclear leak at the Fukushima Daiichi Nuclear Power Plant.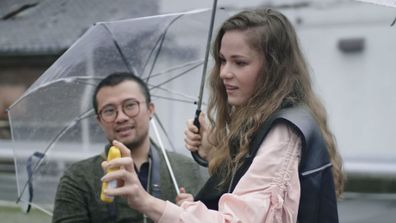 As David Farrier outlines in one of the episodes, the area is now a dark tourism hotspot, for those few brave adventurers wanting to get a glimpse of the highly radioactive location. During his radiation vacation, David's tour group noticed that the radiation levels were even higher than that of Pripyat (Chernobyl).
Dark Tourist airs on Netflix.
In Pictures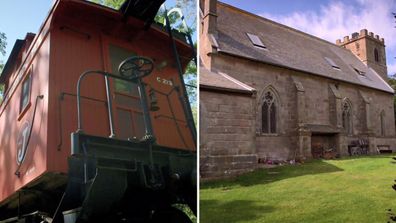 The most unusual home conversions from You Live in What?
From a salmon farm to a jail and a caboose
View Gallery
Nine Entertainment Co (the publisher of this website) owns and operates the streaming service Stan.