Los Angeles, CA – September 22, 2020 – Los Angeles area luxury car lovers experience the new Lamborghini Urus for rent at 777 Exotics.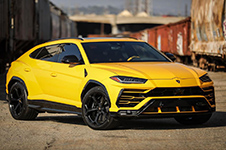 Covid-19 restrictions in the United States have put a damper on many travel and tourism activities but not luxury car rental according to a recent statement from 777 Exotics industry blog. On an average day in Los Angeles the rental car company answers dozens of calls from prospective travelers all over the word seeking to visit LA and ride in luxury. According to the statement, the increased demand for exotic cars has led the company executives to invest in a new line of Lamborghinis which they announced today, are now available for daily rental and driving in LA, Hollywood and Beverly Hills.
Described as one of the most inspiring SUVs ever made, the Lamborghini Urus offers compelling exotic design including drastic aerodynamic lines paired with leading performance and safety features. The 777 Exotics Lamborghinis are available in 3 colors, blue, yellow and charcoal grey from LA locations.
777 Exotics spokesperson Sarah Maldanado stated "The industry has welcomed this unique SUV from Lamborghini with performance and style that is a perfect fit for the Los Angeles market.  We know that these Lamborghinis are in demand and we are expecting that our customers will be using them in upcoming music videos and Hollywood films."

Automobili Lamborghini S.p.A. an Italian lifestyle brand and manufacturer of luxury sports cars was purchased by Audi and 1998, which was subsequently bought by Volkswagen Group.  Under the VW Group the entrance into production SUV manufacturing marked a turning point for the high-end brand which has been a definite success in this first generation Urus.
777 Exotics specialize in luxury and classic car rental in Los Angeles and is making the Lamborghini Urus available from 9AM to 5PM for viewing and rental inquiries. The company offers the option to have the Lamborghini delivered to area offices and sets for music or video use. 
For further information on the exotic cars including the Lamborghini Urus rental in Los Angeles visit: http://777exotics.com
Media Contact
Company Name: 777 Exotics
Contact Person: Sarah Maldanado
Email: Send Email
Phone: 1 800 903 5926
Country: United States
Website: http://777exotics.com
Press Release Distributed by ABNewswire.com
To view the original version on ABNewswire visit: 777 Exotics Add New Lamborghinis to Rental Fleet in Los Angeles