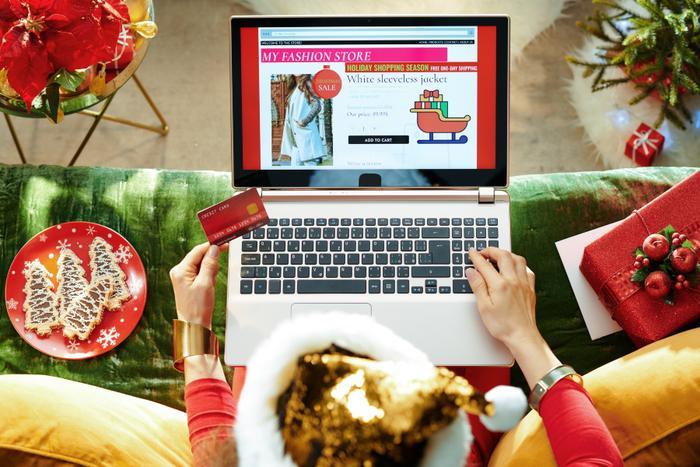 Consumers have done a little more of their Christmas shopping online in recent years, but a new survey shows a likely surge in online shopping this year.
For example, last season consumers made about 51 percent of their holiday purchases online. This year, CreditCards.com estimates that 71 percent will shop mostly online, both for convenience and to avoid potential exposure to the coronavirus (COVID-19).
"Holiday shopping is going to look very different this year," said CreditCards.com industry analyst Ted Rossman. "COVID-19 is accelerating the existing trends toward e-commerce and digital payments."
Millennials appear to be the shoppers most likely to avoid stores this holiday season. In fact, 74 percent of millennials plan to shop online — compared with 70 percent of Gen Zers, 70 percent percent of Gen Xers, and 70 percent of baby boomers. 
The oldest group, the Silent Generation, appears to be the group most likely to visit brick and mortar stores to do their shopping, even though they generally face the highest risk from the virus.
Deloitte also predicts a sharp rise in online spending
A separate report suggests that consumers will spend a little more this holiday season, despite the pandemic. Deloitte's annual holiday forecast also predicts a significant increase in online shopping, with e-commerce sales rising as much as 35 percent.
In breaking down projected spending, Deloitte predicts that overall spending will rise by less than 2 percent, with consumers who haven't been economically impacted by the coronavirus making up for reduced spending by those who have.
"The lower projected holiday growth this season is not surprising given the state of the economy," said Daniel Bachman, Deloitte's U.S. economic forecaster. "E-commerce is likely to be a big winner because consumers have shown a clear movement towards buying online rather than at brick and mortar stores."
Debit cards over credit cards
The CreditCards.com survey also found a shift in the way consumers plan to pay for their holiday purchases, with an increase in a preference for debit cards and less reliance on credit cards.
While avoiding holiday debt is always a sound move, credit cards offer more consumer protections, along with other benefits like warranty and purchase protection.
Luis Rosa, certified financial planner and founder of Build a Better Financial Future, suggests using your credit card as though it were a debit card by paying off each purchase as you go, making a payment as soon as the purchase posts on your account.
"This way you don't let the credit card balance rise and sneak up on you," he said.