Rip van Winkle supposedly slept for 20 years. That's a lot longer than the bond market, which finally seems to be waking up from its summer snooze.
More on that below. The day begins with the president back home and focus turning toward jobs, stimulus talks, and the Fed along with those suddenly alert bonds. 
Stocks barely moved early Tuesday after Monday's solid showing that took the S&P 500 Index (SPX) above 3400 for the first time since mid-September. It was a broad-based rally that saw all 11 S&P sectors finish higher. That's the kind of performance that inspires confidence, unlike when only a sector or two plows ahead and the rest stay stuck in the mud the way it went a lot of the summer.
There's a lack of company- and economic-related news this week, and that means the market could move quickly on outside news. We saw the power of that yesterday where just the thought of some sort of stimulus deal getting done and the president going back to the White House had the market looking incredibly strong. 
This is a rumor- and one story-driven market. Volatility isn't extremely high, but we're in a heightened volatility mindset. For instance, Fed Chairman Jerome Powell is scheduled to deliver remarks at an economic conference later this morning. His talk has a kind of generic-sounding name: "Economic Outlook." Normally, this would be a "ho hum" kind of event, but the way things look, he could say one interesting thing and the market might quickly move. 
Any word on the stimulus could have the same impact. The only thing is, there's been so much hope built in that the actual news, if it comes, might end up being a "buy the rumor, sell the fact" kind of situation. Key data today include the monthly Job Openings and Labor Turnover Survey (JOLTS) report and an update on the trade picture. 
As an investor, these are markets where it's all about discipline. Don't get caught up in a tidbit news story that might quickly turn or be refuted. Agility and discipline are more important now than normal because sometimes people get caught up in an "I have to trade" mentality and that's a bad place to be. Don't trade just because you're bored. There's risk, and there's smart risk, so make sure you're trading the second way, not the first.
Hey, How About Those Yields?
Monday's stock rally hogged headlines as investors cheered news of the president's hospital release. However, fixed income arguably deserved more accolades than equities. 
If you're checking for evidence of a Wall Street wind shift, look no farther than the bond market. The 10-year yield caught fire on Monday, soaring to 0.77% toward the end of the session and climbed above 0.78% this morning. Those are the highest readings since late August. The yield hasn't been above 0.8% since early June, so that could be an interesting level to watch to see if this rally in yields has legs. 
Several attempts by the 10-year yield to forge higher have sputtered over the last few months, so before getting too excited about Monday, let's see where the yield goes over the next few days. Typically, higher yields paint a picture of economic optimism and investors willing to take more risk. 
This bond selloff, if that's what it is, couldn't come at a better time for the Financial sector. It's been burdened since March by historically low rates that eat into bank profits, and now, just ahead of next week's earnings season for the sector, maybe the headwind is dying down a little. 
Financials appeared to get a nice boost Monday, rising more than 1.6%, but again, keep things in perspective. This is a sector that's seldom missed a chance to sell off a rally over the last year or so, even going back to before the pandemic.
Though the rally in bond yields is a nice shot in the arm for Financials, it's the Energy sector that led Monday's rally, rising nearly 3%, helped along by a 6% rally in crude. It's another sector that seems to be riding the wave of stimulus-related optimism. 
It's fair to note, however, that crude—and the energy complex in general—has been so beaten down this year, it's got a mountain to climb if it's to escape bear market territory for the year. Even with Monday's rally, front month crude oil futures (/CL) are still south of the $40 mark. For what it's worth, yesterday's rally did push crude back above its 100-day moving average (see chart below).    
Looking at other sectors, rail and airline stocks helped lead the charge Monday, propelled by decent economic data (including ISM services released early in the day) and hopes that Congress and the White House could maybe fend off possible airline furloughs with a buzzer-beater stimulus package. Optimism soared late Monday on news of more talks between the two sides, and it feels now like the market expects something to get done. 
One result is that airline shares are seeing some stability, which has a few market participants excited. Reopening trades (including airlines) worked nicely Monday, including sectors like hotels and casinos. 
Another sector doing well was payments, whether you're talking about traditional credit card stocks or more updated methods like Paypal Holdings Inc (NASDAQ: PYPL) and Square Inc (NYSE: SQ). These alternative payment options appear to be gaining steam as people stay home, and this isn't a trend that necessarily ends when the virus goes away.
Also picking up some traction this week is biotech. The Nasdaq Biotech Index (NBI) finished Monday with a 4% jump after climbing 11% year-to-date through the end of last week. That was a better year-to-date number than the broader market, but well behind Tech. Now, biotech seems to be finally getting more respect, fueled by stocks like Gilead Sciences, Inc. (NASDAQ: GILD), Moderna Inc (NASDAQ: MRNA), and Regeneron Pharmaceuticals Inc (NASDAQ: REGN). All of these are viewed as leaders in the fight against coronavirus. Some merger and acquisition (M&A) news in the sector also might have injected new life. 
While Financials stood out in benefitting from higher yields Monday, don't forget that the same metric might also apply to the small-cap Russell 2000 Index (RUT), which is heavily-weighted toward regional banks. The RUT easily outpaced other major indices to start the week, part of a pattern we've seen a lot lately. This particular trend also could reflect ideas that if a stimulus does occur, it might help domestic companies the most. Small-caps typically have less exposure to international markets. 
Technically, the week started out well. The SPX climbed solidly above key resistance at its 50-day moving average of just above 3360 and stayed there. That move could conceivably provide more momentum if technical traders like what they see.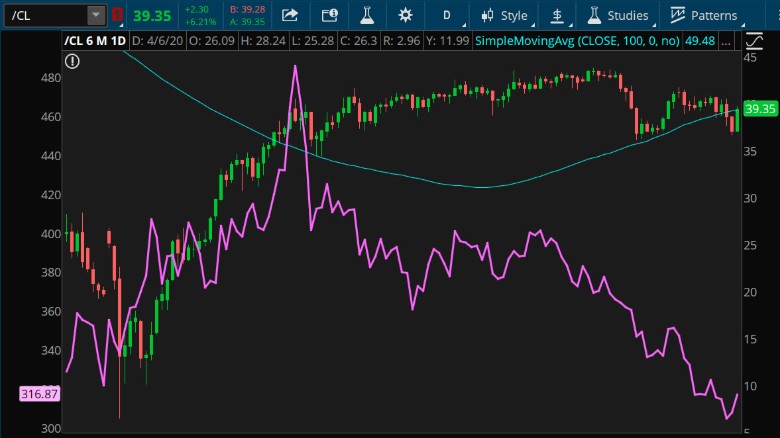 CHART OF THE DAY: NOT-SO-FINE REFINING. Crude oil futures (/CL – candlestick) rose 6% Monday, but couldn't quite make it above the $40 mark. Still, the advance in crude pushed futures above the 100-day moving average (blue line). Though the economic optimism helped fuel the Energy sector (IXE – purple line), making it the sector leader Monday, it's been a rough 2020 for companies that drill, refine, and sell the black stuff. Data sources: CME Group, S&P Dow Jones Indices. Chart source: The thinkorswim® platform from TD Ameritrade. For illustrative purposes only. Past performance does not guarantee future results.
Fed Back in Conversation: Returning to rates, the question is what does the Fed do if they keep climbing, say, to 1% or higher? That kind of move is something that could cause some investors to start wondering if maybe it's time to take more of a chance on bonds, perhaps slowing down stocks a bit. The Fed could easily clamp down on yields with more buying, however. That's probably a longer-term question, but keep it in mind as a possible brake on equity rallies. 
Another thing that could conceivably clamp down on the positive news flow would be more word of rising caseloads, which to some extent we're already seeing, and possibly more shutdowns. We're far from out of the woods.
And yet another potential worry for any bulls was outlined by Barron's on Monday, which noted there's been an uptick of shares sold short that have yet to be bought back. Short sales, or bets that a stock would fall, had decelerated over the summer. Now that trend appears to be reversing, according to data collected by the financial publication. Sometimes a pickup in short sales has come ahead of market downturns, though past isn't always precedent. Stay tuned. 
We Pause to Bring You This Word from Investors: Monday also brought the latest reading on the Investor Movement Index® (IMXSM), which increased to 5.71 in September, up 15.82% from its August score of 4.93. The IMX is TD Ameritrade's proprietary, behavior-based index, to measure what investors actually were doing and how they were positioned in the markets 
In September, TD Ameritrade clients took advantage of the market volatility to increase exposure to the highest levels we've seen this year. While headlines concerning the economic recovery were a mixed bag, TD Ameritrade clients appeared to see buying opportunities in the Information Technology and Consumer Discretionary sectors. 
Some of the most popular names bought during the period included so-called "stay-at-home" companies like Apple Inc. (NASDAQ: AAPL), Walmart Inc (NYSE: WMT), DocuSign Inc (NASDAQ: DOCU), and Amazon.com, Inc. (NASDAQ: AMZN). Tesla Inc (NASDAQ: TSLA) was also a net-buy.
Uber Technologies Inc (NYSE: UBER), Delta Air Lines, Inc. (NYSE: DAL), and Ford Motor Company (NYSE: F) were among the names sold in September, according to the IMX data. 
Home on Range Again: We often talk about volatility, and things have been choppy intraday lately. There may be more roughness on the way as the election approaches, but for now the SPX seems to have found a relatively tight trading range between recent lows near long-term technical support levels and recent highs near an area where some analysts see technical resistance. Going back about a month, the SPX has been bouncing between roughly 3200 and 3430. That corresponds with where research firm CFRA estimates key support (at between 3212–3259) and key resistance between 3354–3428. 
The top and bottom of those ranges are arguably the ones to watch, because a close below the low or above the high might signal a long-term change in trend. Until either of those scenarios happens, it seems possible we could continue to bounce back and forth between these levels unless there's some sort of headline shock. Even that might not be enough to truly break out to one side or the other, however, when you consider that the market hardly moved last week even with the president's covid diagnosis and hospitalization a month before the election. It's hard to imagine too many more shocking events than that.
TD Ameritrade® commentary for educational purposes only. Member SIPC.
Photo by Patrick Weissenberger on Unsplash
© 2020 Benzinga.com. Benzinga does not provide investment advice. All rights reserved.