Fifty-seven years married, Bobby and Dick Rosner had never spent more than a few nights apart – until the end of March.
The Beachwood couple, both graduates of Shaker Heights High School in Shaker Heights, grew up around the corner from one another and first met on a double date – with different dates – when they were both about 20.
In early March, the couple had lunch with friends in Punta Gorda, Fla., where they reside in Longboat Key during the early spring months – and Dick started to develop a cough. That night, they went to dinner in Sarasota with Bobby's sister, Eileen Sill, where Dick's cough persisted.
"It was a continual cough," Dick Rosner, 80, told the CJN. "It wasn't a deep cough."
The next day, on March 5, he went to the local CVS drugstore, and there was no cough medicine on the shelves. On March 9, he went to an urgent care center, where he was diagnosed with bronchitis and was prescribed a Z-pack and steroids.
"Then on the 13th, I wasn't getting any better, and I went back and saw a different doctor there who also thought I had bronchitis and prescribed an inhaler and some other pills," Rosner said.
Nothing helped and the following night, Bobby Rosner, 79, drove her husband to the emergency room of Sarasota Memorial Hospital, where Dick Rosner tested positive for COVID-19.
Dick Rosner's case was Longboat Key's first, and made page one headlines of the Longboat Key Observer.
"Fortunately, my name was not in it," he said.
At the hospital, Dick Rosner was assigned to a private room, where he spent the night. Bobby came by the following day. She was not allowed to visit, but she blew a kiss at a small window in the door to his room.
Nurses and doctors suited up in disposable gear prior to visiting Dick Rosner, he said.
"It would take 10 minutes," he said. "I'd call the nurse and she would have to put on a helmet, shield and a mask and whole outfit, gloves, things over her shoes to come in. The doctors had to do the same thing."
In the early days of her husband's hospitalization, Bobby Rosner stayed home in quarantine.
"I called myself 'in jail in Sarasota,' because I wasn't allowed to leave the apartment," she said.
Talking on the telephone became impossible after Dick Rosner was placed on a ventilator for four days in the intensive care unit. He spent 11 days in the ICU and 24 days in the hospital. He said he was never afraid.
"I didn't really feel that sick after I got out of ICU. Even in ICU, I didn't have pain or never had a real high temperature," he said, but he did experience what is known as double COVID-19 pneumonia.
Then on March 27, Bobby Rosner was hospitalized with COVID-19 for three nights at the same hospital as her husband. Her case presented with a high fever and shortness of breath, but not a cough.
The two were still not allowed to see one another.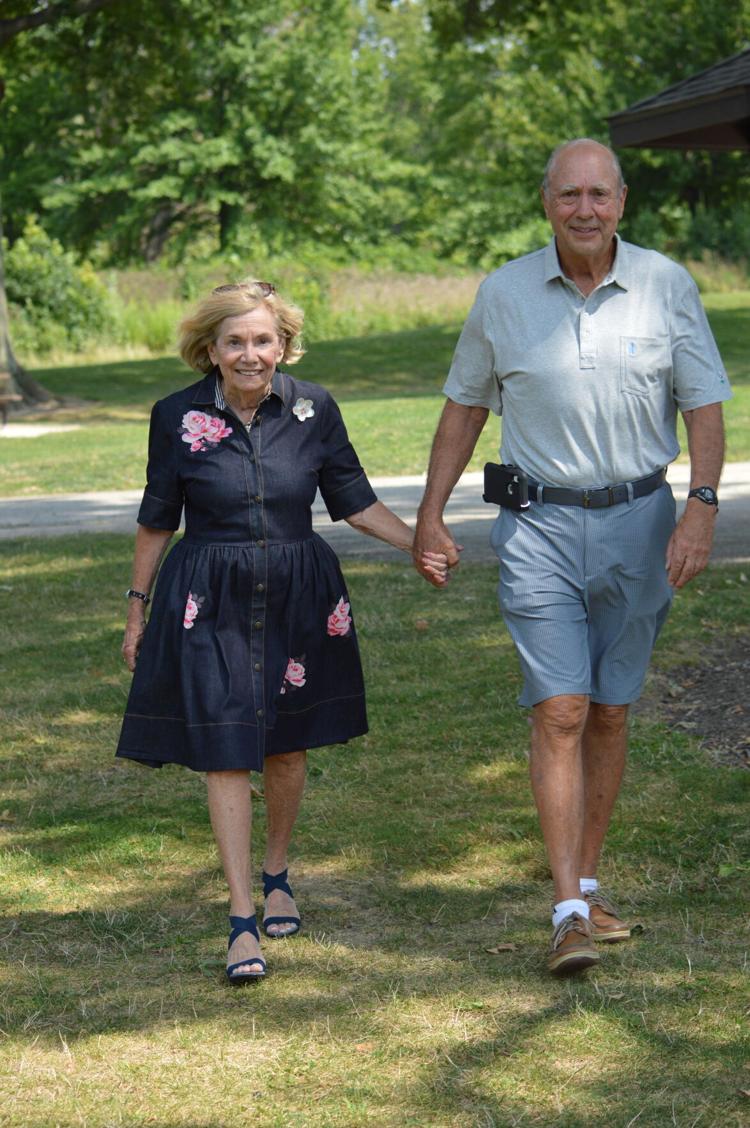 Dick Rosner grew up attending the former Euclid Avenue Temple and Bobby Wilkoff grew up at both The Temple-Tifereth Israel and Park Synagogue. She flirted with Dick, whom she remembered as "drop-dead gorgeous." The two were married June 15, 1963, at Beechmont Country Club. They had three children and moved to Beachwood.
Dick Rosner practiced law first at Forest City Enterprises, later as a partner at Kahn Kleinman and then as a partner at Taft, Stettenius & Hollister LLP. Bobby Rosner had a business called Celebrations, where she sold stationery and invitations, and did calligraphy and wedding consulting.
Dick Rosner received many telephone calls while in the hospital, including from high school friends he had not seen in years, he said.
The Rosners were subjects of contact tracing, and none of the people they had seen within 48 hours of Dick Rosner's presentation of symptoms developed COVID-19. Neither did their son, Steve Rosner, who flew to Florida to care for the couple around March 20.
In total, the couple was apart for 25 days.
When Dick Rosner left the hospital, he used a walker. He had lost 25 pounds and was physically weakened.
"I was No. 196 in Florida," he said. "And it took a while even after I left (the hospital) to get my lungs clear. They would X-ray my lungs three times a week while I was in the hospital and then a couple times after I left. "
When he returned to the condominium with Steve, Bobby said, "I was glad to have him home."
In the hospital, Dick Rosner said he had special care, partly through the intervention of Dr. Marc Pohl, a friend who is a nephrologist at Cleveland Clinic and has a winter home in Sarasota. Pohl had trained Dr. Ziad Gharma, the head of the pulmonary department at Sarasota Memorial Hospital, and kept in contact with Gharma about his care.
In addition, the Rosners' daughter, Julie Soroka, and their daughter-in-law, Shawna Rosner, took an interest in their care. Matt Rosner, their son, planned to trade off care with Steve, if necessary.
After his discharge, Dick Rosner worked with a physical therapist twice a week to regain leg strength
While the Rosners usually leave their condo rental at the end of April, their landlord offered them additional time after his next tenant canceled plans to travel. And usually their children and grandchildren join them there for spring break, but this year only Steve joined them out of necessity.
The couple flew to Cleveland on a packed Mother's Day flight May 10 and underwent 14 days of quarantine.
And since then, Dick Rosner has continued his medical care in Cleveland, regaining weight and strength.
"I really got special care everywhere I went," he said.
On Aug. 14, his blood oxygen level was recorded at 100% while speed walking – better than his pulmonologist's, Rosner said.
And he's able to climb stairs in their house to reach the master bedroom, where his wife no longer needs to blow him a kiss.