PROVO — Start making plans, BYU fans: The Cougars are opening LaVell Edwards Stadium for the 2020 fall football season.
At least, in a limited capacity.
The Cougars announced plans Tuesday for the Sept. 26 home opener against Troy, when they will allow around 6,000 fans inside LaVell Edwards Stadium. The adjusted capacity represents around 10% of the 63,470-seat stadium in Provo due to COVID-19 restrictions.
Tickets will be distributed on a game-by-game basis, the school said, in "transitioning away" from season tickets.
"We appreciate the university administration, government officials and a variety of medical experts who helped develop a plan to best ensure a safe and healthy game-day experience at LaVell Edwards Stadium," BYU athletic director Tom Holmoe said. "We are in the process of reaching out to season ticket holders with options for purchasing tickets."
Everyone attending a game in 2020 will have a reserved seat, with tickets processed digitally. All in-stadium transactions will be conducted digitally or in a cash-free manner, as well. Masks will be required in the stadium, similar to how they are required on campus.
The distribution adds up to 1,500 available seats in each of the stadium's four sections. Each section will have a separate entrance and exit to maximize social distancing at all times for attending fans. BYU's athletic department completed a modification to the stadium prior to the 2019 season that added new walkways, additional restrooms and wider stairwells near some entrances.
"It's a good start," BYU coach Kalani Sitake said during his weekly coach's show on BYUtv. "I'm excited that we get to have fans there. We love having our fans there, and I know they'll be excited.
"Six thousand fans will make noise for 60 (thousand)."
LaVell Edwards Stadium is the second outdoor sporting venue to be reopened to limited fans during the coronavirus pandemic. Real Salt Lake began to phase re-entry of fans into its home venue in a limited capacity as early as July 11. The club will allow up to 5,000 fans at Rio Tinto Stadium for Wednesday night's home match against Los Angeles FC.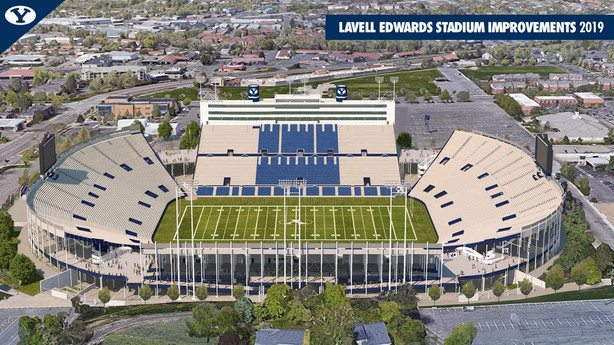 A portion of the available tickets for each home game will be reserved for BYU students who are members of the Roar of Cougars student section.
Tickets will be available online at byutickets.com beginning Sep. 14, with distribution based on the athletic department's "priority point system."
BYU, which is the only active college football team at any level in Utah, opened the season Monday night with a 55-3 rout of Navy. The Cougars travel to West Point, New York, to face Army next Saturday, Sept. 19. Kickoff is scheduled for 1:30 p.m. MT on CBS.
The Cougars' opener was played without fans, a mandate from the Maryland state government, which owns the land on which Navy-Marine Corps. Memorial Stadium sits. Next week's game against Army will include up to 4,000 fans at the on-campus Michie Stadium at West Point.
Either way, BYU's players handled it well.
"I thought the players were really focused on what was going on on the field and the adjustments we're making on the sideline," Sitake said. "We try to have a lot of excitement on the sidelines. You can probably hear some of it on TV."
Capacity could change or increase on a game-by-game basis, as infection rates of COVID-19 change, increase or decrease in the state, in Utah County and in the city of Provo. Utah County has reported 12,103 confirmed positive cases of COVID-19 through Tuesday, the second-most in the state behind Salt Lake County.
BYU has self-reported 128 cases of COVID-19 for the fall semester through Monday. That's just under three times the 54 cases reported through Friday, at the conclusion of the first week of school on campus.
Late last week, the university encouraged students to "follow requirements on campus" to keep the school open and safe from rising infection rates. That came prior to an off-campus dance party hosted by the young adult organization Young/Dumb that included hundreds of people in downtown Provo, primarily without masks.
"Behavior this weekend could make or break our ability to remain on campus," the university said in a statement Sept. 4.
1/ Thx to all who've helped keep campus safe this week. We're encouraged so many are following requirements on campus. However, we're concerned w/ reports & videos circulating about off-campus activities. Behavior this weekend could make or break our ability to remain on campus.

— BYU (@BYU) September 4, 2020
At the time, the university had reported 40 cases of COVID-19 on campus, with many of them tied to on-campus and off-campus gatherings where social distancing and mask-wearing compliance was not enforced.
"We have 24 students in Helaman Halls who were exposed to COVID-19 at a gathering where physical distancing wasn't maintained," the statement continued. "These students were instructed to quarantine. We'll continue to ask students to quarantine if they attend gatherings where they may have been exposed.
"There's not a specific threshold, but rather a variety of factors that would impact the ability to maintain an on-campus experience. This includes disease prevalence on and off campus, local hospital capacity and BYU's capacity to isolate or quarantine those live on-campus."
The school also encouraged mask compliance and social distancing "with compassion," and condemned "any kind of shaming or bullying surrounding compliance or non-compliance."
BYU students have returned to campus under a hybrid model of in-person and online classes, with masks required on campus anywhere social distancing is not possible, as well as in all common areas.
Prior to the fall semester, BYU self-reported 166 cases during summer term, 16 in the spring, and 21 last winter semester (from March 12 to Aug. 31) for a total of 203 confirmed positive cases of the novel coronavirus from students, faculty, staff and the campus community.
BYU students and employees are encouraged to self-report additional confirmed positive cases online.
×
Related Links
More stories you may be interested in