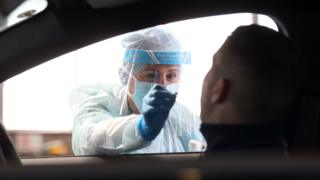 Stormont's health minister has raised concerns about the UK-wide Covid-19 test booking system after some NI users were offered tests in Great Britain.
Robin Swann said he has contacted UK Health Secretary Matt Hancock "seeking action on a number of concerns".
He was speaking after Sinn Féin assembly member Pat Sheehan was offered a test in Scotland and called the online booking system a "shambles".
Mr Swann described it as a "glitch" and said it must be resolved as a priority.
Mr Sheehan tweeted details of his personal experience of the booking system after trying to organise a test for his four-year-old daughter who had developed a high temperature.
The West Belfast assembly member first tried to order a home testing kit online but he was told none were available.
Mr Sheehan then tried to book a slot at a local testing centre but was told the nearest available test was in Stranraer in Scotland, more than 45 miles (72km) away.
"We've been at this for six months now, you would expect any difficulties there were would've been ironed out," Mr Sheehan told BBC News NI.
"My case isn't an isolated case, there seems to be a lot of people facing the same difficulties."
On Monday The Irish News reported people were booking tests at a mobile testing unit in Carrickfergus, arriving only to find out it had moved and no longer existed.
"I think the health minister needs to be honest and frank about the difficulties there are in the testing system because it is absolutely clear to me there are difficulties," said Mr Sheehan.
"There's no point trying to cover it up because it's only going to lead to greater frustration.
"The system is probably going to have to be ramped up over the next few months and if it can't handle the demand at the minute then what is it going to be like then?"
Independent assembly member Claire Sugden also said her constituents in East Londonderry were having difficulties booking appointments both online and on the phone.
"I have spoken to people who have had to wait on the phone lines all day before finally getting an appointment," Ms Sugden said.
Mr Swann issued a statement acknowledging problems in the UK-wide booking system.
"To be clear, no-one in Northern Ireland is expected to travel outside the jurisdiction for a test," he said.
"These slots have been offered by the online system because it has not on occasions recognised local requirements.
"The same problem has been reported in Scotland."
'Pressure on testing'
Northern Ireland's Public Health Agency (PHA) said the UK-wide system was run by the Department of Health and Social Care (DHSC) and it was working with them to resolve a number of issues.
As it stands, there are four fixed testing sites in Northern Ireland and six mobile venues.
The PHA confirmed that together, these have the capacity to carry out about 6,000 tests per day.
"We are aware of some issues with the DHSC booking system which have resulted in people finding it hard to book tests, or being offered tests at sites outside Northern Ireland," said Dr Bríd Farrell from the PHA.
"We are working with DHSC to try to resolve these, but it's important to note that pressure on testing is having an impact, which is why it is important that testing is used appropriately."
The PHA's advice is to book a test within three days of developing coronavirus symptoms.
However, on Tuesday the agency emphasised that "those who are not displaying any of these symptoms should avoid booking a test, as they could be taking the place of someone who needs one".
The PHA also confirmed some people who used the booking system recently were offered tests at locations that no longer had a mobile testing unit available.
"This was because the DHSC portal for booking tests did not immediately update with the new locations," Dr Farrell explained.
She said the PHA would continue to work with DHSC colleagues to ensure changes were made to the booking portal in a "more timely manner",
"I am sure it has been very frustrating for anyone affected by these issues, but I would urge anyone affected to log on to the testing portal and rebook a test if they have not yet done so," she added.