September 17, 2020 at 5:00 am ET
Our ongoing research on U.S. holiday shoppers reveals that the convergence of trends begun in years past and catalyzed by the coronavirus in 2020 may lead to the demise of Black Friday as we knew it. Brands and retailers relying on this annual shopping holiday – and the foot traffic that has historically accompanied it – now need to plan for increasingly digital and dispersed holiday seasons.
This analysis was authored by Victoria Sakal, Morning Consult's managing director of Brand Intelligence.
2020 finds 52 percent of Americans planning to sit Black Friday out this year, the once-classic occasion that kicked off the holiday shopping season for U.S. consumers, with only 12 percent expecting to shop in-store. This moment is the culmination of a combination of factors – all trends accelerated by COVID-19: an earlier start to holiday shopping reflecting consumers' experiences with stockouts and delayed deliveries since the start of the pandemic, a desire to avoid crowds given extreme health concerns and increased adoption of online alternatives just as Black Friday, Cyber Monday and Cyber Week have begun to blur together in recent years.
Setting the scene: online adoption, sooner starts and health-related hesitations
Americans generally tend to shop about equally online and in-store, but this shifts in favor of online shopping around the holiday season – a shift expected to be particularly pronounced this year. Forty-seven percent of U.S. adults plan to do most of their shopping online (up from 45 percent in early August, on par with the most recent poll result) while nearly a third, 31 percent, plan to split their holiday shopping between online and in store (down from 34 percent in early August) and 22 percent (no change) plan to do the majority of their holiday shopping in stores. 
Those planning to shop mostly online cite pandemic-related safety concerns as a reason (48 percent), though convenience is the primary reason for nearly a third (29 percent) and preference for online shopping driven by increased use of this method in recent months is the reason behind this online shift for over a fifth (21 percent).
Unsurprisingly, the vast majority of American shoppers have health- and safety-related concerns this holiday shopping season. No differences in the degree of concern around crowded quarters and safety risks exist across consumer types and demographics, confirming that these are universal and deeply-felt, in turn fueling a shift to online shopping not seen before, and certainly not expected to happen in 2020.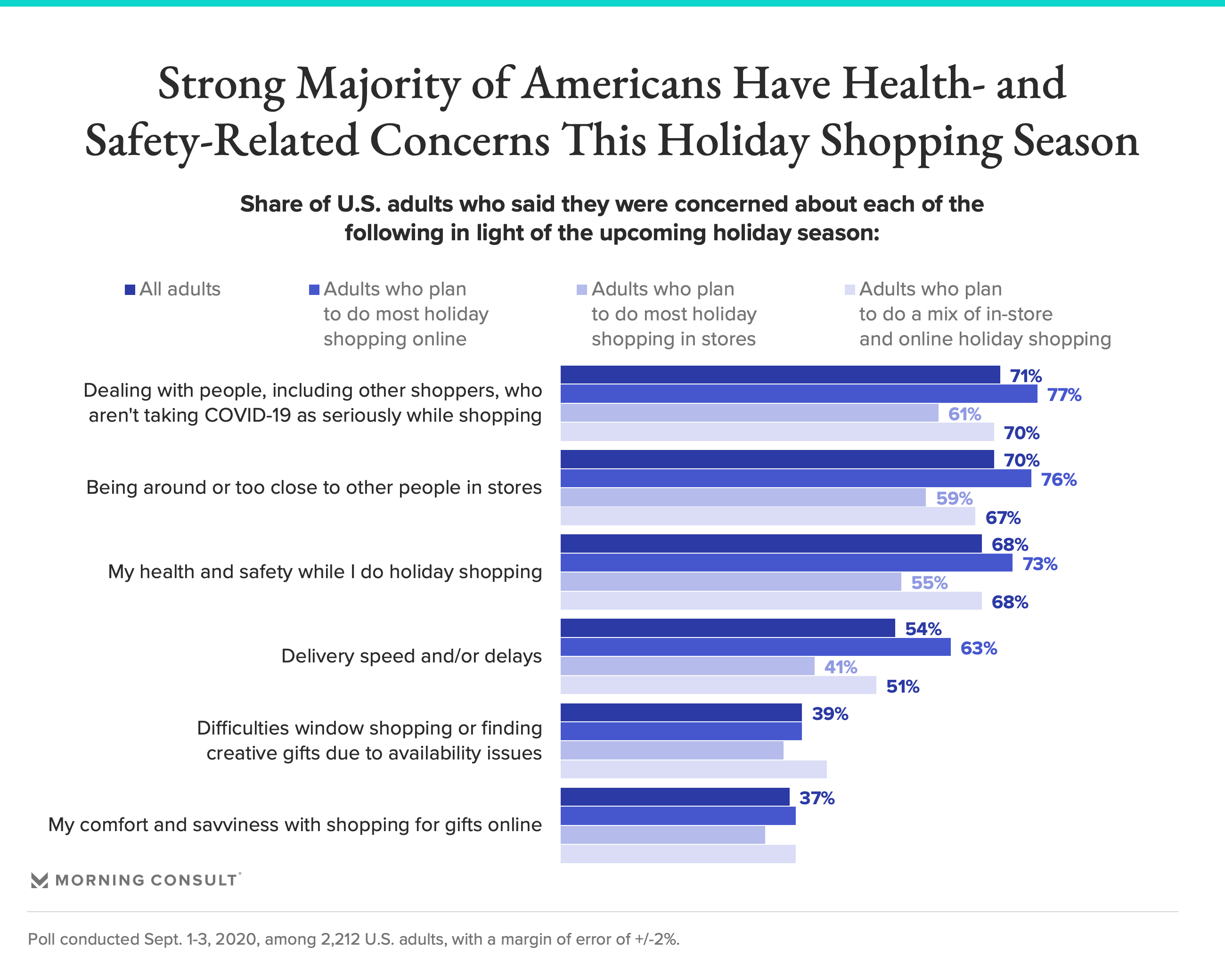 Reflecting these concerns as well as growing familiarity with and preference for online alternatives, holiday shoppers are uncomfortable going to shopping malls (59 percent) or shopping at either department stores (52 percent) or parking lot pop-ups/sidewalk stalls this holiday season (52 percent), though Republicans are much more comfortable going to shopping malls (51 percent vs. 41 percent all adults) and department stores (58 percent vs. 48 percent all adults). 
Conversely, most Americans are at least somewhat comfortable going to local stores or shopping at an outdoor market, as well as shopping in-store more generally or at big-box stores. As might be expected, those consumers planning to shop primarily online this holiday season are distinctly less comfortable with every in-person shopping method than those planning to shop either primarily in-store or both in-store and online.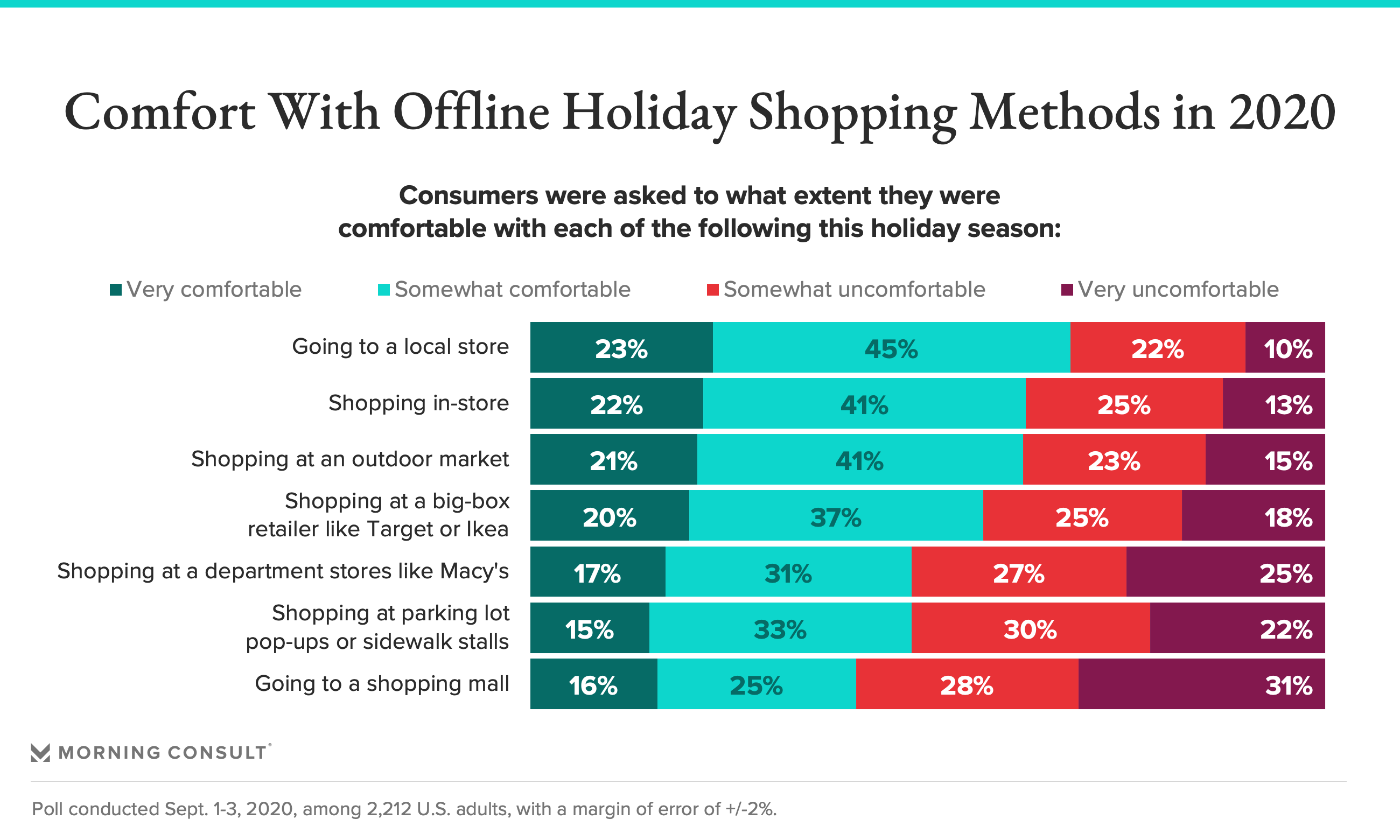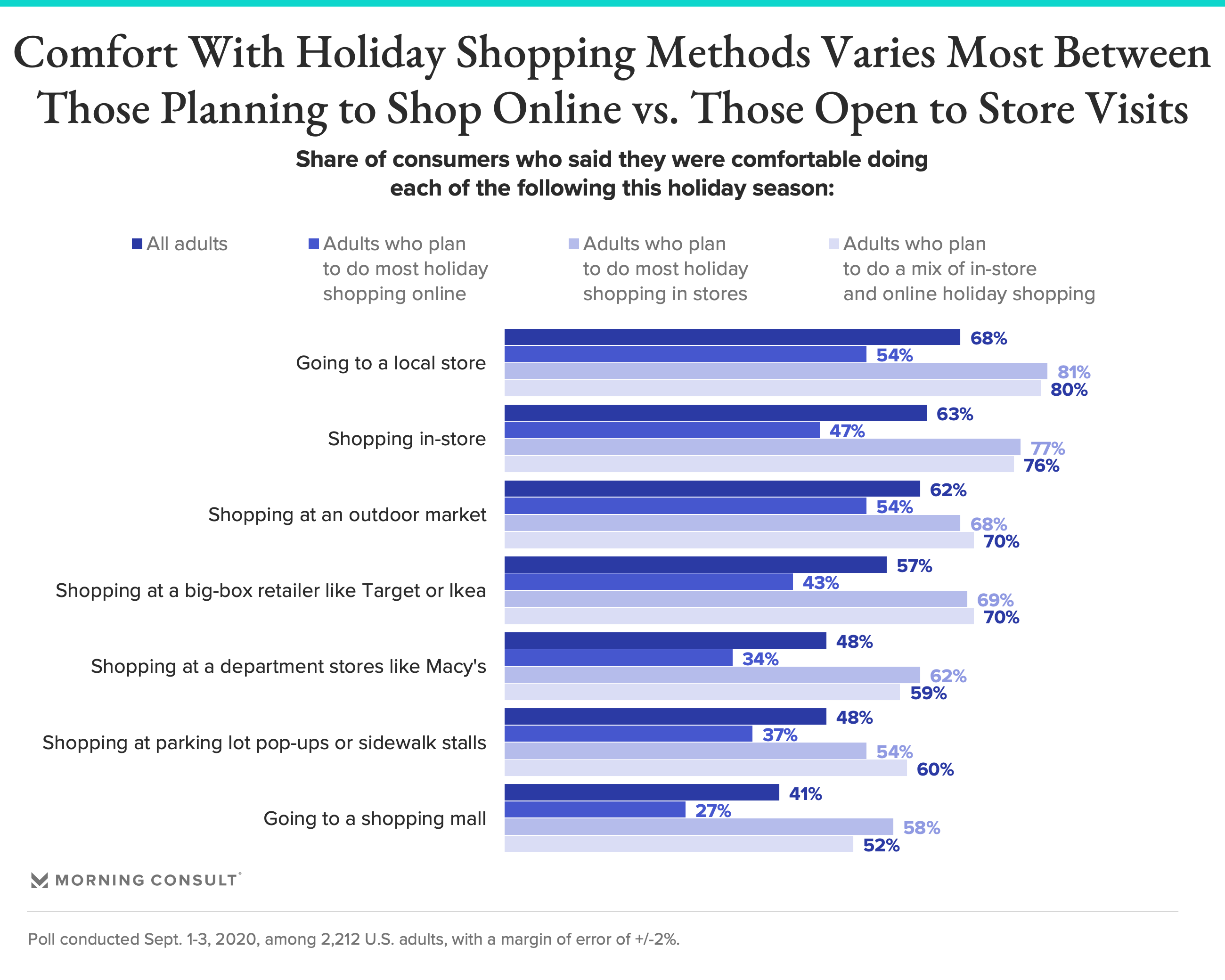 Almost a third of Americans say that COVID-19 will significantly impact either their holiday shopping decisions or the holiday season for them and their families, just one of the attitudes behind divergences in shoppers' preferences for online vs. offline holiday shopping this year. But nearly a fifth of U.S. adults (19 percent) plan to start holiday shopping earlier than usual this year, a share that has held steady since early August and which is consistent across demographics and consumer types.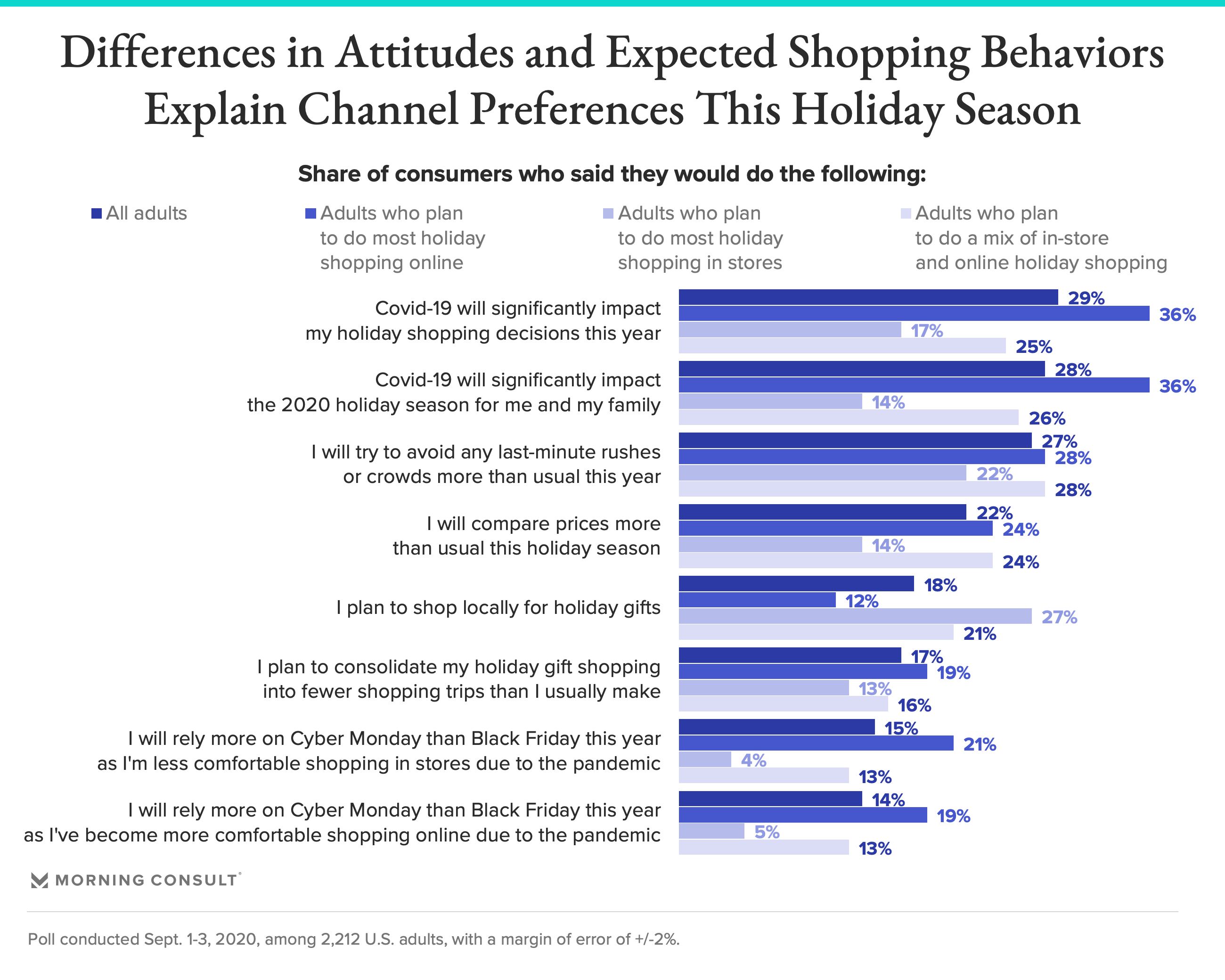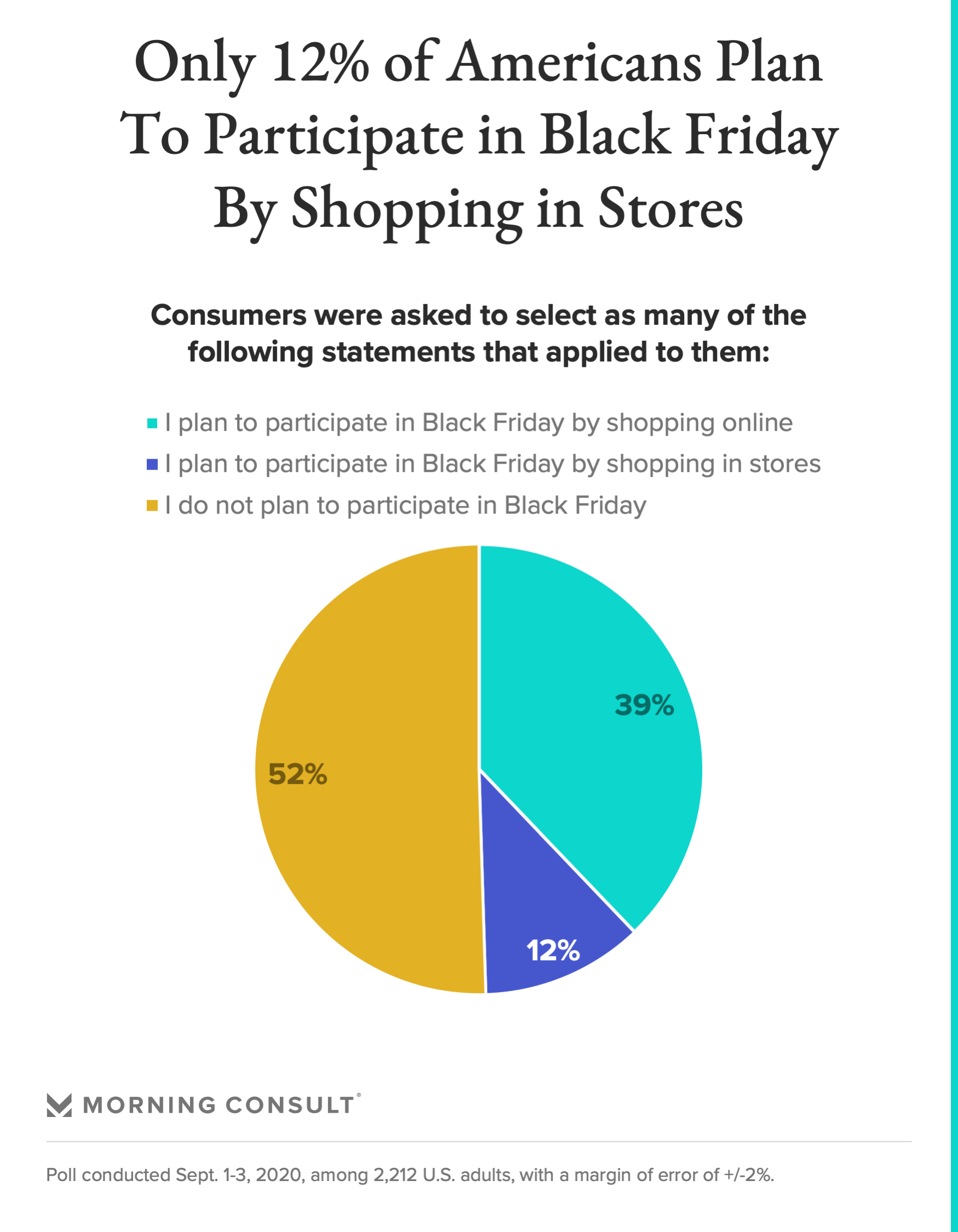 Black Friday: doomed or just different?
This backdrop brings into question the future of Black Friday, which 52 percent of Americans don't plan to participate in at all.

Likelihood to participate declines as age increases: Nearly two-thirds of boomers, 60 percent, and almost half of Gen X, 45 percent, don't plan to participate at all while 62 percent of Gen Z does. This may seem promising for the future viability of this shopping holiday as younger consumers continue to gain spending power while older generations become less influential, but most of those planning to participate will do so by shopping online. 
Beyond these generational differences:
Higher incomes

and

Black Americans

are most likely to

participate

in Black Friday relative to their respective peers (62 percent and 59 percent, respectively vs. 48 percent all adults), while consumers planning to shop primarily in-store this holiday season and those who haven't historically bought any premium gifts and don't plan to this year are most likely to not participate in Black Friday at all.

Those most likely to participate in Black Friday

by shopping online

are

higher incomes (

52 percent), those planning to make

more premium gift purchases

this year than last year (61 percent), and those planning to

shop primarily online

for holiday gifts this year (49 percent), compared to 39 percent of all adults, likely reflective of greater comfort with or ability to shop online among these audiences.

Boomers are least likely to participate in-store, while those planning to make

more or the same amount of premium gift purchases

this year and those planning to shop

at least partly or predominantly in-store for holiday gifts

this year are most likely to participate in Black Friday by shopping

in-store

.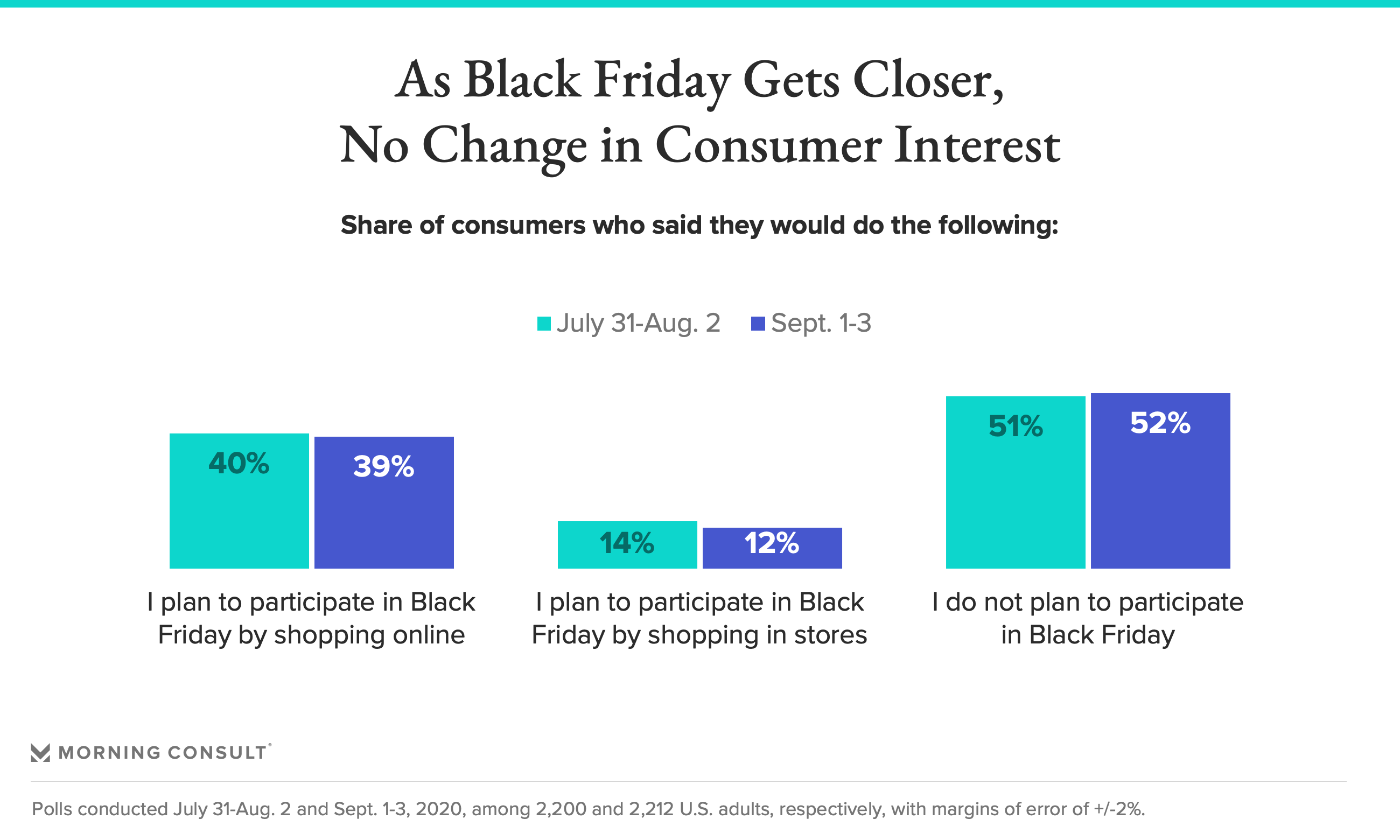 If not Black Friday, when – and where?
The popularity of certain holiday shopping methods is consistent across different consumer demographics in some cases but varies significantly in others. Gen Z is significantly more likely to support Black- and minority-owned businesses this holiday season, and to shop on mobile or social.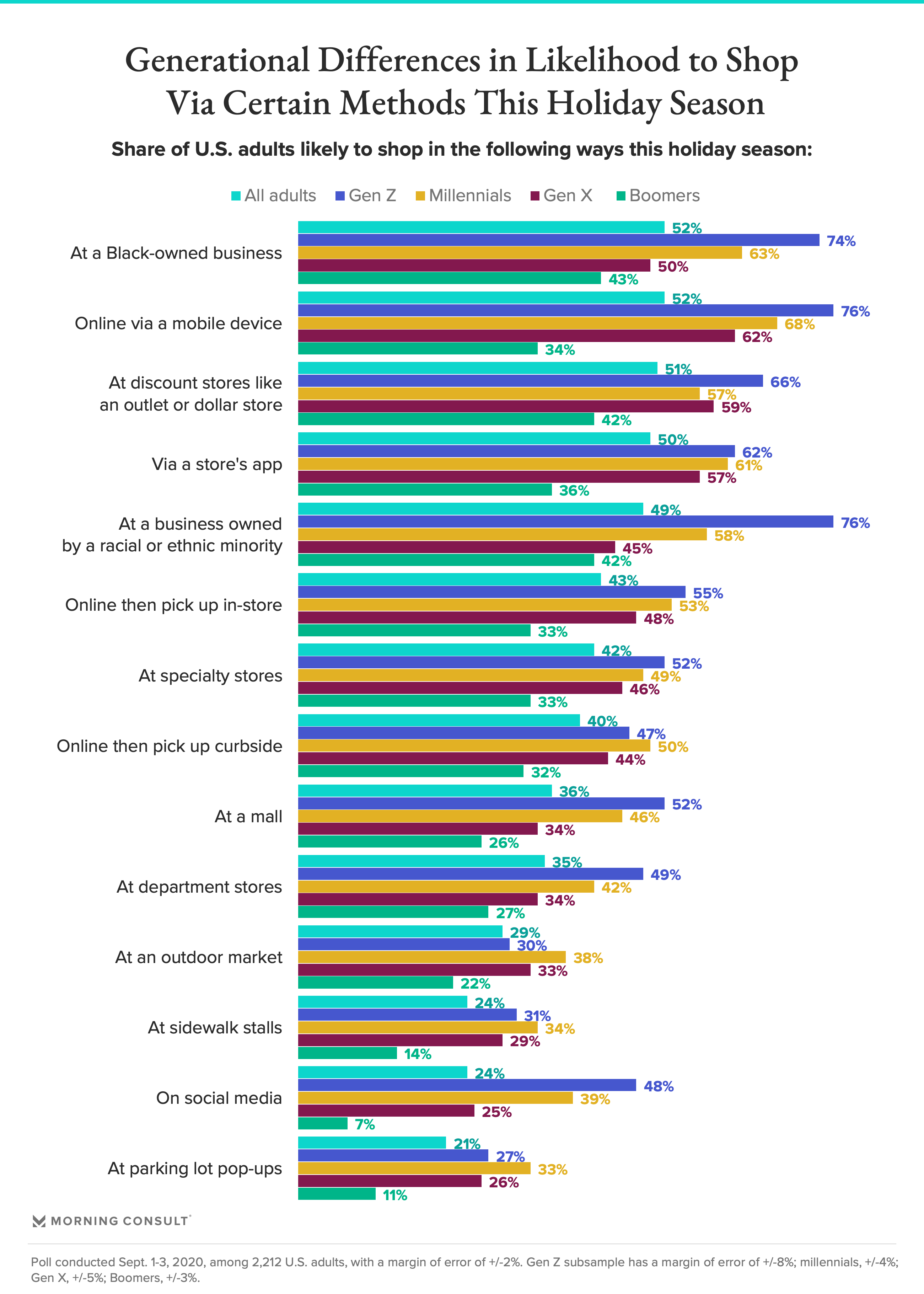 But one shopping method will clearly dominate in 2020: Americans plan to lean heavily on online marketplaces like Amazon for holiday shopping this year, with 78 percent saying they're likely to do so. This is also the shopping method with the greatest uptick in interest year over year.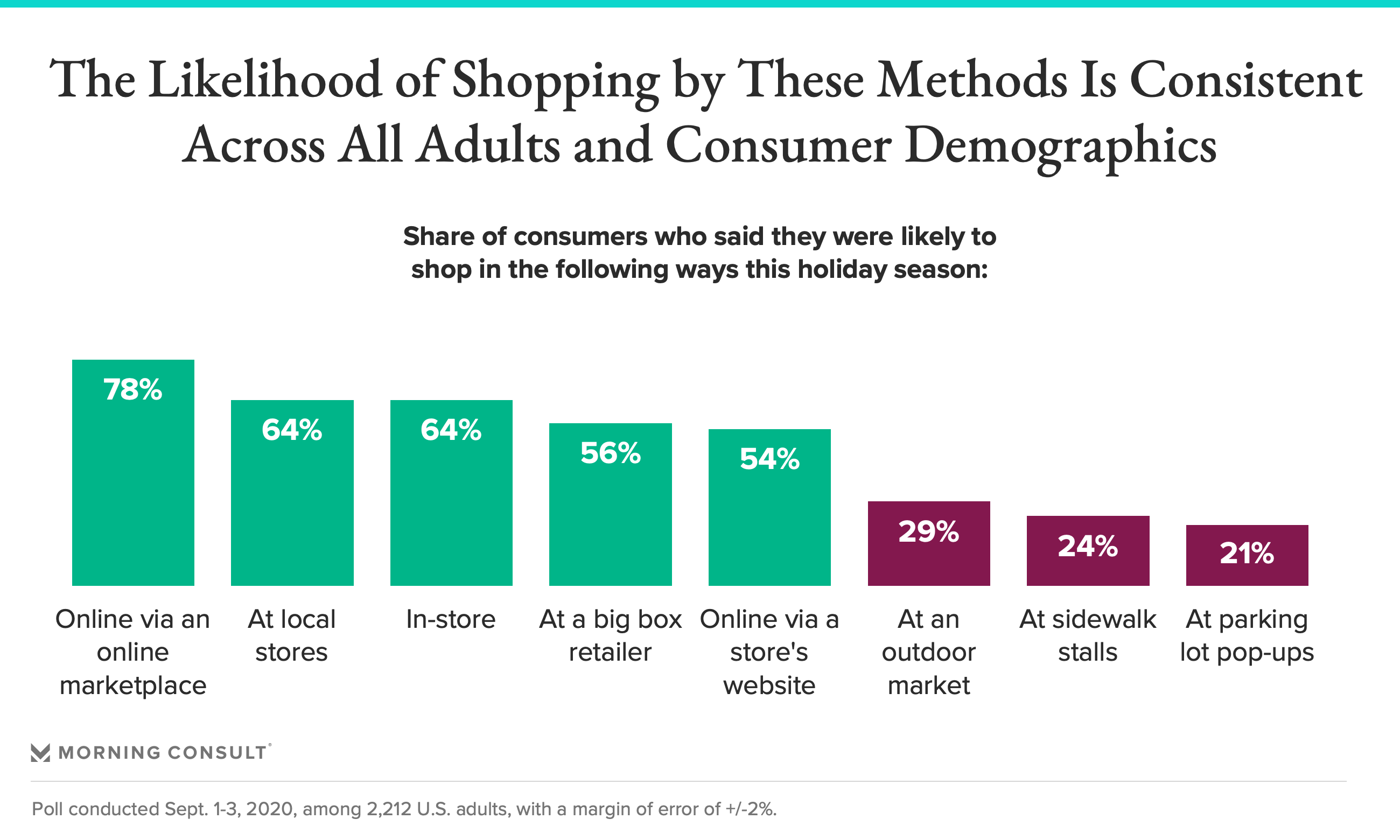 Though 64 percent say they're likely to shop in-store this year, this saw the second-largest drop in interest year-on-year, with 33 percent of Americans anticipating shopping this way less (second only to the 35 percent planning to shop less at malls, likely related to most consumers, 59 percent, saying they're uncomfortable shopping at a mall this holiday season). 
Department stores may face a tough season, though perhaps less devastating than has been suggested. Thirty-five percent plan to shop at these this year, and 30 percent say they will shop at these less than last year, but with Americans largely split as to whether they're comfortable or uncomfortable going to department stores (48 percent vs. 52 percent, respectively), 63 percent plan to shop at these about as much as they did in 2019.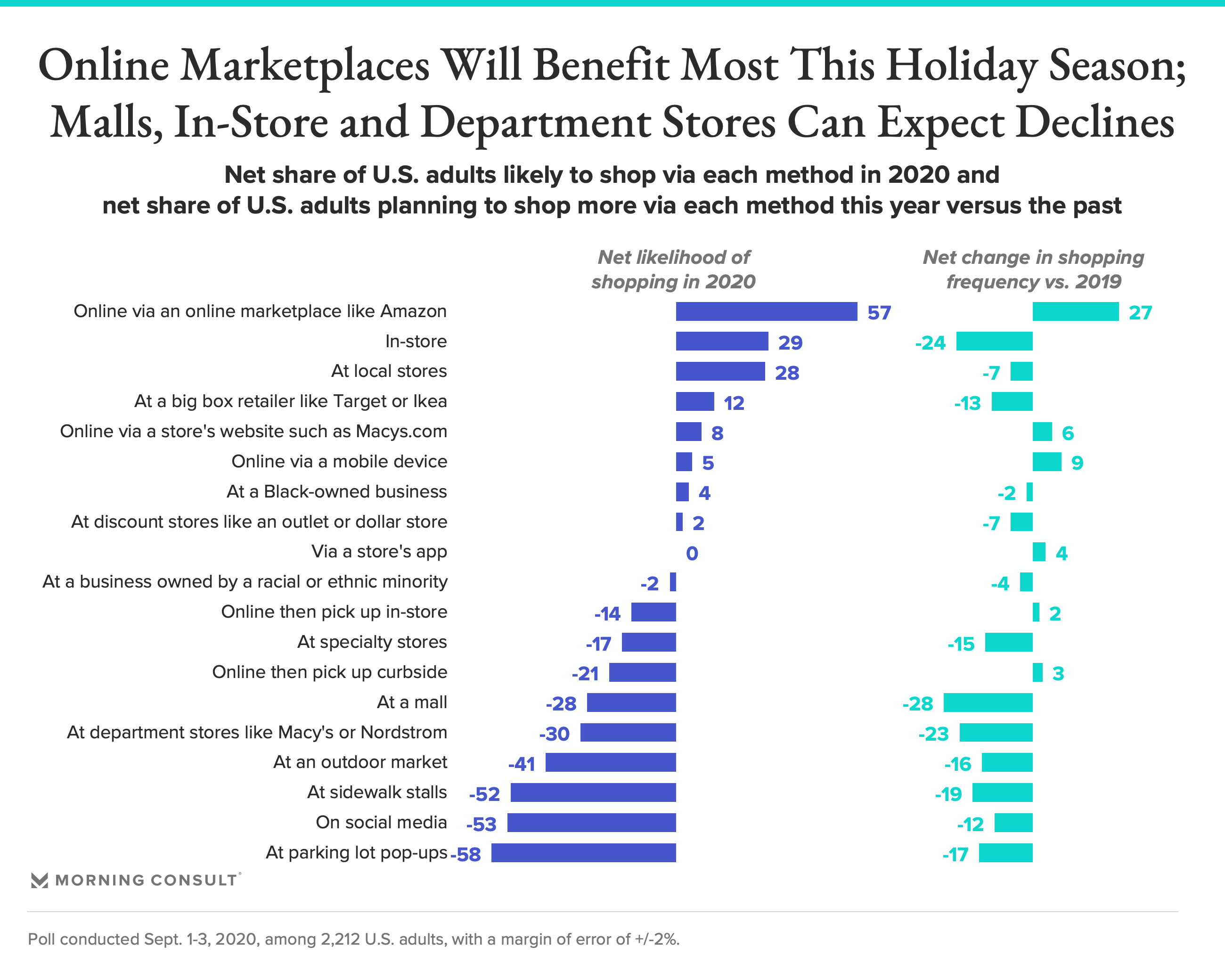 Gen Zers, high incomes, Americans living in the west and – as would be expected – those planning to do most of their holiday shopping online are behind online marketplaces' expected surge; these are the audiences most likely to use this shopping method more this year than in years past.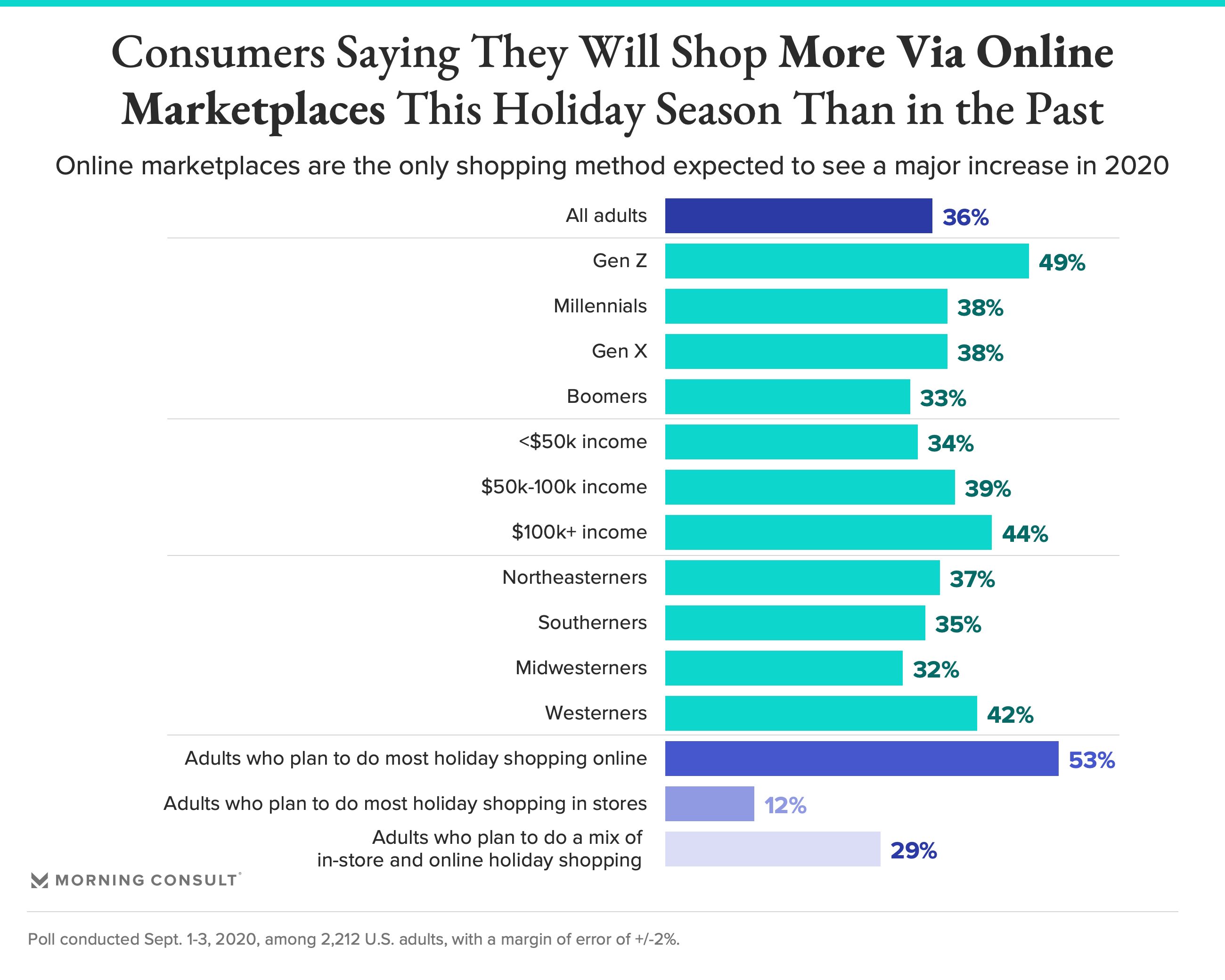 Along with Democrats, online-first shoppers are also behind the decline of malls, department stores and big-box retailers: These audiences plan to use these holiday shopping retailers significantly less this year.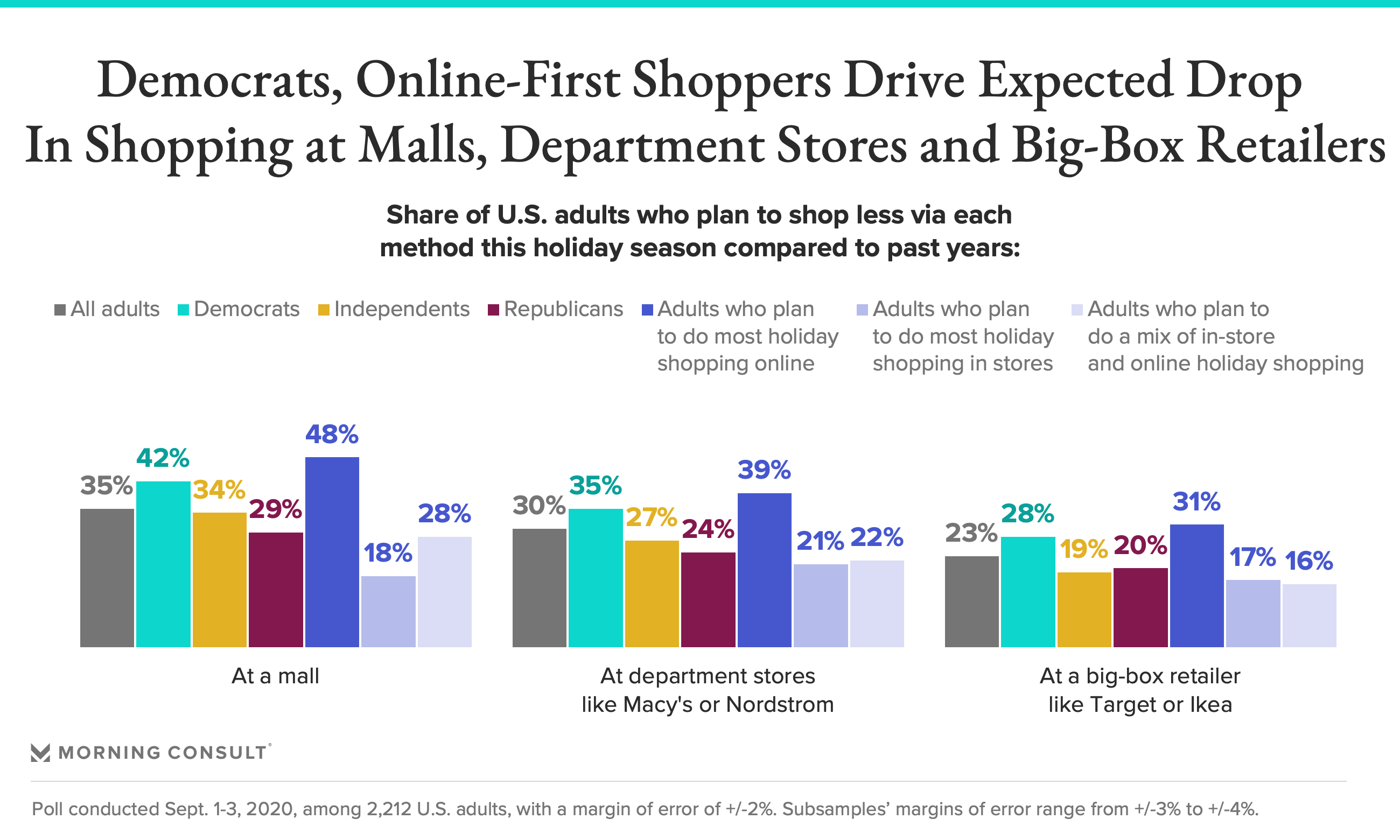 Online-first shoppers, the 47 percent of Americans who expect to do most of their holiday shopping online this year, are most likely to use online marketplaces, store websites and their mobile devices when shopping. And 81 percent of the near-quarter of Americans (22 percent) planning to do most of their holiday shopping in-store this year are most likely to shop at local stores, though big-box retailers, discount stores and malls are also likely options for more than half of these shoppers – channels which may seem surprising given 68 percent of this group plans to abstain from participating in Black Friday this year. 
But it seems that the madness of in-store Black Friday at these types of stores is exactly the issue, even for in-store-first shoppers, the majority of whom are still concerned about dealing with people not taking the pandemic as seriously (61 percent), being too close to others in stores (59 percent) and their health and safety while they do holiday shopping (55 percent).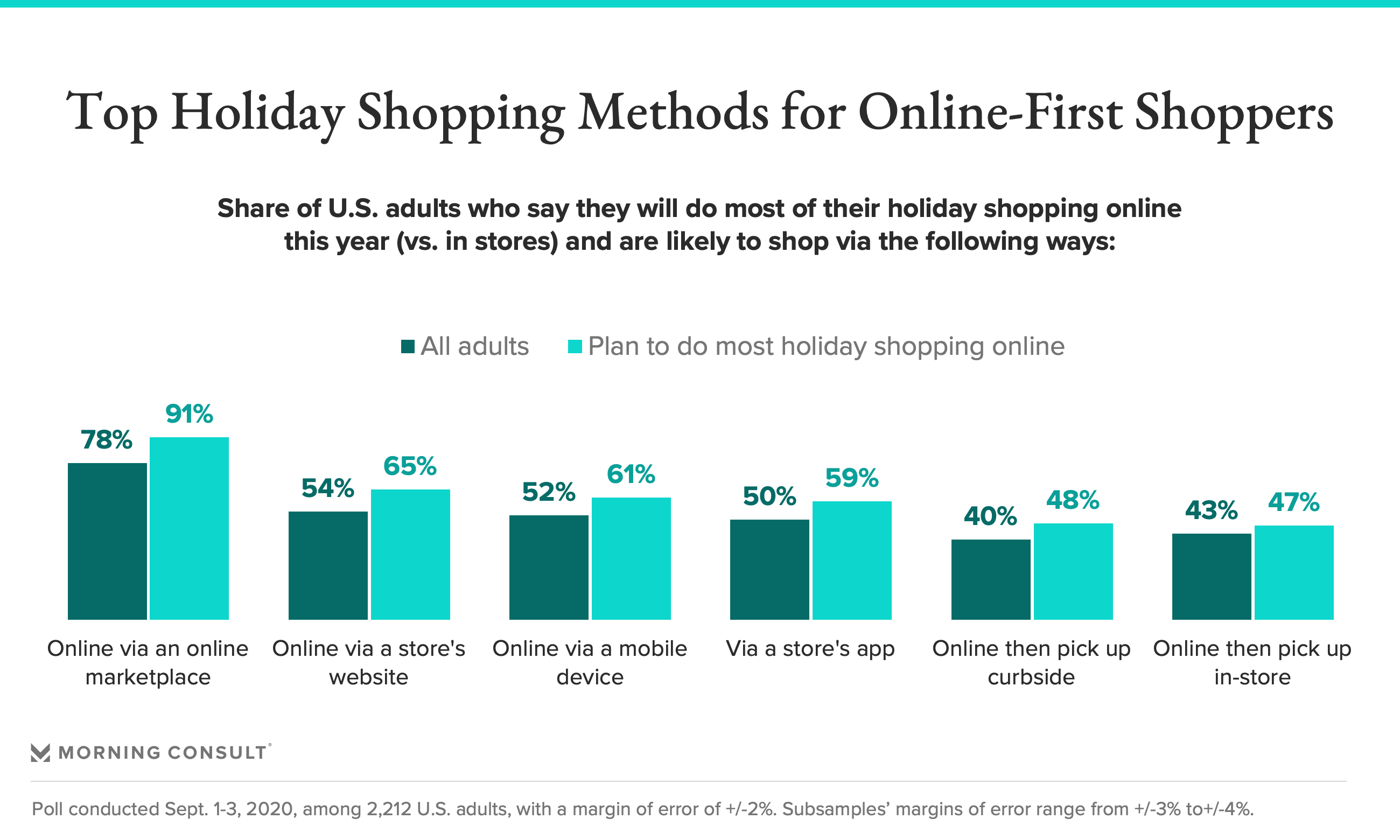 It's also worth noting that compared to early August, the share who plan to shop certain ways this holiday season has dropped, emphasizing the importance of closely monitoring changes in consumption.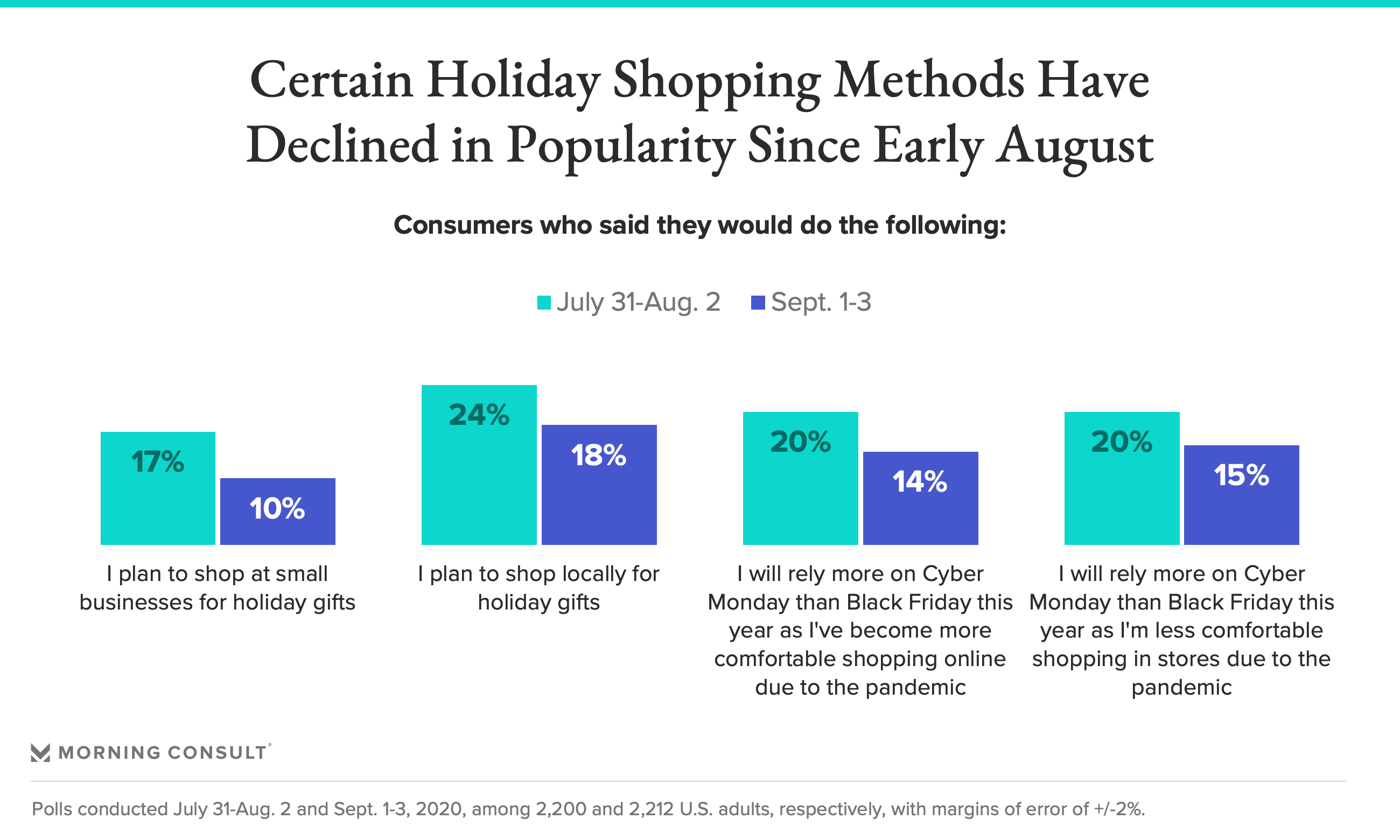 COVID-19 and other consequential events defining this year are dramatically reshaping the way Americans will celebrate and shop in 2020, and Black Friday is no exception. As Americans prepare for a holiday season that starts earlier, is more online and raises more health and safety concerns than ever before, the allure of gathering in crowds to stampede physical storefronts for early deals offered on a commercial holiday is fading.
As the holidays approach, Morning Consult's state of the 2020 holiday shopper series is closely monitoring shifting changes in the way consumers plan to celebrate, travel, spend and shop this holiday season as well as how consumer spending and shopping needs, preferences, expectations and habits are changing to help brands and retailers navigate the holiday shopping landscape as it evolves. Sign up to get alerts on our latest holiday shopping data and shopper insights.