Earlier this summer, Drone Delivery Canada (DDC), based in Vaughan, signed an agreement with the band to establish a defined two-way flight delivery route between Georgina Island and mainland Georgina.
Primarily, drones are used to deliver supplies to remote locations and to provide time-critical deliveries.
Now, during the COVID-19 pandemic, the focus has turned to limit person-to-person contact deliveries.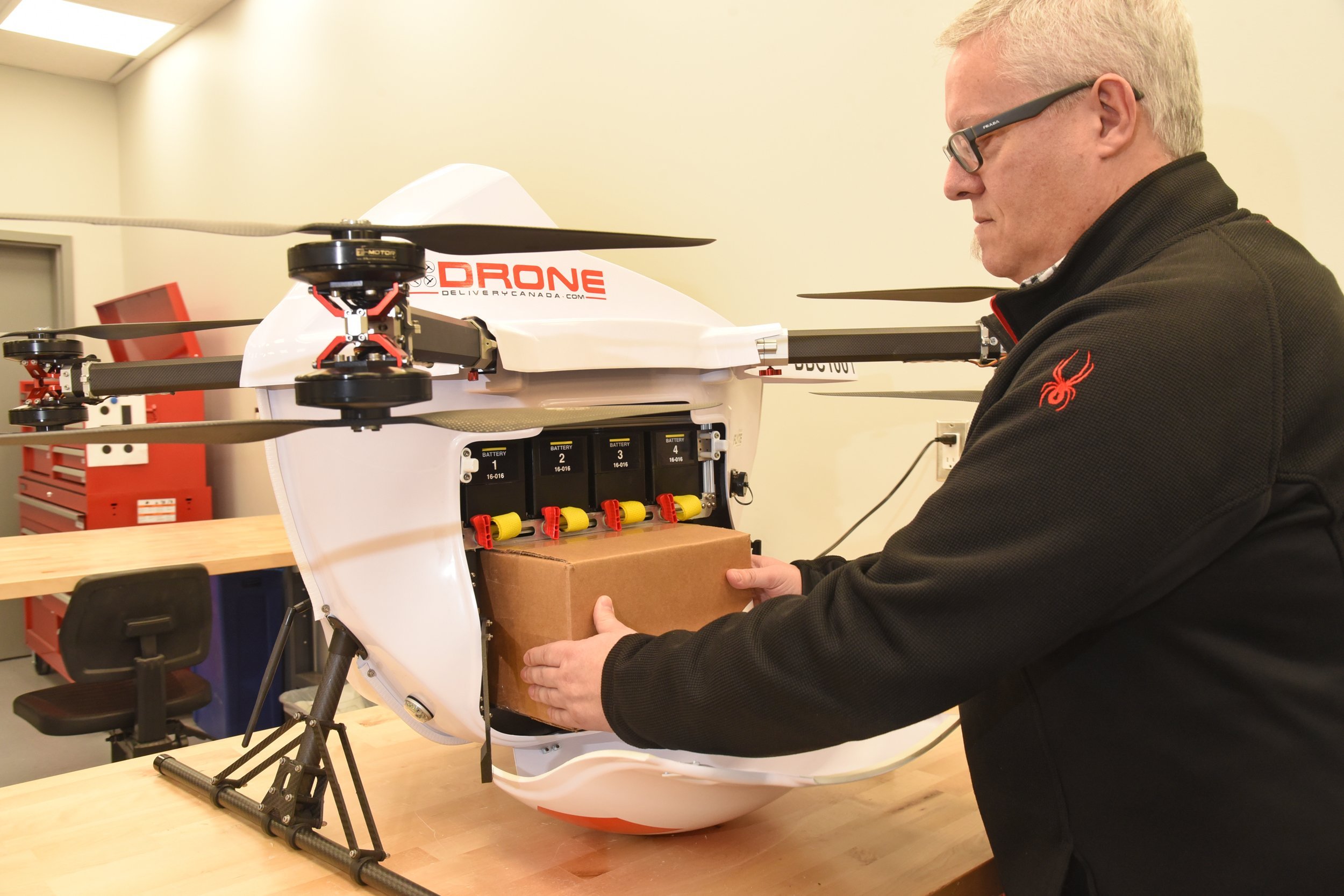 Drone Delivery Canada president and CEO Michael Zahra shows how cargo fits into this drone. | Steve Somerville/Torstar
"The (band) is expected to benefit from our drone delivery solution during the COVID-19 pandemic by limiting person-to-person contact between the mainland and Georgina Island while keeping their medical supply chain open," said DDC president and CEO Michael Zahra.
"This is yet another example showing our drone delivery solution is ideally suited for this type of application."
The drone flying over Lake Simcoe is the Sparrow, the smallest drone in the DDC fleet, which can fly up to 30 kilometres on a single charge while carrying a payload weighing close to 10 pounds. The Sparrow can also transport temperature-controlled items such as blood samples of COVID-19 test swabs. 
The electric drone will depart from a dedicated control spot at Virginia Beach Marina, fly about 3 km over Lake Simcoe to land on the island. 
Sparrow flights, which are navigated by GPS co-ordinates and not via camera, will be monitored remotely by DDC from its operations control centre in Vaughan. 
Drones will carry COVID-19 related cargo, such as PPE, test kits and swabs. 
Getting supplies can be difficult at time, McCue said, especially during the hard winter days.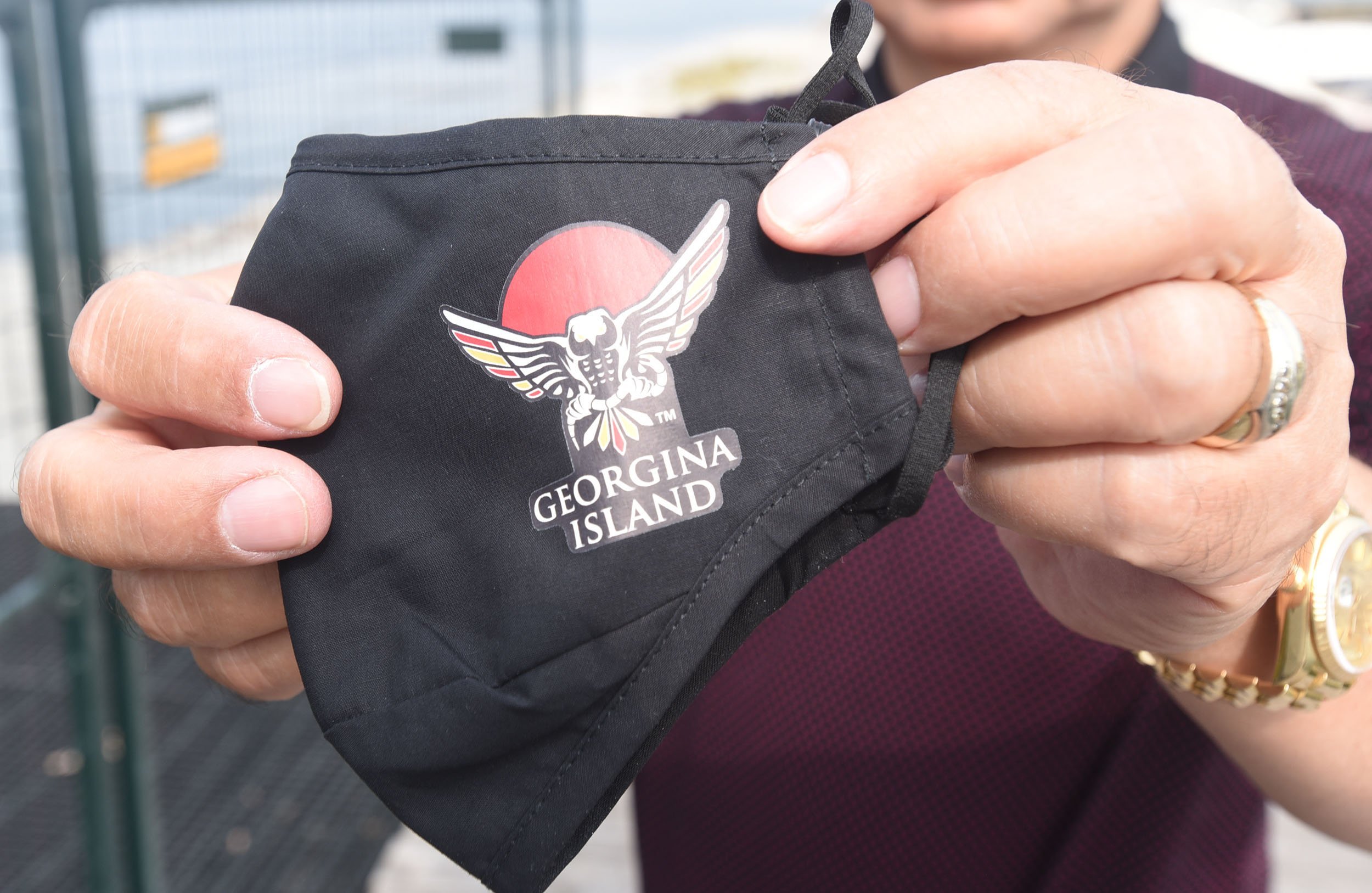 Coun. Bill McCue holds up a face mask. | Steve Somerville/Torstar
Weather can wreak havoc on the Aazhaawe Car Ferry that travels between Georgina Island and Virginia Beach on the mainland. 
The ferry can't run in times of high winds and thick ice buildup on Lake Simcoe, McCue added. 
Earlier this year, the ferry was on a two-week hiatus in late-April as the ice was too hard to break. 
During the winter months, many Georgina Island band members use scoots, a type of ice boat with an air propeller at the back that 'scoots' across the ice faster than the ferry.
The largest island scoot can carry up to eight passengers with groceries in pre-COVID times. Now with physical distancing in mind, scoots can carry only a couple of passengers. 
But scoots, designed to transport people, not cargo, are limited in what they can carry, McCue said. 
"When the winds are too strong or it's too stormy, we hunker down until the weather gets better," he said. "We get by with what we have."
But that won't fly when medical supplies and PPE run low and the need is urgent.
Currently, PPE supplies are delivered to the Island View Business Centre on the mainland where it would 'sit for a couple days,' McCue said. 
"This would be immediate," he added. 
Another part of the agreement between DDC and Georgina Island First Nation is an opportunity for band youth to learn about drone technology and participate in the process as spotters.
Georgina Island First Nation received more than $127,000 for the pilot drone project through the federal government's Indigenous Community Support Fund. The fund which was established for First Nations to design and implement community-based solutions to fight the spread of COVID-19.
---
Story Behind the Story:
Drones are often thought of as disruptive technology. After learning about the drone delivery project via press release, reporter Amanda Persico whooshed in to hear how the use of drones will benefit the Chippewas of Georgina Island First Nation, especially during turbulent winter months.