CHANDIGARH: Budget cut because of the Covid-19 pandemic has hit the UT's chances of reviving the amusement park project that had become a scam in 2010.
Nine years after the registration of an FIR (first-information report), the administration had in February decided to revive the project with complete transparency. Administrator V P Singh Badnore had told his team to seek out 40 acres. A senior UT official said the national lockdown had slowed down the land hunt and, on top of that, revenue resources of both the UT administration and the Union government had shrunk.
The priority now is Covid management but the theme park will remain in discussion on the pending projects, the official has said. The administration planned to go for international bidding. Recently, the Central Bureau of Investigation (CBI) had submitted a third closure report in the multi crore-rupee swindle, which the CBI special court had rejected again.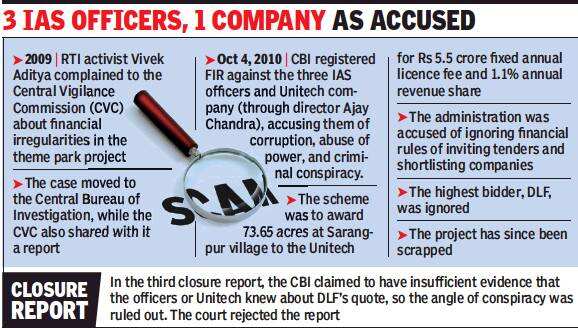 Fresh summons have gone to the-then UT adviser Lalit Sharma, the-then home secretary Krishan Mohan, the-then tourism director Vivek Attray, and Unitech director Ajay Chandra. The CBI had filed the November 2018 closure report over lack of evidence. However, the CBI court had detected irregularities and illegalities in the document. The CBI had sought twice to shut the case but the court wanted further investigation. The third time, the court had summoned the accused to start the trial.
Sharma, Mohan, Attray, and Chandra were booked for corruption, abuse of power and criminal conspiracy. They were summoned under sections 120-B (punishment for criminal conspiracy), 420 (cheating), 201 (causing disappearance of evidence) of the Indian Penal Code (IPC) and sections 13(1)d (abusing position as public servant) and 13(2) (criminal misconduct worthy of a maximum 10-year sentence) of the Prevention of Corruption Act.
Based on the central vigilance commission's investigation, a case was registered in the matter related to 73.65 acres site for the theme park. The CVC was the first investigating agency in this case before the CBI. The commission had acted on a complaint it had received in 2009 from RTI (Right to Information) activist Vivek Aditya. It had made its own report and shared it with the CBI.
Later, the CBI registered the FIR on October 4, 2010, stating that the former top officials of Chandigarh were in a criminal conspiracy with Unitech Limited to award it 73.65 acres in Sarangpur village for a fixed annual licence fee of Rs 5.5 crore and 1.1% annual revenue sharing. It accused the administration of ignoring financial rules for inviting tenders and shortlisting companies. The highest bidder, DLF, was bypassed. The CVC referred the case to the CBI.
Later, the project was shelved after allegations of irregularities in the allotment of land to Unitech.