Florida quarterback Kyle Trask is a born-and-bred Texas gunslinger. Before becoming the superhero of The Swamp, the 6-foot-5 quarterback served as the backup to D'Eriq King (who played at Houston before leading the Miami Hurricanes offense) at Manvel High School in Manvel, Texas.
As Gator fans watch him light up Southeastern Conference defenses every weekend, they should know that his family is deeply rooted in another conference school: Texas A&M University. Yep, Trask's parents are both Aggies having graduated from the school. Their love of College Station extended beyond rooting for Johnny Manziel and Dat Nguyen.
In fact, they named their son after one of the oldest landmarks you'll find at Texas A&M.
Kyle Trask Named After TAMU Stadium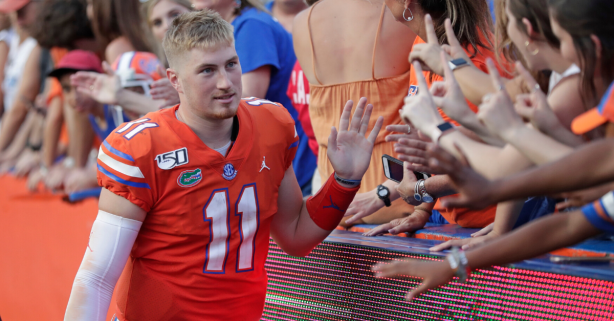 RELATED: Kyle Trask & Jade Caraway Are UF's Official King and Queen
Kyle Trask's first name isn't just another simple boy's name. His mom and dad named him after Kyle Field, the stadium the Aggies have played in since the early 1900s.
"As far as I know, that's what I was told. Mom and Dad were Aggies," he told reporters in the week leading up to the No. 4 Florida Gators' football game against No. 21 Texas A&M.
That Trask will be playing in the stadium he was named after come Saturday while he's in Heisman Trophy talks is a crazy full-circle story. The backup quarterback wasn't heavily recruited out of high school and had to patiently wait for his time at Florida behind quarterbacks like Luke Del Rio, Austin Appleby, Malik Zaire and Feleipe Franks (who injured himself against Kentucky).
Now, he's got the Gators 2-0 following wins over the Ole Miss Rebels and South Carolina Gamecocks and has fans in Gainesville thinking SEC Championship, College Football Playoff and possibly national championship.
Back home in the Lone Star State, he's not even sure if his family members will be cheering for or against him. He was raised in family that hated the Texas Longhorns and bled maroon and white. He remembers making the two-hour drive to watch Heisman Trophy winner Johnny Manziel in a 2013 spring game.
"A lot of excitement," Trask told Associated Press sports writer Mark Long. "I'm definitely going to have to get a lot of tickets for this week for a lot of family making the drive up there. It will just be an exciting time to play against a team that I grew up watching."
Wouldn't it be something if Trask beat his childhood team in a stadium that became his namesake? Trask in Dan Mullen's offense could give Aggie defenders a tougher test after Alabama Crimson Tide's Mac Jones torched them.
With 10 touchdowns and just one interception to his name already, Trask is on pace for the best season by a Florida quarterback since Tim Tebow's senior season. But the road to a Heisman Trophy features his hometown of Manvel and runs right through College Station, a place Kyle Trask knows all too well.
When he's finished, Kyle Field might be named after Kyle Trask.