By the end of the 2020 season, Georgia football hopes to have appeared in its fourth straight SEC championship game and its second College Football Playoff in four years. On-field results, however, aren't the only records on the line. 
Some fans are trying to extend their streak of consecutive home games attended. In the age of the COVID-19 pandemic, that requires creativity, luck and a willingness to spend money. 
University of Georgia's Sanford Stadium is scheduled to host four football games this season, starting with a matchup with Auburn on Oct. 3 and ending with an unusually late regular season finale against Vanderbilt on Dec. 5. The team announced in August its intention to allow 20-25% of Sanford Stadium's 92,746 capacity. 
A reduction in fans complicated matters for UGA journalism professor Keith Herndon, who has attended 255 consecutive football home games dating back to 1979. A season ticket holder, Herndon received four tickets each to the Tennessee and Vanderbilt games through the UGA Athletic Association lottery. 
A few days later, Herndon traded with a friend for a ticket to the Mississippi State game and bought a ticket to the Auburn game through StubHub, a secondary online market.As of press time, the lowest price for a ticket to the Georgia-Auburn game on StubHub is over $280. 
"It's still Georgia football," Herndon said. "And if they're teeing it up, I'm going to do my best to be there."
"I may be willing to pay a little extra since there's only two games I'm trying to find," Herndon said before he bought the other tickets. "If we have to miss one, and I put an asterisk next to my record, I think maybe my streak can survive with an asterisk." 
Big donors prioritized 
UGAAA reduced Sanford Stadium's capacity based on a model that allowed for 6 feet of social distancing throughout the stands, according to its website. Fans must enter, exit and move through the stadium with a face covering over their nose and mouth. 
The amount of games donors are eligible to attend depends on their annual donation level and Magill Society involvement. Members of the Magill Society, a group of about 1,200 donors, must give a minimum of $25,000, usually paid out over the course of five years.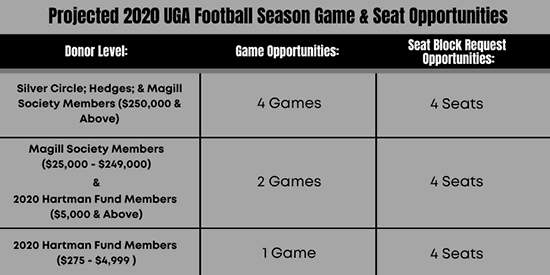 More than 50% of season ticket holders opted out of buying tickets without a penalty, according to athletic director Greg McGarity, which allowed lower-level donors like Herndon to receive more than one game. 
Carl Parks, a Magill Society member, will have an easier time extending his attendance streak at Sanford Stadium. Parks has attended every Georgia home football game since 2009 and received tickets to all four 2020 home games from UGAAA. 
Georgia allotted approximately 3,200 student tickets per home game, an 80% reduction from the previous two regular seasons. In comparison, Auburn reserved about 17,500 seats for students in its first home game.  
The UGA Student Government Association and the athletic association finalized a student allocation plan on Sept. 14. The agreement gave 30% of available student seats to first-year undergraduates and an additional 30% to students with more than 90 credit hours. The remaining 40% was divided among undergraduates with less than 90 credit hours and graduate students. 
Student ticket allocation
The total student ticket allotment for the 2020 season is 12,800 tickets.

30% of tickets were given to first-year undergraduates.

30% of tickets were given to students with more than 90 credit hours.

20% of tickets were given to students with 60-90 credit hours.

20% of tickets were given to students with less than 60 hours and graduate students.
"[UGAAA] was definitely open to suggestions, seeing as the pandemic has provided some unusual circumstances," SGA Chief of Staff Casey Smith said. "So when we did come up with that option, they were very willing to hear what we had to say."
No student received more than one ticket during the initial allocation process. One first-year student, however, might have found a way to attend two games. Megan Turner, a communication sciences and disorders major and a member of the Redcoat Band, hopes to go to one game as a fan and another as a mellophone player in the band. 
The Redcoat Band will operate at about 25% capacity in 2020 and won't travel to any regular season road games, according to an email from Director of Athletic Bands Brett Bawcum. It also won't perform on the field before the game or at halftime. 
"I expect it to be fun," Turner said. "I expect it to be a lot different than normal though."  
'Missing the normal good times'
Parks usually tailgates under a tent in front of UGA's Boggs Hall, surrounded by friends and the occasional stranger passing by. There is always plenty of food, so he said he likes to offer the "walk-up traffic" some chicken or ribs as they make their way to the stadium. 
That won't be possible this year. UGAAA prohibited on-campus tailgating, so Parks will move the tailgate to his front yard in Athens. He plans to watch all four home games from the Sanford Stadium SkyClub, a premium space Parks said will have 180 out of its 720 seats filled. 
Parks attended Georgia's Sept. 12 scrimmage as a perk of his Magill Society membership. The experience convinced him that the gameday atmosphere will be better than some might expect. Regardless, it won't be the same. 
"It's not going to look like the Notre Dame game last year. Let's put it that way," Parks said.
People like Parks can witness the season up close. If students aren't willing to pay for tickets on the secondary market, they will be forced to watch a large majority of the games on TV. 
First-year English education major Jordyn Priester is content with watching on TV. She didn't request tickets because she isn't confident fans will closely follow social distancing guidelines. 
Athens recorded 4,975 cases as of Sept. 24, according to the Georgia Department of Public Health. The Centers for Disease Control and Prevention said in its sporting event guidelines that fans should consider local COVID-19 data before attending. 
"I don't want to be around that many people," Priester said. "It just wouldn't make me comfortable. Plus, I want my first football experience to be closer to normal." 
A sense of normalcy will be hard to find this season. Sanford Stadium won't have the same lively atmosphere. Georgia won't play in-state — and out-of-conference — rival Georgia Tech for the first time since 1924. The season isn't even guaranteed to finish. 
The Bulldogs and their fans, however, are hoping to keep their streaks alive. 
"I'm trying to be positive about the situation," Parks said. "And I think [UGAAA is] doing the best they can do under the circumstances, but we're all missing the normal good times that we would expect in a typical season."