SALT LAKE CITY — The future of travel between Salt Lake and Summit counties is expected to change drastically, and we now have a better idea of what it could look like someday.
The Central Wasatch Commission released its Mountain Transportation System Alternative report Friday, detailing possible ideas that would link the two counties through the Wasatch Mountains. The report compiled ideas based on feedback provided earlier this year.
Future transportation options listed in the report include a year-round daily bus service across the Cottonwood Canyons that would link the Salt Lake and Summit counties, a gondola up Little Cottonwood Canyon, light rail service up the canyons, or possibly even a tunnel linking the two Cottonwood canyons.
The commission revealed the report during a two-hour online question and answer forum with commission members and opened a 30-day public comment period on the ideas. The CWC also launched an interactive "online game" as a supplemental tool for public comment. People who visit are given pretend money and asked to select their ideal transportation options until they've used up that money, in a way to the agency to see what people would like to limit road congestion, improve transportation quality and reduce impacts on the environment while on a budget.
"Transportation and mobility in the mountains have been and continue to pose serious challenges for our region," said Salt Lake County Mayor and committee co-chair Jenny Wilson, explaining the importance of the commission and transportation plan.
"With expected population growth, climate change and increased visitation, the Wasatch Mountains are also in danger of being loved to death," she added. "Agreed upon solutions should balance recreational uses, economic development and protections for the watershed and our delicate ecosystems of the Central Wasatch."
The Central Wasatch Commission isn't alone in looking into the future of transportation in the Cottonwood canyons. The Utah Department of Transportation is tasked with looking into future transportation within Little Cottonwood Canyon. UDOT officials said in June that a gondola or increased bus service were among the possible options for that area.
The CWC, on the other hand, is tasked with looking at broad connections between Salt Lake and Summit counties through the canyons. Blake Perez, the commission's deputy director, explained the plans during Friday's online forum.
The first alternative option would expand bus service between Park City and Salt Lake County through the various canyons. It includes a rapid transit bus between Park City and Kimball Junction, where it would connect with a year-round daily bus service to Salt Lake County via I-80, various projects to pave the way for a future shuttle service at Millcreek Canyon and year-round bus service through both Big and Little Cottonwood canyons.
Under the plan, there would be a seasonal express bus in Big Cottonwood Canyon that would run every 10 minutes and take riders to Solitude and Brighton resorts. A similar service would run every five minutes to get riders to Snowbird and Alta resorts in Little Cottonwood Canyon.
It would also include snow sheds to protect the road through Little Cottonwood Canyon from avalanches, as well as an extended shoulder for bicycle and pedestrian safety.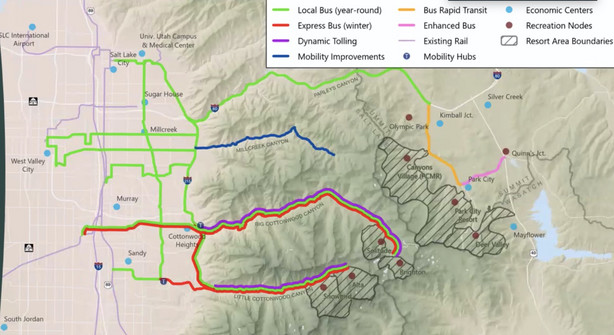 The second alternative also includes extended bus service but includes an aerial gondola from the mouth of Little Cottonwood Canyon along with it. The third would offer bus expansion and a rail alignment up Little Cottonwood Canyon instead of a gondola.
Perez also presented sub alternatives that would mix together ideas, such a transit/rail tunnel that would connect Big and Little Cottonwood canyons. Another idea would create a base-to-base gondola from Alta and Brighton resorts that could have the capacity to move up to 5,000 people per hour; another gondola option would connect Brighton with Park City.
The cost of the projects together ranged from hundreds of millions of dollars into the billions, especially when adding in lifecycle costs.
Various experts from the commission and other agencies broke down various aspects of possible transportation plans during the forum, as well. Carolyn Gonot, executive director of Utah Transit Authority, said she believed expanded bus services and other public transit projects will reduce congestion for people traveling through the canyons.
"Public transit does play a significant role in moving people throughout the region and that's true even up through the canyons," she said.
Meanwhile, experts for aerial gondolas and mountain rail systems also explained the benefits those projects could bring Utah. Chris Cushing, owner of SE Group, said there's been growth of aerial transit systems worldwide not just for skiing but also urban and tourism settings because they are a "very clean and efficient transportation mode."
Gondola frequency can also be customized to meet needs at a particular moment, he added. For example, they can reduce cars during slower periods than peak ski season.
Martin Ritter, CEO of Utah-headquartered Stadler US and originally from Switzerland, said mountain rail systems are efficient and the standard within his home country. He said 80% of the trains the company builds are electric or hydrogen-battery proposed systems with the ability to transport 5,000 to 8,000 people per hour during all seasons.
"It basically would have enough capacity to get rid of the cars if that's something we're looking to (do) as well, which would make, environmentally wise, the impact even lower," he said, adding that it has an advantage over gondolas in that it's easier to place a train stop than a gondola stop.
Regardless of the project selection, the environment seems to carry weight during Friday's forum. Laura Briefer, Salt Lake City Public Utilities director, explained projects would need to meet safe drinking water standards. The vast scope of the project centers also around two major creeks that provide drinking water to the Salt Lake Valley, which is why it's a possible concern.
Development done poorly could all factor degradation and pollution, she pointed out. The projects could also lead to overuse in the mountains, which could lead to increased wildfire risks. She said the commission looks into these factors when looking into final plans.
"These canyon watersheds from City Creek at the north to Little Cottonwood Creek at the south are literally the lifeblood to our community and provide drinking water to our residents," she said.
Regarding vehicle emissions, Gonot said UTA is looking to extend electric bus use in the canyons. She said the agency's upcoming Ogden rapid transit system will test how well electric buses can handle steep terrain, especially in the winter.
Friday was the official start to a second public comment period dedicated to the presented alternative options. The first public comment period resulted in over 1,200 submitted comments. The public comment period will end on Oct. 18. Afterward, the commission plans to release findings and recommendations report by the end of the year, Perez said.
The full report can be found on the CWC's website, which is also where public comments can be submitted.
×
Related Stories
More stories you may be interested in