American Express has always created expansive, one-of-a-kind fan experiences and activations at music festivals and sporting events, especially for its cardmembers. For example, last year the financial services brand hosted a themed experience in San Juan, Puerto Rico, for 100 cardmembers to celebrate the Puerto Rican premiere of the musical Hamilton.
But how does the brand translate that special VIP treatment to virtual events?
For its recent iteration of American Express UNSTAGED, a digital musical experience that featured a free performance by Alicia Keys, the brand designed packages for its cardmembers that included an enhanced streaming experience dubbed Behind the Stream.
"Merging the physical with the virtual experience is not new for American Express," explained Brandy Sanders, vice president of global entertainment partnerships and experiences for the brand. Launched back in 2010, American Express's UNSTAGED experiences pioneered the concept of branded livestreaming concerts. But now, in the time of COVID, the brand is expanding the concept to include more exclusive content.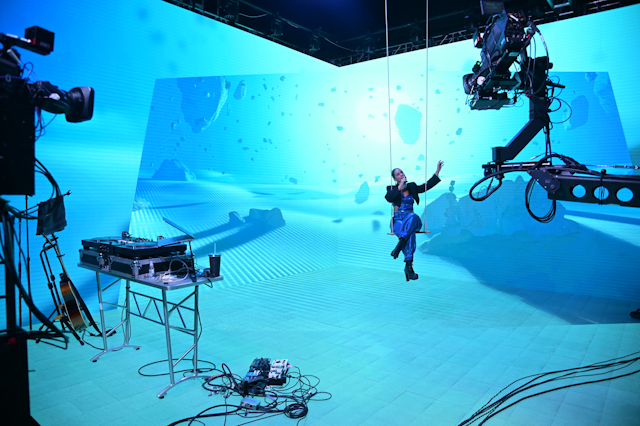 The livestream, which was broadcast from World Stage East in Secaucus, N.J., featured a set built with XR technology.Photo: Theo Wargo/Getty Images for American ExpressAs part of Behind the Stream, which took place following Keys's free performance, fans could tune into an interview where she discussed the inspiration for her new album Alicia and a Q&A session where she answered questions submitted by fans via social media.
The cardmember packages started at $10 for access to the enhanced streaming experience and went up to $100, which included the addition of merch and a virtual meet-and-greet with Keys. For every ticket purchased, American Express also donated the equivalent of 60 meals to Feeding America.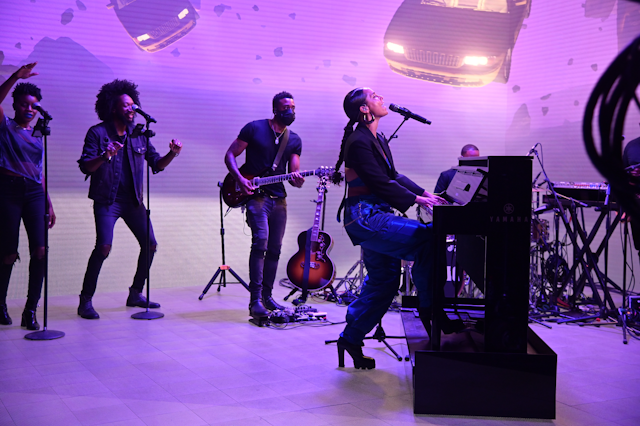 Keys also performed songs from her new album, Alicia.Photo: Theo Wargo/Getty Images for American Express"As people settle in to this new normal and stay-at-home restrictions ease, what makes for an engaging virtual experience is ever-changing," Sanders said. She explained that since March the brand has pivoted about 40 cardmember experiences across five countries and within five top interest areas (wellness, entertainment, dining, fashion, and business) to virtual.
"We're continuing to innovate to keep alive the magic, discovery, interaction, and connection that is inherent to any experience by exploring ways to add taste, touch, and smell to accompany virtual screen experiences," she said.
For example, this year via the U.S. Open Fan Cam powered by American Express, tennis fans watching at home were able to have their cheers seen and heard by players and other viewers. Fans could submit cheers through a mobile app to the U.S. Open tournament for a chance to be shown on the LED screens surrounding Arthur Ashe Stadium in Queens, N.Y. Plus, American Express cardmembers could ask their favorite players a question to be answered during a post-match interview. 
The brand has also upped its game with more virtual cooking experiences, a drive-in movie experience, and more cultural programming surrounding Broadway shows.
Sanders said that American Express is also working to provide access to more highly produced and interactive livestreams, and more virtual meet-and-greets with artists.
"When COVID-19 first struck, the transition to digital experiences was rapid, and frankly, it was all that many people relied on. Artists were recording themselves performing at home, chefs were filming scrappy tutorials from their kitchens, and many business forums moved from large-scale in-person events to digital video conferences from home," Sanders said. "We have continued to evolve our offerings based on our cardmembers' needs. … We feel these types of experiences are here to stay and are excited to see what the future holds for UNSTAGED in this new virtual climate."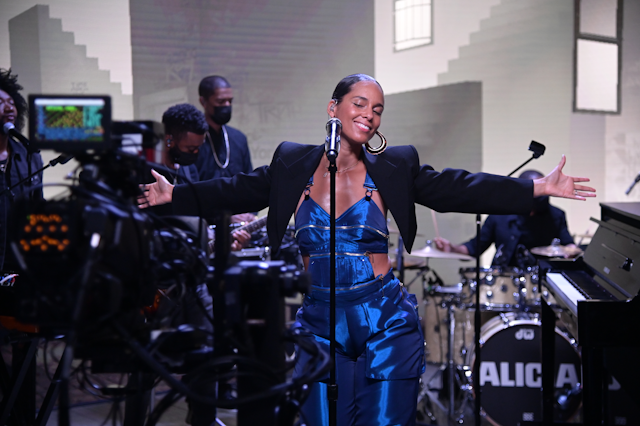 Keys described the Sept. 18 experience as a "musical wonderland."Photo: Theo Wargo/Getty Images for American Express