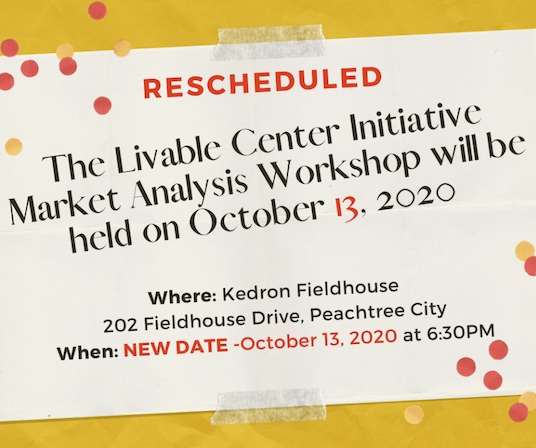 LCI city plans to be unveiled —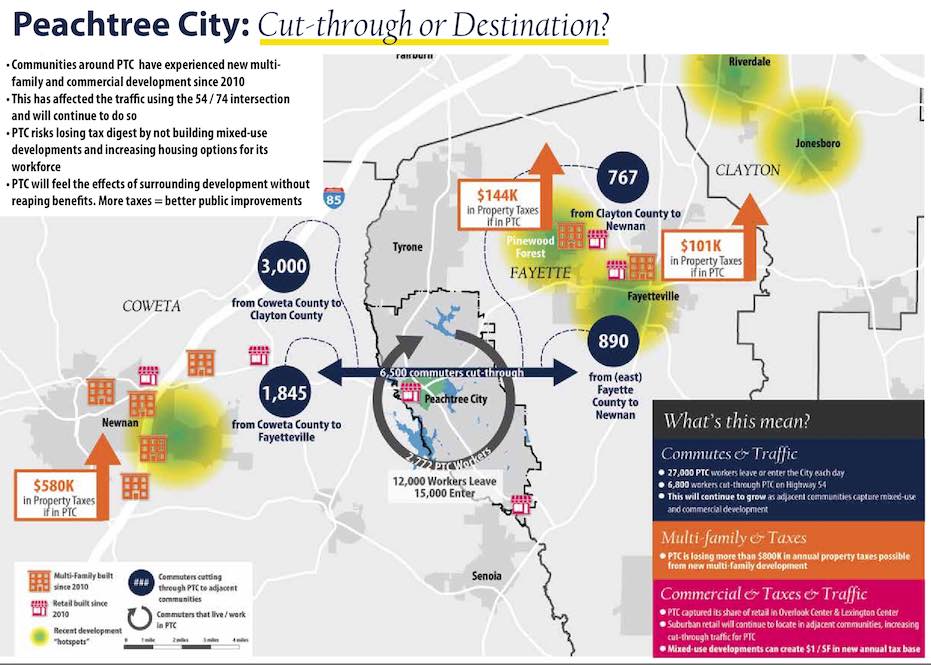 What Mayor Vanessa Fleisch has called "a roadmap for the future of Peachtree City" will be unveiled next Tuesday evening at the Kedron Fieldhouse.
That's when the results of a $160,000 Livable Centers Initiative study will get a public airing at a special City Council workshop in the fieldhouse.
3 Options
Here's the spoiler: With noticeable disappointment, the study has "recalibrated" after hearing from city residents and has come up with three options, one of which is "do nothing."
Option 1 is to redevelop Westpark and part of Huddleston Road and to build "paths around City Hall."
Option 2 is "some redevelopment at Westpark, Huddleston, City Hall."
Among the proposals put forward by the draft study are "new streetscape" designs for Huddleston Road, Wilowbend Road and Commerce Drive through Westpark, plus some new streets "for better connectivity."
The streetscape goals are to slow down car traffic, accommodate pedestrians, golf cart users and cyclists, to provide "usable public space," and to "create dynamic 'Main Street' environments in key nodes." For example, the Huddleston Road redesign with an 80-foot right of way would introduce four lanes of traffic, a cart path alongside the road and sidewalks along both sides, according to the slide presentation.
In both Options 1 and 2, the Willowbend streetscape would be improved as noted above, Drake Field is preserved and improved, existing City Hall is renovated or redeveloped, and existing green spaces and parks are connected by paths.
PTC's "paradoxical" response
The disappointment? Here's the quote from the LCI draft study: "While attracting high paying jobs / corporate office users is a strong desire among local residents and officials, there are demographic and locational challenges. Paradoxically, much of the city remains suspicious of the density & housing types necessary to attract the worker base that would make the area more appealing to employers."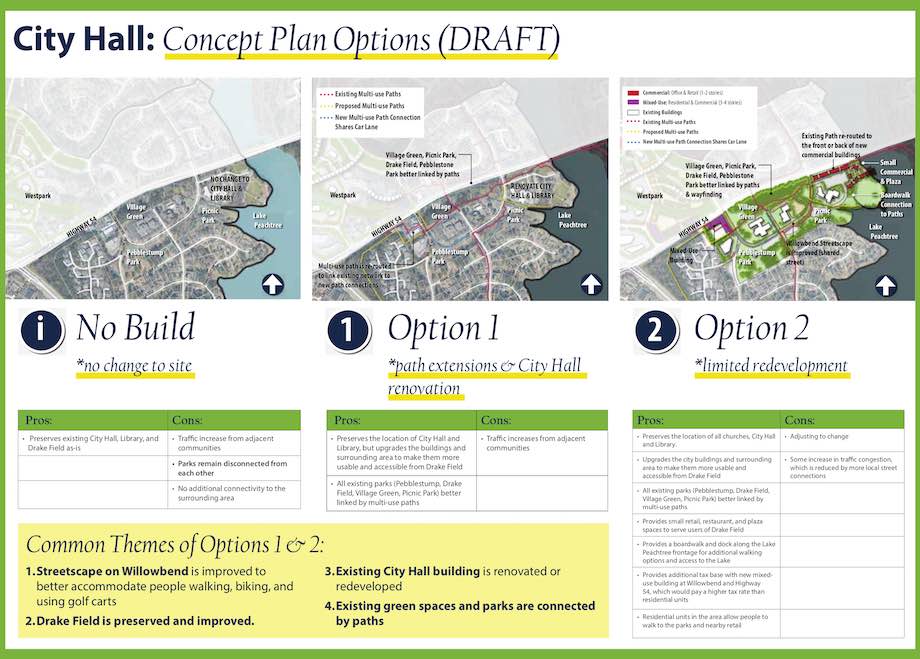 Since the LCI model could be seen as delivering one pre-packaged solution for whatever problem a community might have, the process begs some questions:
1. For a planned community of villages, does LCI have any solutions beyond "create an urban-like core for supposedly play-live-walk-apartment-centric millennials"?
2. Since the full-blown LCI model makes some future projections about what will happen to the community if it embraces the "make-millennials-happy" model, does any of that $160,000 study have anything based on research to say about what happens in the "do-nothing" and hybrid models you propose?
The sub-theme of the "recalibrated" study is "Peachtree City: Cut-through or Destination."
The draft study has a slide titled "What we're hearing so far…"
• "Residents are hesitant about change."
• "Residents are happy with PTC the way it is."
• "Concerns about how any development affects traffic at 54/74."
• "Concerns about the online engagement tools." That means the study survey itself.
The slide continues, "We're re-calibrating":
• "Offering a no-build scenario for each site."
• "Providing more background information on how housing, transportation, economic development are all connected at the local and regional levels."
• "Offering the same activities at the Fireworks as online (on paper)."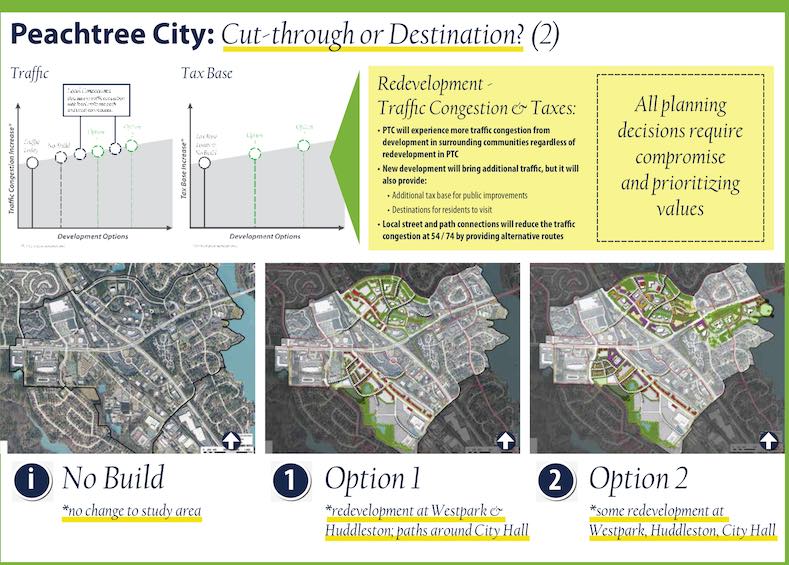 City government can drive change
The LCI draft study says the city government itself can take the reins of redevelopment and do some things itself.
From the draft study by Noell Consulting Group:
"Opportunity — The city can leverage several city own[ed] sites within the study area to create catalytic development opportunities while leveraging the existing strengths within the study area (retail, cart paths, & lake frontage) with sale proceeds providing cash flow to the city for further opportunities.
"By putting the proper land planning in place, these developments could help create town green / heart of the community which can attract diverse household types and, long term, corporate office users.
"The city can leverage tools such as preemptively rezoning land for appropriate density / uses and create public / private partnerships to encourage quality redevelopment."
In other words, even if city residents are hesitant, the city government can do a lot on its own with its own property toward creating what the LCI considers the ideal: a walk-live-entertain city center.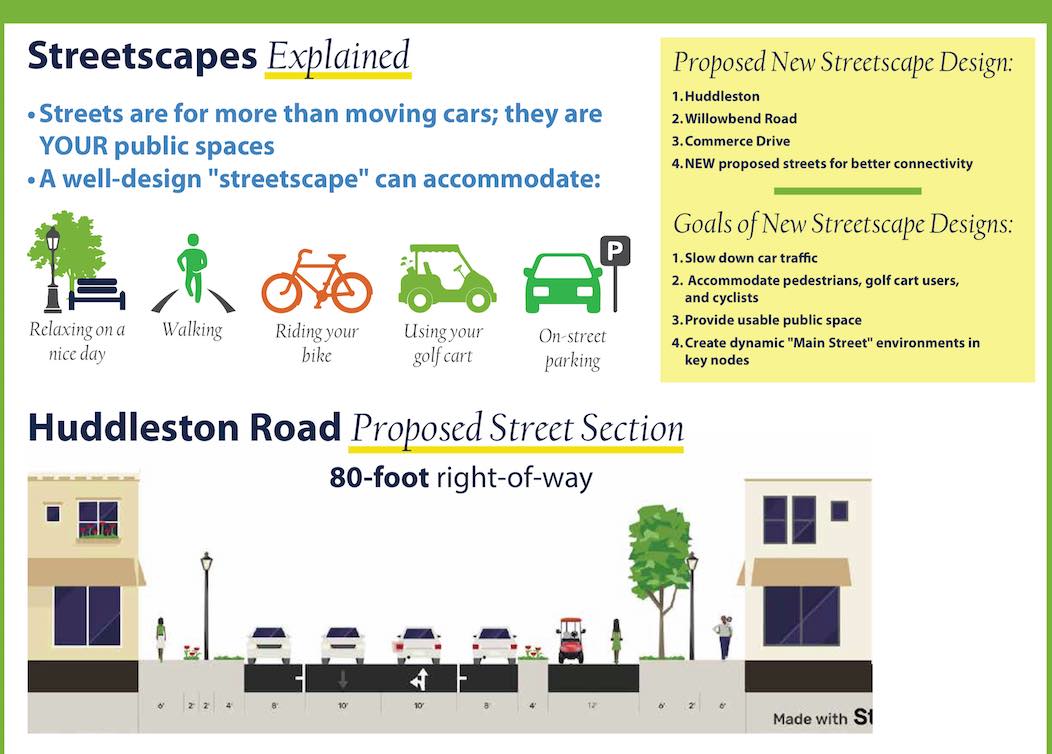 Mayor: "Stuck in our ways"
Mayor Fleisch has been clear about her notion of what should happen next. Here's our story from late August about that:
=============================
The word to remember is "redevelopment" — Peachtree City Mayor Vanessa Fleisch was signaling the citizenry at the August City Council meeting that change is coming to the city, presaged by an ongoing study by the Atlanta Regional Commission's Living Centers Initiative that focuses on what happens next in Peachtree City.
The average age of a home in Peachtree City is 30 years, Fleisch said, and even so, property values continue to go up. "That's pretty impressive," she said.
She contended that to keep that trend going, "we must be reinvesting in the city."
She noted that the sheer amount of cardboard boxes from Amazon packages now showing up in the city's recycling containers demonstrates how commerce has fundamentally changed.
"You shopping habits are changing," Fleisch said. "If you are shopping online, what does that do to the local establishments (like Steinmart)?" Her point was that the core concept of Peachtree City envisioned multiple retail shopping centers that formed the city villages' centers.
When retail declines as dramatically as it has in the past few years — punctuated by the Covid-19 pandemic and mandated business shutdowns — retail centers as village centers are in danger of not having enough customers to stay in business. That means empty, aging centers at the heart of the city's five residential villages.
The anticipated solution is what the council wanted with Aberdeen Center — a new city center, with live-work buildings and maybe some high density residential within walking distance of a new shopping and entertainment area.
That deal fell through, but the idea is likely to come back alive when the survey is compiled and the LCI study is presented to the council, later this year.
Instead of "being stuck in our ways," Fleisch said, "it's better to have a roadmap for the future of Peachtree City."
===============================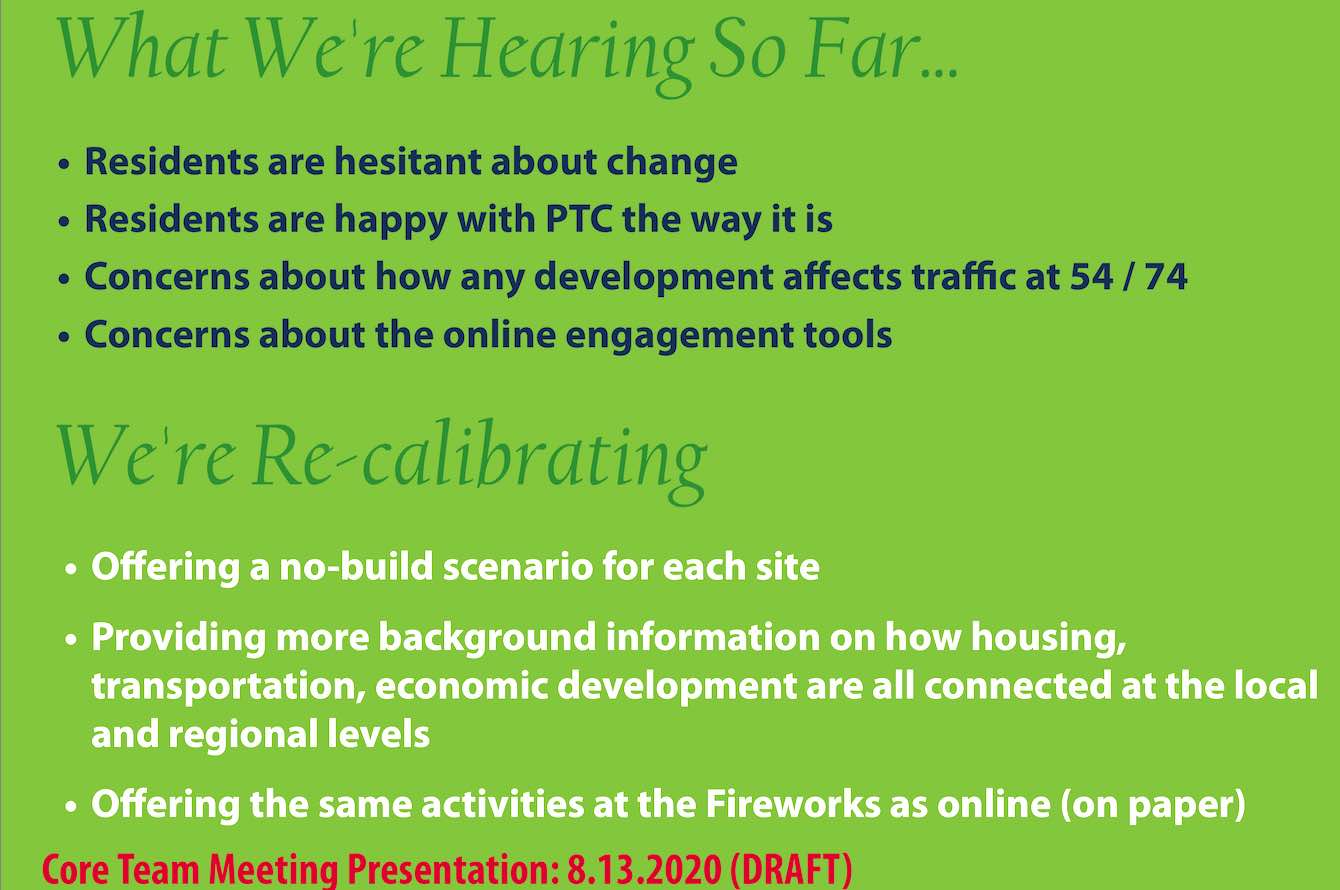 LCI: PTC needs better housing choices
The LCI draft study is critical of the city's housing mix:
"One of the challenges in attracting younger households is limited housing types within Peachtree City.
"• Only 25% of housing within Peachtree City is renter occupied
"• This shows an imbalance with national and regional levels and goes against broader demographic trends
"• Of the renter occupied housing in Peachtree City, more than half is in the form of single-family homes
"• Roughly 1,450 apartment units in Peachtree City, average age built is 1990, & newest product is 19 years old. Not attractive to young professional households
"• Young professional households attract employers and retailers."
And the study area itself — the very center of Peachtree City — receives study criticism:
"Challenges — The study area is bisected by two major road corridors, with significant traffic congestion, (54, 74) and an active rail line that break up, and limit, connectivity. Additionally, much of the study area is not ready for redevelopment with the city, and local area, lacking a central gathering space / town green with portions of the area lacking sewer connections, limiting development opportunities."
The always thorny 54-74 problem
The draft study has some ideas about "How can we reduce traffic on Highway 74?"
"• Increase the percentage of Peachtree City residents that live/work/play in Peachtree City
"• As upcoming slides will show, Peachtree City has witnessed its fair share of office and retail development. Although, these have almost all been auto centric.
"• Further effort will need to be made to create more walkable places with a mix of uses
"• Diversify the housing stock in Peachtree City to allow more households the ability to live in Peachtree City and reduce the amount of cut through or outbound commuters
"• Zero new MF [multi-family — apartment] rental product in past decade, with  over $800k in potential  annual tax base lost out on
"• For-sale home prices that are over 40%  greater than surrounding areas in part due to a lack of smaller home types – condos, townhomes, etc
"• Create alternative commuting routes"
What LCI believes must happen
The draft study is specific about what LCI folks believe must happen in Peachtree City:
"• New offices — Will need to provide walkable mixed-use environments and more diversified housing stock (rentals and homes under $500k) in order to continue being competitive going forward
"• Other than typical national chain retail, most retail and office tenants today are looking for experiential, walkable, mixed-use formats
"• These mixed-use environments nationally average 20-30% premiums over standard single use, auto centric models
"• These new mixed-use commercial spaces will create approximately $1/SF in new annual tax base"
The LCI findings will be presented during a called City Council workshop meeting Oct. 13 at the Kedron Fieldhouse at 6:30 p.m. The public is invited, but social distancing will be observed.