Barring no major disruptions, the tours, activities and attractions (TAA) sector will exceed pre-pandemic levels by 2024, with
global revenue reaching $260 billion.
But the recovery will be uneven, with certain regions, channels and segments recovering faster than others.
Online travel agencies will continue to accelerate the move to digital. And with niche OTAs entering the tours and activities market, consolidation is
likely on the horizon.
These predictions come from The
Outlook for Travel Experiences 2019-2025, part of a joint research project
by Phocuswright and Arival, a company that provides events, research and community for the "in-destination industry."
Subscribe to our newsletter below
The
findings are based on desk research, online data capture, dozens of executive
interviews and Arival's industry surveys. The most recent survey was conducted
in September 2022.
The TAA sector represented $253 billion in global revenue in 2019, making it
the third-largest tourism sector after transportation and accommodation, according to Phocuswright and Arival.
TAA is
possibly the most diverse and fragmented sector in the global tourism
industry and also the least studied, the report finds. The
vast majority of TAA businesses are small and micro-businesses that generate
less than $250,000 a year in gross sales.
TAA's revenue fell 78% in 2020, compared to 69% for airline
passenger revenue and 46% for hotel revenue, due to the sector's dependence on
cross-border tourism and large gatherings. Although government aid in North
America and Europe appeared to stave off mass closures during the pandemic, it's
unclear how many businesses survived.
But the industry's bumpy road to comeback is underway, the study reveals.
Activities will surpass 2019 revenue in 2023, while tours and attractions will only fully recover by 2024 and 2025, respectively.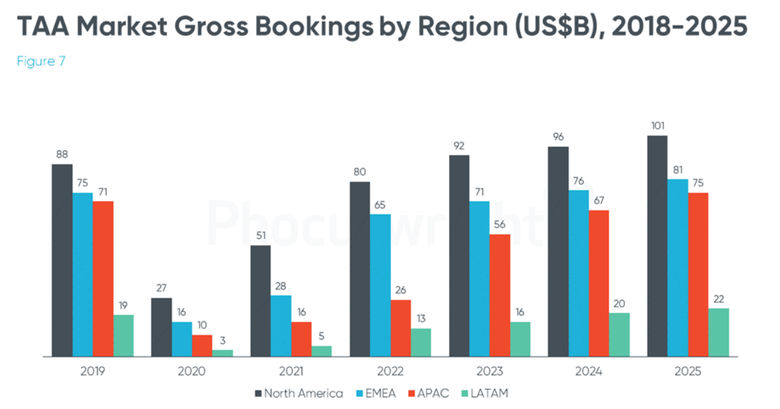 North America and Europe will account for nearly 80% of global
TAA demand through 2022, before the market rebalances itself with Asia's return
next year. However, Phocuswright and Arival caution that high inflation and the ongoing
conflict in Europe will likely be a drag on global economic growth – especially
in Europe – well into 2023.
Since the start of the pandemic, technology and online marketplace startups in tours and activities have raised $900 million. Top fundraisers
include OTAs Klook, GetYourGuide and KKday; local events and activities
marketplace Fever; and booking technology
provider Peek. Arival and Phocuswright anticipate that similar levels of
investment will continue – if not accelerate – as the industry recovers.
Online booking surge
Online booking in TAA has
traditionally lagged other sectors of travel and tourism because people simply walked up to a ticket office. However, online bookings saw a spike from just 17% of global TAA bookings in 2019 to nearly 30% by
2021, the Phocuswright and Arival report reveals.
Many software startups entered the sector to make online booking, ticketing and distribution affordable and accessible for small- and medium-size businesses.
Google launched a tours and attractions initiative – Things to Do – in 2021 and has since expanded it; this will likely drive more online discovery and bookings.
More than seven in 10 operators reported using the downtime of the
pandemic to make significant investments in their websites, digital marketing
and software, the study shows. Operator websites – especially attractions –
benefited from pandemic-related shifts in traveler behavior and will
continue to grow through 2025, according to the report.
However, tour and attraction operators may lose ground in online market
share to OTAs, whose gross bookings are forecast to rise from less than $8
billion in 2019 to nearly $20 billion by 2025.
Brands equipped to capture the move to digital channels – especially mobile – will be best positioned to win in this rapidly changing marketplace, Phocuswright and Arival say.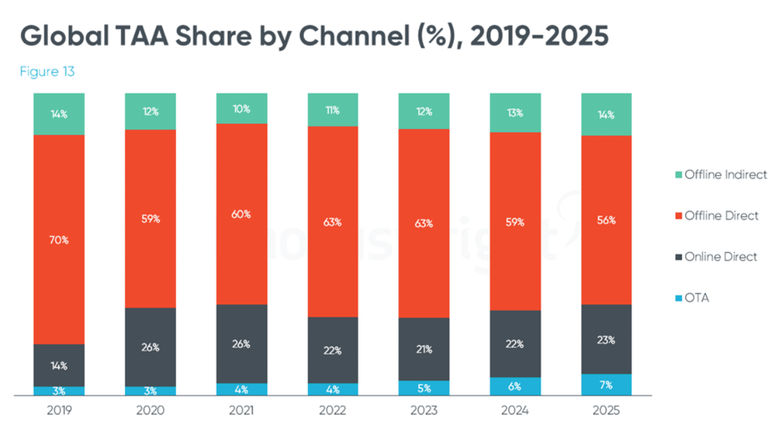 OTAs' growing impact
Although OTAs account for less than 5% of the global TAA market,
they continue to have a major impact on how travelers discover and book experiences,
and on general marketing and distribution trends. OTAs are especially well positioned to capitalize on the rapid move to online and mobile booking, the study shows.
The rapid growth of OTAs has driven operators to improve their
technology and digital marketing. Many operators have recognized the potential
digital threat from OTAs and have increased investment in their own direct
marketing capabilities, Phocuswright and Arival conclude.
As with the hotel industry in the mid-2000s, operators are increasingly concerned about the control
OTAs have over the supplier relationship. Rising commissions, added fees and changes in terms have led to strained relationships between OTAs and some operators, Phocuswright and Arival find.
Startups are stepping in to fill gaps in distribution in key
market segments or geographies that are underserved by global brands, the report reveals. Phocuswright and Arival predict that the consolidation of OTAs is likely in the next few years as the
travel industry rebounds.
Earlier this month, Booking Holdings-owned OTA Priceline expanded
into the tours and activities market with the
launch of Priceline Experiences.
Earlier this year, Merlin Entertainments, operator of Legoland
theme parks, Sea Life aquariums and other attractions, partnered
with Oracle to deploy its point-of-sale and hospitality technology to
improve the guest experience throughout Merlin's 130 attractions in 25
countries.
The Phocuswright Conference 2022
EXECUTIVE PANEL: Tours, Activities and Timing – Getting it Right