New York Film Festival 2020: Nomadland Review
By Matthew Passantino
Fern (Frances McDormand), the protagonist of "Nomadland," has every reason to be angry and live her life through bitterness. She previously lived in Nevada, but her town and job fell victim to the Great Recession and she hasn't been able to bounce back ever since. Fern's husband died and she doesn't have any children. Despite all of the reasons to feel life has dealt her a bad hand, Fern finds a new way to live and makes the best out her situation.
"Nomadland" isn't an overtly optimistic film, per se, but director Chloé Zhao ("The Rider" and the upcoming Marvel film "The Eternals") never makes us feel like we have to worry about Fern. Once everything she had is no longer, she buys a van and hits the road. Fern knows she isn't someone who needs to be tied down to one location anymore and finds different places to park for the night, or even an extended period of time. She becomes enmeshed in a nomad community, striking up relationships with her fellow wanderers, particularly Dave (David Strathairn), with who she has a friendly rapport.
It may seem like not much happens throughout the quiet and meditative "Nomadland," but what Zhao has achieved is something special. She offers a snapshot into a forgotten portion of American society, allowing us to witness how a system hasn't treated someone like Fern very fairly. Despite being on the road with limited possessions, Fern knows she must work to survive. She takes a seasonal job at Amazon, packing items before they go out to ship, which she relies on when she needs larger sums of money. She finds different jobs throughout the country, but working at Amazon seems to be her reliable go-to when in need.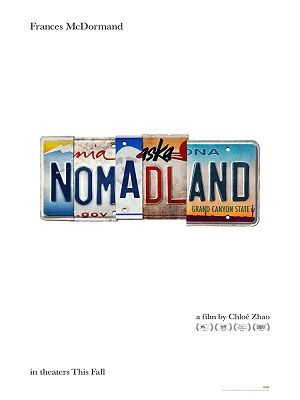 "Nomadland" is a fictional story about the real world. It is adapted from Jessica Bruder's book "Nomadland: Surviving America in the Twenty-First Century." Some might see Fern's decision to live out of a van as a choice – like her former friends, who she runs into in a store one day. The mother and her two daughters catch up with Fern, and the mother offers her a place to stay whenever she is in need. Fern respectfully declines, but not without a hint of weariness. Does she feel lesser than her former friends? Does she wish for the stability she once had, or is she tired of defending her lifestyle? "I'm not homeless, just houseless," she informs them. For Fern, her reaction could be a mixture of it all, but she left a life behind that was no longer working for her and decided to make a new one of her own. How many of us have ever wished we were gutsy enough to do the same?
Zhao continues her work of spotlighting a community that most filmmakers wouldn't. Her 2018 movie "The Rider" followed a young cowboy and former rodeo performer and how he coped with life after a tragic accident. The movie was cast with primarily non-actors, and "Nomadland" follows the same tradition of casting the supporting players with people who live on the road.
McDormand is the first Hollywood star that Zhao has worked with (ahead of her starry Marvel cast) and the synergy here between actor and director couldn't have been more perfect. McDormand truly inhabits every role, and she makes Fern's pragmatic earthiness captivating to watch. This is McDormand's first performance since she won her second Oscar for "Three Billboards outside Ebbing, Missouri" and the contrast between the two couldn't be more different. There isn't a moment of the brash bravado from "Three Billboards outside Ebbing, Missouri" on display here. Every moment as Fern is told through introspection. McDormand holds Fern's grief, hope, and reflection in her eyes, and with every look or facial expression she allows us to get to know Fern a little more.
The movie is a small-scale technical marvel. They way Zhao and cinematographer Joshua James Richards (who shot "The Rider" and Zhao's first film "Songs My Brothers Taught Me") capture the Western landscapes is breathtaking, evoking the old cliché, "Every scene could be a postcard." The wide shots of the sun going down on another long day gives us a comparison to this seemingly small story. While the majority of the film's attention is on Fern, each shot shows us what a big, open world there is out there, ready for her to discover and make a new home out of. Composer Ludovico Einaudi's score finds the right notes of melancholy to guide us through Fern's journey. "Nomadland" is a beautiful poem of a movie and certainly one of the year's crowning achievements.
"Nomadland" is currently playing virtual film festivals and will be released theatrically Dec. 4.