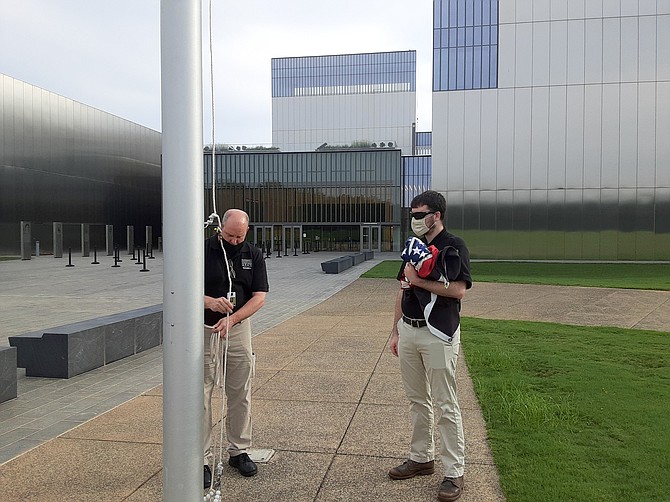 Photo by Mike Salmon.
At 5 p.m. every weekday evening, officials retire the flag at the National Museum of the U.S. Army at Fort Belvoir. The museum has not yet opened due to the pandemic, but there is still staff on duty there, face masks in place. The flag goes up in the morning and down at sunset, just like hundreds of other flags at military installations across the country.
On April 16, the U.S. Army postponed the museum's public opening, which was originally scheduled for June 4, 2020. Due to the COVID-19 pandemic, some of the exhibit gallery finishing work was suspended, impacting the project timeline. Currently, there are a few staff members still on duty, finishing up the final touches until the grand opening, which is coming soon, but a date has not been set yet.
According to museum communications official Dan Gregory, the official announcement for the big day may be coming soon, but this decision has not been made yet. "Some essential Museum and Foundation staff and contractors who can perform their work safely are working on site to continue progress on the Museum," he said.
The Museum will open when the conditions can ensure the health and safety of Museum visitors and staff, and the Museum is ready to begin daily operations. Read the museum website: https://www.thenmusa.org/