Any dad who's been to Disney World, or any other theme park for that matter, has mastered the "sitting on the bench, arms crossed, looking annoyed" look. Even notorious drug lord and narcoterrorist, Pablo Escobar.
An image shared on Reddit on Tuesday shows Escobar sitting on a bench in Disney World, arms crossed, patiently waiting till it's time to go home. He is surrounded by his kids and dons a baseball cap.
Newsweek subscription offers >
The picture dates back to May 1981, according to true crime blog Dangerous Minds. Escobar was the richest man in Colombia at the time, and organized a family trip to Walt Disney World in Orlando. He brought a bodyguard with him to keep him and his family she on their trip to the happiest place on earth.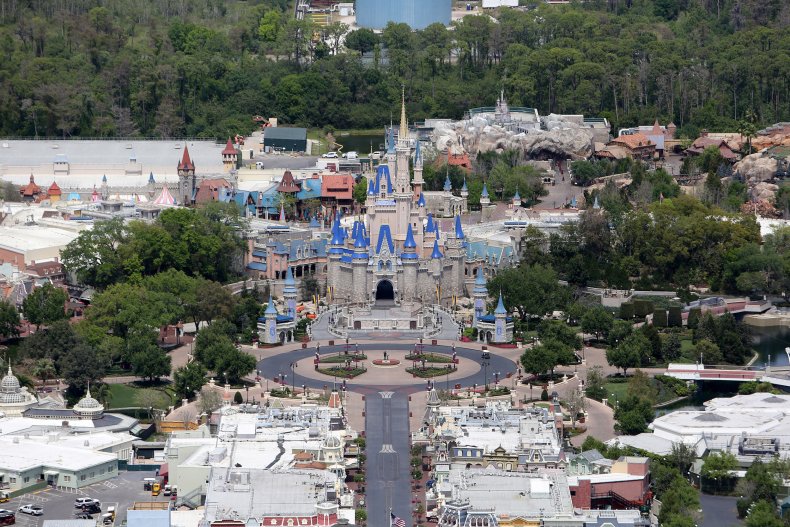 As per Dangerous Minds, the Escobar family spent "ridiculous amounts of money on their vacation, filling dozens of suitcases with souvenirs and clothing." In order to ensure the best experience possible for his family, he hired a consultant to advise them on which attractions and rides to check out, along with a driver to take them around.
"Free to do and buy whatever they wanted to in the park, Pablo was overjoyed and acted like a child alongside his son Juan Pablo," Dangerous Minds wrote. "Although he was afraid of roller coasters, Pablo rode them all to make his son happy."
Newsweek subscription offers >
Other images on the true crime blog site show Juan Pablo meeting Mickey Mouse in Tomorrowland, along with the Escobar family exploring the Swiss Family Robinson Treehouse attraction in Adventureland.
The Reddit community was in awe at the surreal picture of the drug lord at the Disney theme park.
"Do you think anyone complained if he cut the line?" one person asked. "If this is his happy face I'd be f***in terrified to see him pissed off," another joked, noting how he was "overjoyed" to be there.
Many found Escobar's resting face at a theme park relatable. "That's exactly what I looked like when I went to Disney with my kids too," one person remarked. "As a Dad, I have channeled my inner Pablo at many-a theme park," another wrote. "And no, that's a testing-dad-face joke, not a cocaine kingpin joke."
"He looks more serious about killing the kids than the other fathers," a third quipped.
Someone considered what it must have been like, getting everything you want at Disney World. "Imagine being the kids getting anything and everything you wanted there," one user wondered.
It's likely that Escobar truly made the theme park the happiest place on earth for his kids.