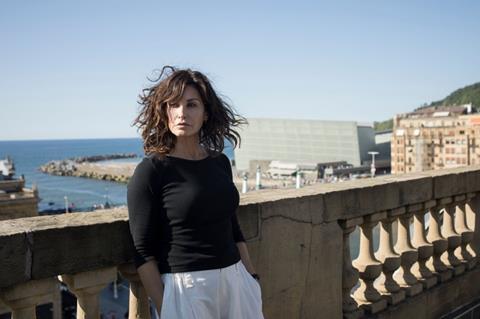 Dir/scr. Woody Allen. Spain/US/US/Italy. 2020. 91 mins.
"Film festivals are no longer what they were," says Mort Rifkin (Wallace Shawn) the "cranky little introvert" at the centre of Woody Allen's Rifkin's Festival. Allen is exactly how he's always been, though, playing his greatest hits in this nostalgic whimsy about a married American couple who attend the San Sebastian film festival. The director aims a few arrows at the film business which mostly shuns him now, and that can bring some energy to this story of a "middle-class Jew from the Bronx" having a late-life crisis in the Basque Country. Mostly, though, it's a familiar watch and a pallid reminder of better days we've had with the director.
Rifkin's Festival raises a polite smile, but never threatens anything more.
Paying tribute to the great European classics (via black-and-white montages including his old favourites The Seventh Seal and 8 ½), Allen barely even attempts to move outside his own patented formula, with film lecturer Mort relating his European holiday in flashback to a New York psychiatrist, providing scope for the narration which the loosely-devised screenplay sorely needs. As Vittorio Storaro's camera moves into the sun of San Sebastian, it raises hopes of a Vicky Cristina Barcelona, but those days seem long gone now, not only for the star power which Allen used to routinely attract, but also the commercial prospects surrounding his work. Spain's MediaPro financed and is selling Rifkin's Festival, and might have had an easier job with a fresher film, but die-hard fans of classic European art cinema and Allen's love of it are certainly catered for here, and there are many of them.
A-list stars may no longer flock to Allen, but that does allow Gina Gershon the chance to play Sue, Mort's younger and sexier publicist wife. He's accompanying her to the festival, where she's looking after – and flirting wildly with – hot-director-du-jour Philippe (Louis Garrel). In an aside which shows Allen hasn't lost his touch, Philippe's next project will tackle war in the Middle East and offer a solution, a dart at the self-importance of the auteur world. Mort, meanwhile, is a film snob who venerates the French New Wave and seemingly hasn't seen a film since Jules et Jim, so one might expect him to be at home in San Sebastian. But his trip, and the dreams he has at night in Spain – including a Citizen Kane moment featuring his parents and 'Rose Budnick' – lead him to realise that life is actually meaningless.
The film is at its most discomfiting when the hypochondriac Mort becomes infatuated with a beautiful cardiologist played by Elena Anaya, and starts to stalk her. She, meantime, is on her second marriage, an open one, to a womanising, drunken artist played with uncomfortable abandon by Sergi Lopez. They get into a fight which is a dim version of Penelope Cruz and Javier Bardem in Barcelona, while Christoph Waltz turns up as the Grim Reaper to remind us that this is no Love And Death either. There's something very sad about this. It's like Mort's joke about Jesus being resurrected on Labour Day because he's a professional carpenter. Rifkin's Festival raises a polite smile, and a warm recognition of the films Allen references, but never threatens anything more.
Production company: Perdido Productions
International sales: MediaPro Studio Distribution, [email protected]
Producers: Letty Aronson, Erika Aronson, Jaume Roures
Screenplay: Woody Allen
Cinematography: Vittorio Storaro
Editing: Alisa Lepselter
Music: Stephan Wrembel
Main cast: Wallace Shawn, Elena Anaya, Louis Garrel, Gina Gershon, Sergo Lopez, Wallace Shawn, Christoph Waltz