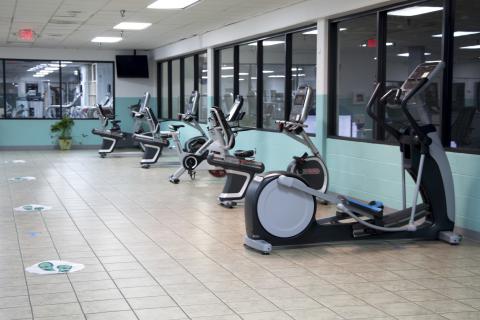 There has never been a better time to get fit at a Park Authority RECenter. Take advantage of the membership sale that's going on now through Nov. 30, 2020. Whether you're a new or returning member, you can save up to 20% on the purchase of all 6-month memberships and 25% on 12-month memberships.
Memberships are on sale at any of the county's nine RECenters and online. They may be used for all facility uses that allowed under COVID-protocols, which currently include lap swimming/water walking, Cybex Selectorized strength training machines, cardio machines and limited dumbbells, indoor basketball and racquetball courts, and public ice skating sessions. Amenities vary by location and may be limited due to pandemic-related safety reasons.
New safety measures are in place at all the RECenters. These measures include enhanced cleaning protocols, more sanitizing stations, and new fitness center layouts that allow for social distancing. An advance reservation system is in place, and non-contact check-in systems are now standard.
To ensure that the RECenters are safe for everyone, please remember to:
Stay home if you are sick or if you had contact with someone with suspected or confirmed COVID-19 within the past 14 days.
Wear a face covering or mask.
Practice social distancing.
Wipe down fitness equipment before and after use.
Wash your hands frequently with soap and water.
Follow marked footprints and other directional signs to help ensure safe distances from others.
For more information, contact 703-222-4664.