SALIDA • Sweaty and still holding his helmet, you could tell the cyclist ended his ride here for a reason. For a bagel. This bagel.
But he was too late. By 10:30 a.m., the little bakery on the corner was sold out. And had been for two hours.
Without saying a word, the forlorn-looking man walked away.
About the series
A monthly dive into the culinary character of the Centennial State. Send your recommendations to [email protected]
That kind of disappointment happens a lot at Little Red Hen Bakery, where the daily offering of 160 or so bagels runs out quickly.
It says it right there on the menu: "Get 'em early."
Make no mistake — despite the potential for leaving people shut out, this place is in the business of smiles.
Like the look on Emily Walker's face when she talks about making freshly baked bread and pastries each day.
Walker started working here five years ago when she and her husband moved to town from Kentucky. As of a year and a half ago, she owns the place.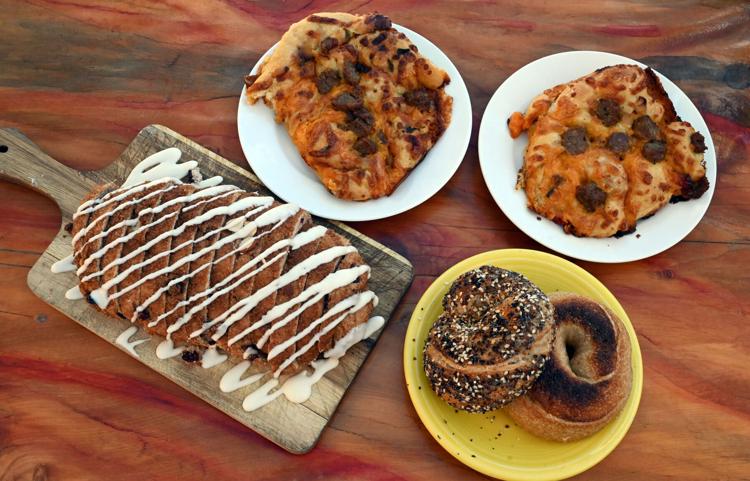 Even during a pandemic, the small bakery sees a steady stream of visitors each day looking for loaves of freshly baked bread, bagels or pastries. Walker has deemed indoor seating off-limits, so a couple of picnic tables are available outside. Even so, Walker sees the place as a "community hub."
"People come here and socialize," she said. "Usually, you're greeted with a smile and sample."
This is the latest life for Little Red Hen, which began eight years ago when its original owner sold piles of baguettes off a wooden cart at a local food mart. It evolved into a farmers market booth before the brick-and-mortar shop eventually opened its doors.
They make everything from scratch, down to milling their own flour, and source ingredients from around Colorado. Honey comes from the local Beekeeper's Honey Boutique. Butter comes from Sawatch Artisan Foods in Colorado Springs. Sausage comes from a farm in Monte Vista. Chiles come from Pueblo.
Walker says "our dedication to homemade" makes the bakery stand out.
"It's delicious for that reason," she said.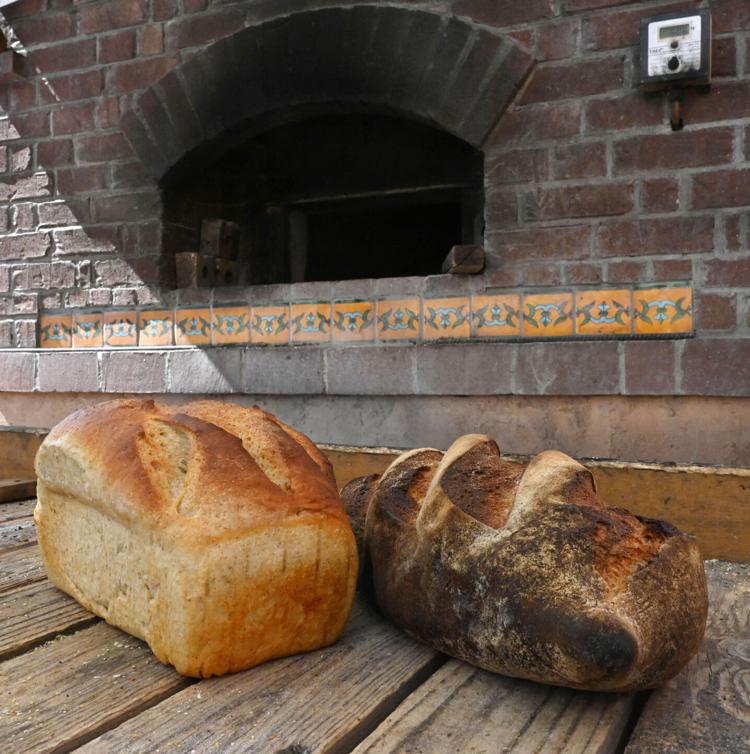 Each day brings a different something delicious. The menu offers rotating bread specials and goes back and forth each day between bagel sandwiches and savory spirals (think: cinnamon rolls but made with cheese and sausage rather than anything sweet).
"There's something about getting your hands in dough that you're making from scratch," she said. "We do everything the old fashioned way."
That means everything requires time. Making bagels, for example, is a three-day process. They're made with freshly milled rye flour, boiled with local honey and are baked in the Little Red Hen's outdoor wood-fired brick oven.
The oven itself is a talking point. It was built to retain residual heat even without an ongoing fire, meaning it's always boasting a temperature of around 300 degrees.
Bread is placed directly on the stone to create "an Old World flavor," says Walker.
Out of the oven comes the quality of bread you can't find just anywhere. Walker's favorites include ciabatta and focaccia and rustic sourdough. As it says on the menu, pre-orders are encouraged to get your fix.
The bakery always has something to snack on, but Walker and her staff often have to turn away walk-up customers looking for bagels. But that's the name of the game.
"We're kind of designed to sell out," she said. "We're not trying to have a ton left over, because the idea is for everything to be fresh."