Mangrove, screening now at the London Film Festival, is the essential film of the moment. One of five films 12 Years a Slave and Shame director Steve McQueen has made for the BBC and Amazon Prime Video, it tells the story of the Mangrove Nine, a group accused of riot and affray after protesting against the police that had repeatedly harassed those who met at the Mangrove Restaurant, a West Indian eatery in London's Notting Hill.
Systemic racism in the police, who harass Black people at an alarmingly higher rate than white people. After this year's Black Lives Matter protests, this has been seen as a mostly American problem. However, Britain has its own troubled history of police prejudice, one which is rarely taught in schools due to education departments being unwilling to truly delve into the country's unique history of colonialism and racism.
Steve McQueen is trying to change that with Mangrove, and his Small Axe series in general, which tries to tell stories of British Black history that outside of that community may have never heard before.
Mangrove, however, is far from a dull history lesson. As anyone who has seen McQueen's films or visual art knows, he is a master of telling huge stories (the Irish Troubles in Hunger, the slave trade in 12 Years) through small impactful details. A typical police raid, for example, is shown not through a wide, violent scene, but by a colander, rocking on the floor it has been knocked onto, alongside a dented can of beans. These are little details that only a video artist would pick up on, making the film feel visually different from any British historical TV drama before it.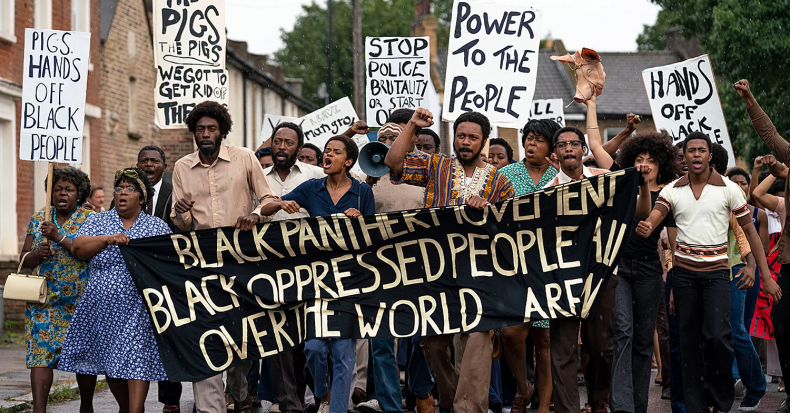 That is not to say, however, that McQueen does not care about the performances of his actors. The director, who managed to get two career-best performances out of Michael Fassbender, and helped Lupita Nyong'o win an Oscar, allows the whole cast moments to shine, with Black Panther's Letitia Wright as British Black Panther leader Altheia Jones-Lecointe and Shaun Parkes as the Mangrove Restaurant's conflicted owner Frank Crichlow particular highlights.
The first half of the two-hour movie shows the sustained racist police attacks that led to the protest at Mangrove's heart. Lesser directors would have focused simply on the horrors of the racism, but McQueen manages to show these Black lives in their totality, showing not just the pain of the Notting Hill community but also its joy. Jones-Lecointe is not just an angry militant, for example, but also a steel drum player in ecstatic carnival scenes. So when the jackboot of police oppression hits the community repeatedly, its shocking impact is all the more.
Some may disagree with the TV movie's depiction of the police as an entirely racist institution (whether in good faith or bad), but that is to miss the point. McQueen tells the story of the Mangrove restaurant from within the community around it, whose encounters with the police seem likely to have been wholly negative.
We do get one police officer who seems reticent to follow his co-worker's racist example, but McQueen wisely resists the temptation to make this character central as a lesser version of this story might have, arguing instead that it is a combination of prejudice and complicity that makes the Metropolitan Police, in this case, the scourge of the community around the Mangrove.
The second half of Mangrove turns courtroom drama, a genre beloved by directors as it gives them a formal structure that allows people to give big speeches without it feeling too forced. McQueen plays with the courtroom drama with stunning effect, by contrasting the impassioned patois of the Mangrove Nine with the stuffy formality of the courtroom. Again, it is the little details that stand out—a shot of Wright's character cross-examining a witness in front of a sea of white faces and wigs, for example.
Rest assured, however, courtroom drama fans; McQueen also takes an opportunity to show big speeches, with defendant Darcus Howe (Malachi Kirby) giving a speech that should be read forever at Black Lives Matter protests, calling time on racism and pointing out that every racist police officer whose racism is called out brings us closer to racial equality.
If the remaining four films are anything like the caliber of Mangrove, Michaela Coel might have some serious competition for the TV show of the year. And if British TV can keep making shows like this, we might stop losing all our best talent to America.
Mangrove is screening now at the London Film Festival. The film will air on BBC One in the U.K. and on Amazon Prime Video in the U.S. on November 20.