Welcome to the Brussels Edition, Bloomberg's daily briefing on what matters most in the heart of the European Union.
The EU already struck one landmark deal this year, propping up the region's economies in the face of an unprecedented recession. Today, the European Commission will outline its proposals for how to solve an altogether more protracted issue: migration. Not too long ago, the bloc's inability to manage an influx of refugees brought governments to the brink of collapse and tested adherence to common rules that are supposed to bind member states together. Today, the issue constrains the EU's room for maneuver in foreign policy and gives unwelcome ammunition to Turkey's president. Most governments on this aging continent continue to see migrants as a burden, so expect a long tussle over today's proposals about how to share it more equitably.
— John Ainger and Alexander Weber
What's Happening
Summit Delayed | European Council President Charles Michel postponed this week's leaders summit after he came in close contact with a security officer who tested positive for Covid-19. The meeting will now take place Oct. 1-2, allowing Michel to respect Belgian rules and go into quarantine. 
London Return | With tension over Brexit talks showing no sign of disappearing, chief negotiator Michel Barnier is back in London today to hold talks with his British counterparts. Both sides are trying to get things back on track before next week's full negotiating round.
Macron Shocker | French President Emmanuel Macron gave a grim description of international cooperation in a speech yesterday, including veiled attacks on the U.S. and China. The coronavirus pandemic must serve as an "electric shock" that wakes up the United Nations, he said.
Italy's Test | No Italian government has had as much cash at its disposal as Prime Minister Giuseppe Conte, enough possibly to transform the laggard economy. But if that hoard — bolstered by EU rescue funds and central bank-backed cheap borrowing — is spent unwisely, it could become the biggest missed opportunity of a generation.
Edgy Estonia | Russia's increased presence in Belarus, where it's helping Alexander Lukashenko retain power, is putting nearby countries on alert. One is Estonia, which like its Baltic neighbors has been edgy since Vladimir Putin swiped Crimea from Ukraine in 2014 and fomented a war on the two former allies' border.
In Case You Missed It
German Outlier | Angela Merkel is holding the line against security hawks in Berlin to prevent a formal ban on China's Huawei as negotiators finalize the rules for keeping Germany's fifth-generation wireless networks secure.
Gas Gang | Greece, Italy, Egypt, Israel and two other countries will form a permanent organization to promote cooperation over natural gas in the Eastern Mediterranean. Turkey, which has raised tensions by exploring in contested waters, is not as yet included. 
More Easing | The case for the European Central Bank to add monetary stimulus gained momentum, with Executive Board Member Fabio Panetta saying policy makers should err on the side of doing more to keep the rebound on track. The comments carry significant weight in the ECB's efforts to sustain the economic recovery from the coronavirus crisis.
Weather Forecast | December could usher in cooler temperatures across Europe, bucking a recent winter warming trend. That's the conclusion of seasonal forecasters at the EU's Copernicus Climate Change Service in their long-term weather outlook, which said that temperatures across most of Europe will hew closely to long-term averages. 
Chart of the Day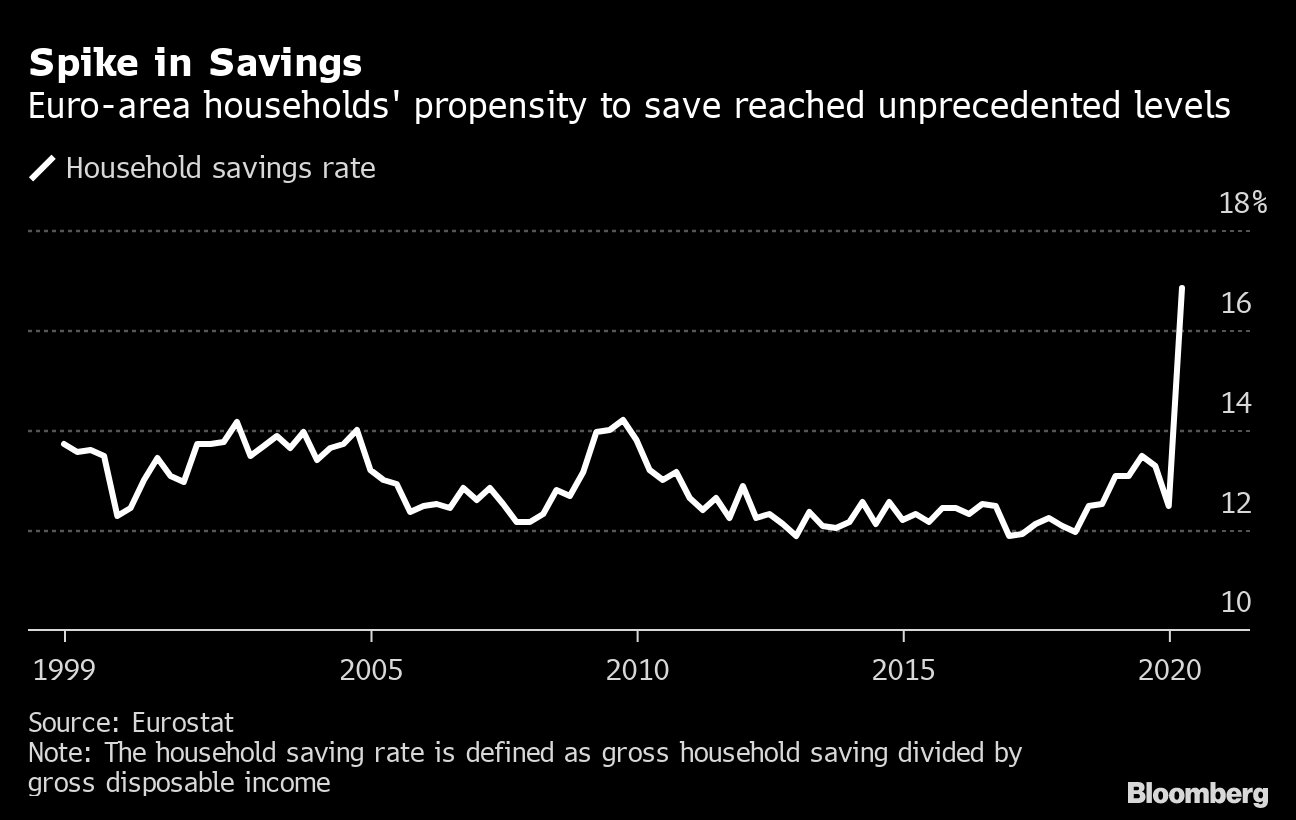 With economies in lockdown, consumers in the euro area were unable — rather than unwilling — to consume as normal in the first half of the year, the ECB said in its latest economic bulletin. While the figures suggest that people weren't necessarily holding on to cash for precautionary reasons, the ECB warned that could change.
Today's Agenda
All times CET.
11 a.m. The EU's lower court will rule on challenges over decisions by the Single Resolution Board regarding payment of contributions to the Single Resolution Fund for 2017
1 p.m. German Finance Minister Scholz to publish draft federal budget for 2021
Commission to unveil plan for overhaul of EU's migration management system
Commission discusses digital finance package, action plan for Capital Markets Union
Belgian National Security Council meeting
EU antitrust chief Margrethe Vestager speaks at the Ambrosetti Club on the bloc's post-pandemic competition and digital strategies
Start of three-day hearing in Luxembourg court fight by EIB against staffer over allegations he fraudulently claimed compensation and lied about witnessing a 2013 suicide inside the bank
Like the Brussels Edition?
Don't keep it to yourself. Colleagues and friends can sign up here. We also publish the Brexit Bulletin, a daily briefing on the latest on the U.K.'s departure from the EU. 
For even more: Subscribe to Bloomberg All Access for full global news coverage and two in-depth daily newsletters, The Bloomberg Open and The Bloomberg Close.
How are we doing? We want to hear what you think about this newsletter. Let our Brussels bureau chief know.
— With assistance by Nikos Chrysoloras, and Ian Wishart