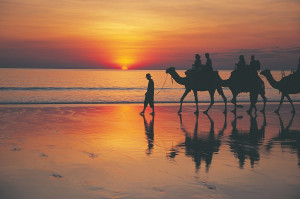 Broome, Western Australia © Tourism Western Australia
Australia, to international holidaymakers, is down there and, hopefully during the global pandemic, not forgotten.
And to make sure they keep Australia on a bucket list, Tourism Australia has released a series of immersive videos aimed at the international market.
The videos, using what is called 8D audio, are designed to keep future travellers dreaming of all of the experiences awaiting in Australia.
8D audio makes it seem like sounds are moving in a circle around your head, as if you're experiencing them firsthand.
The agencies behind the clips are Connecting Plots and Infinity Squared.
"At a time where people are craving travel experiences, but physically can't, we wanted to create the next best thing, a moment of escapism," says Tom Phillips, co-founder and managing director of Connecting Plots.
"The 8D audio effect mixes sound in a 360-degree space, creating an uncanny, experiential feeling of total immersion.
"We wanted to couple this effect with stunning visuals from around Australia to allow people to discover some of the many experiences available here for when travel inevitably opens up again."
Daniel Reisinger, film director at production company Infinity Squared, was challenged with restrictions on travel and shooting footage.
"So instead we opted to reach out to Australian content creators, drone photographers and the film community to source existing footage," he says.
"We married these visuals with stunning 8D soundscapes so that anyone, anywhere with access to headphones and the internet, could get a taster of some of the most amazing experiences Australia has to offer.
"This was the very definition of a passion project. Indulging my lifelong passions for wildlife photography and sharing the beauty of Australia."
The six videos take viewers on a sensory journey, immersing them in the unique sights, sounds and textures of iconic destinations such as Uluru, Sydney Opera House, Fraser Island and the Daintree.
The videos have each been themed by colour – blue, red, magenta, green, black and white – to evoke a range of feelings and emotions, and showcase the visual diversity and vibrancy found in Australia, and provide inspiration for future holiday plans.
"Now more than ever it is important as destination marketers to remind our target travellers of the kinds of experiences that make Australia such a desirable place to visit once travel resumes," says Susan Coghill, CMO of Tourism Australia.
"Whilst it is certainly trying times for so many people across the globe, we know that people will be seeking a mental break from the immediate crisis.
"Bringing them moments of creativity and inspiration with rich and engaging content, featuring our incredible tourism experiences during these difficult times, not only helps to build goodwill but also earns a space for Australia in the hearts and minds of consumers.
"Our 8D videos are about keeping Australia top of mind when people can't travel here so that we are at the top of their travel bucket list of places to visit in the future."
Have something to say on this? Share your views in the comments section below. Or if you have a news story or tip-off, drop us a line at [email protected]
Sign up to the AdNews newsletter, like us on Facebook or follow us on Twitter for breaking stories and campaigns throughout the day.