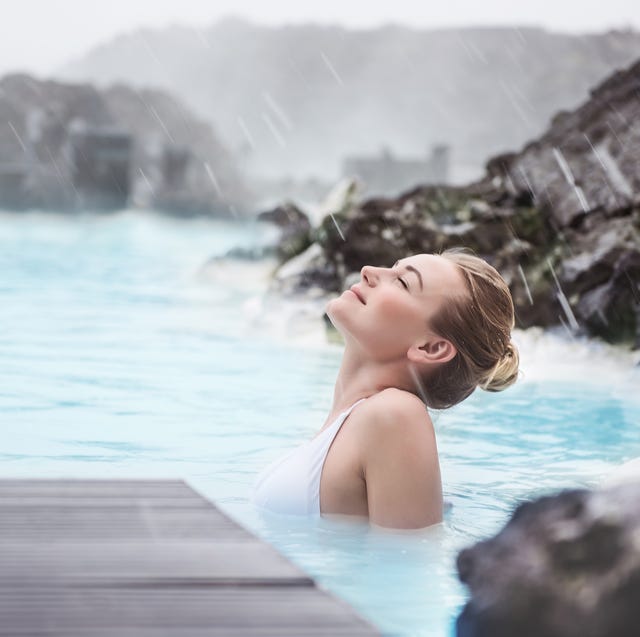 Stock image. Anna_Om
Health and wellness fads come and go (jazzercise and grapefruit diets are best left firmly in the 1980s), but the idea of wellness tourism, where we head off on holiday to focus on our health or wellbeing (or both), is showing no signs of slowing down.
In fact, in 2019 the Global Wellness Institute found that 936 million trips were made around the world for spas and wellness. Post-pandemic, rapid growth is predicted — and if all the new spa openings, wellbeing retreats, and popularity of dedicated health resorts are anything to go by, there'll be plenty to satisfy our wanderlust for wellness-based travel.
Frankly, we don't need much of an excuse to head out there in search of pampering, me-time experiences when it's all in the name of being good for us. And when there's always a new trend to try in the wellness sphere, it makes the idea of wellness tourism all the more irresistible.
With this in mind we're exploring the top wellness travel trends for the year ahead. From new ideas emerging like 'sober curious' travel, where we phase out booze to experience the world through an alcohol-free lens, to modern revitalisations of ancient practices like hammam and sound healing in beautiful corners of the world, there are many ways to put your mind and body at the forefront of your holiday this year.
Our focus on protecting and improving our mental health may have given rise to some of the more recent trends, such as meditative practices like forest bathing and drawing on the wisdom of ancient therapies, realising that our ancestors may have known more about prioritising mental health than they've been given credit for.
Others trends are based on modern science and nutrition research that's aimed at boosting our health by eating well. There are also cutting-edge retreats where diagnostics and blood tests track improvements throughout our stay in a less sinister version of Nine Perfect Strangers.
In the name of good health, take a look at the top wellness travel trends that are gaining pace and are here to stay for 2023 with ideas of how to incorporate them into your trips, whether you're eyeing a staycation or planning something a little more far-flung.
Advertisement – Continue Reading Below
The benefits of sound are already well known. You may already use sound to help you through your day, whether the soothing soundtracks that help you sleep or the upbeat music that gets you through your Monday morning workout. Wellness and hotel spas have long used music to set the perfect tone in their tranquil, restorative surroundings.
Sound healing, sound therapy, and sound bathing go further than simply being ambient, mood-boosting, or scene-setting noise. It's an ancient practice, and Buddhist monks have used Tibetan singing bowls in their meditation practices for centuries. It first trended in the western world in the 1990s, but it's a concept that's back on many spa menus around the world, where the combination of sound and vibration is said to help calm and focus us.
Try it in the UK
Ragdale Hall Spa in Leicestershire has a dedicated sound healing session that lasts 25 minutes. It starts with meditation and yoga breaths before some gentle body stretches. Then sounds are introduced, with the vibrations from Tibetan singing bowls said to reduce our stress, calm our nervous system and boost our immune system.
You can visit Ragdale Hall as part of Good Housekeeping's special two-night spa break, including full access to the spa facilities, studio classes and gym, plus all meals during your stay.
FIND OUT MORE
Try it in the Maldives
The Maldives' first truly dedicated wellness retreat, Joali Being, opened to much excitement in 2022. It's a place that takes its approach to health and wellbeing seriously, with a huge range of therapies on offer, from personalised nutrition to alternative healing treatments.
The sound bathing here consists of walking slowly along a jungle path with nine instruments creating different sounds and vibrations, ultimately leading to the resort's Sound Therapy Hall, where music and vibrations selected by a renowned sound healer are said to restore your inner balance.
BOOK A STAY
The sober curious movement is gaining momentum as more of us shun alcohol for better sleep, lower anxiety, heightened clarity, and improved health. Here at home, plenty more excellent alcohol-free wines are on the market to help make the switch, but is it an idea we can take on holiday with us too?
Often, travel features alcohol as part of the experience, such as beautiful and fabulous foodie holidays to Sicily and Crete, wine-themed cruises or simply just cocktails at golden hour. But there's a growing movement of trips designed around booze-free adventures — there are even dedicated alcohol-free tour operators.
Try it in Switzerland
The Grand Resort Bad Ragaz in Switzerland already has a stellar reputation for its approach to health and wellness. Its line-up of restaurants is seriously impressive too, and Verve by Sven makes things easy for teetotal foodies to enjoy a Michelin-starred dining experience with non-alcoholic drinks pairings.
There's also a dedicated water bar as part of the spa, with the chance to sample the local spring waters, wine-tasting style.
BOOK A STAY
Try it in the Caribbean
Board a wellness-focused cruise on the Emerald Azzurra as it explores Saint Vincent and the Grenadines. It's an itinerary designed for maximum relaxation, including sunrise and sunset yoga, Pilates on the beach, and meditations.
Plenty of healthy food options and a wide selection of non-alcoholic drinks are available onboard, so you can still enjoy a sundowner without the side effects of drinking alcohol.
FIND OUT MORE
Another accelerating trend is salt floats. Floatation tanks (filled with body temperature water and salts to aid buoyancy) are said to help us relax, improve sleep, and boost our general wellbeing.
Sometimes it can involve floating in an oversized bathtub with a lid – not ideal for those with claustrophobia – but you can leave the lid up and still realise the pain-relieving, endorphin-boosting benefits.
Try it in the UK
An increasing number of hotel spas feature floatation tanks, such as the beautiful Ockenden Manor, where you can try the experience alongside a wide selection of other more traditional spa treatments.
The Isopod floating tank at Ockenden Manor has a spaceship-style design and is a completely immersive experience where you can spend up to an hour in the pod, calming an overstimulated nervous system and restoring your body's chemical and metabolic balances.
READ OUR REVIEW AND BOOK
Try it in Jordan
Trace this trend back to its roots and visit the Dead Sea — the lowest place on earth has mineral-dense waters where you can effortlessly float on the Dead Sea in Jordan, with a wide-open sky above you and slather your skin in the natural mud.
You can visit Jordan on a memorable all-female Good Housekeeping holiday that departs in November 2023. You'll finish your journey through Jordan's cities and deserts in a four-star spa hotel on the shores of the Dead Sea with plenty of time to make the most of the health-boosting benefits of the warm water.
FIND OUT MORE
It's been around since the 1980s in Japan and we first talked about forest bathing back in 2021, but it's a trend that evolved into something that we do ourselves in our nearest patch of woodland, into a theme of our breaks away.
Forest bathing is all about immersing yourself in natural woodland, said to help lead to lower blood pressure and ease stress. The idea is to spend at least 30 minutes in a wooded space, breathing deeply, gazing skyward at the tree canopy and savouring the dappled sunlight meditatively.
Try it in the UK
If you're trying forest bathing for the first time, it can help to do it with an expert guide. Join a holistic therapist at Leonardslee Lakes & Gardens near Horsham for a slow guided stroll around a woodland trail where you'll learn sensory exercises to help you to calm your mind and learn how to be present in the moment.
After moments of reflection, there's plenty more to see and do here, including a sculpture park, vineyard, and Michelin-starred restaurant. Plus, the estate's 10 freshly renovated guest rooms are gorgeous sanctuaries to retreat to after meditative moments.
BOOK A STAY
Try it in Thailand
For something more exotic, you could try forest bathing in the rainforests of Thailand in the blissfully lush surroundings of Elephant Hills in Khao Sok National Park. Staying in a luxury tented camp (with a proper bed and hot water), you'll wake to birdsong – or perhaps the call of a macaque – and venture out on a canoe through mangrove channels.
The peace and tranquillity you'll find here is perfect for a spot of forest bathing.
FIND OUT MORE
The idea of digital detoxing has been around for a while now but shows no signs of slowing down as we all tune into how fixated we can get with our devices. There's been an increasing trend towards digital detoxing in travel, where we go on holiday to reconnect with our surroundings, consciously putting our phones away and experiencing being off-grid. How far you want to take this trend is down to you.
You could go all the way and check into one of the UK cabins by Unplugged, where you lock your phone away for the entire duration of your stay, or you could opt for something a little less extreme and simply make the conscious choice to set the 'do not disturb' on your phone and plan time away from screens.
Try it in the UK
The scenic surroundings of Talbooth Hotel & Spa in Essex inspired the painter Constable, so it's the perfect place to gaze forwards at the landscapes instead of down at a phone. Here, you can also indulge in Elemis spa treatments and let the hotel's courtesy transport take you to its sister restaurant a little further away.
With Good Housekeeping's special offer, you'll enjoy some lovely extras, including a glass of Moet on arrival and a complimentary Elemis gift worth £45.
FIND OUT MORE
Try it in Costa Rica
While many cruise ships have WiFi, taking a cruise holiday can be the perfect excuse to put your phone in the cabin safe and savour screen-free moments. On a cruise to Costa Rica, you'll find yourself deep in a rainforest or on a far-flung paradise beach.
Chances are, you may not have the optimum phone signal, making this destination the ultimate digital detox. If you're serious about a full digital detox, you'll have to think of another way to capture beautiful photographs than on your phone – time to invest in a new camera!
FIND OUT MORE
7
The return of the hammam
Spa trends come and go over the years, but the hammam has enjoyed a resurgence recently, incorporated into luxury hotels as part of lavish spa offerings from new openings from London to New York to the Cosmopolitan in Las Vegas and Faena in Miami. A hammam is a traditional steam bath followed by a black soap scrub, with roots tracing back over 2,000 years old when the Romans used them to relax and socialise.
It's a ritual that's said to help our respiratory health and give us a natural detox (thanks to sweating out our toxins), and it's still very much a way of life in Moroccan and Turkish culture.
Try it in the UK
Swanky London hotel, The Ned, has its own hammam available to its members and hotel guests. It's not just a case of plonking yourself in a fancy sauna — the hammam here is a six-stage process, starting with a foot cleanse and black soap wash, a kessa scrub and a hair cleanse, followed by a facial and an application of oil and pure shea butter.
Then, in a state of utter relaxation, you get to retreat to one of The Ned's gorgeous 1920s-style guest rooms.
BOOK A STAY
Try it in Morocco
Whisk away to where the hammam was created and visit Morocco. Spend three nights in a traditional Riad Almaha in the spice-scented city of Marrakech, with a beautifully tiled hammam for a truly authentic experience.
Indulge in a black soap scrub as part of the ritual and savour the moment of trying something local that's also utterly delightful.
FIND OUT MORE
Looking for more inspiration for your next holiday? Grab a cuppa and browse our brochure packed with unique escapes.
DOWNLOAD BROCHURE
Advertisement – Continue Reading Below