Flying bats, floating pumpkins and ghost bubbles! The Hands On Children's Museum (HOCM) Boo Bash is conjuring up 10 days of spooky fun October 23 – November 1 that the entire family will enjoy. COVID might be putting a damper on regular trick-or-treating, but HOCM has the perfect alternative that is safe, fun and full of spooky treats!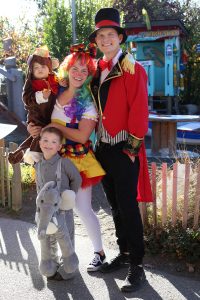 "We know this has been a tough year for everyone, but it's been especially difficult for young children who learn best through unstructured play and in-person interaction," said Patty Belmonte, Hands On Children's Museum CEO. "With many schools online and Halloween activities scaled back, we want to provide a safe way for families to learn together while celebrating the season."
Sponsored by Hanson Subaru, there will be plenty of Halloween delights every day of the Boo Bash. Families can get lost (and found!) in a straw bale maze, complete a scavenger hunt and play other ghostly games like spooky bean bag toss.
Hands-on activities treat kids to a ton of fun while learning about STEAM subjects. Kids can identify animal skeletons, learn how to silkscreen a bag, decorate a mini pumpkin to float it in the pumpkin regatta, make a flying bat and press apples into cider. "It is exciting to see the process of pressing cider – it takes a lot of apples to make one cup," shares Amanda Wilkening, art studio & visitor engagement manager at HOCM. "Kids can see apples ripening on our trees in the garden, learn apple facts and look at parts of apples under microscopes."
More spooky fun includes flying a friendly ghost in the airways maze, kids and adults alike will have fun with this activity! And what's a Halloween party without a black light? HOCM will have a black light room set up where kids can design with neon paints, markers and highlighters that will glow as they create.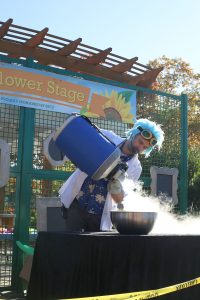 Dr. Science will be at the HOCM Boo Bash all 10 days, performing freaky experiments the whole family will enjoy watching. "he'll be rotating through several programs including Ghost Bubbles, Liquid Nitrogen, and the Exploding Pumpkin Heads," shares Amanda. You just might want to come on more than one day to watch his fun science.
On October 22, HOCM will be holding the Boo Bash Sensory Friendly event, for children with special needs. "We will be adjusting our activities based on the recommendations of our Sensory Friendly Program Coordinator, Lahela Peterson," says Amanda. "In some cases, that means having alternate versions of favorite activities that make them more accessible. Often it just means having a higher staff ratio and a much quieter building, with certain exhibit sounds or lights turned down or turned off. Lahela will be there as a resource for parents as well."
Everyone in the family in encouraged to dress up for Boo Bash! Make a lasting memory of your family in costume by stopping by the haunted photo booth. Please be sure all costumes are family-friend with no scary masks so that everyone can enjoy the day.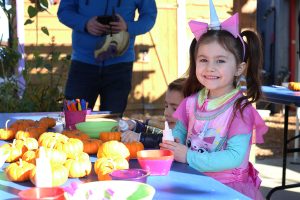 The Hands On Children's Museum has COVID-19 safety protocols in place to make sure everyone can enjoy the Boo Bash safely. There will be 3, 2-hour sessions a day, limited to 35 families for each session to help with social distancing. (This is a great time to visit the museum, with crowds being limited!) There will be a fourth session on weekend days. Masks are required for anyone over the age of five, and are strongly suggested for those between the ages of two and four.
"Every activity has a sanitation protocol based on the recommendations of our safety committee," explains Amanda. "Some items are sanitized after every use, some are rotated out to be sanitized later with fresh supplies brought in, either periodically during the session or at the session break. Often, we try to break things down into smaller portions, so they get used up during the activity. We've had a few months to practice how to keep the fun while reducing the amount of time supplies are handled!"
Online reservations are required. Reserve your tickets for all the spooky fun by visiting the HOCM Boo Bash ticket website. The Hands On Children's Museum has access programs to make it affordable to all. Sponsored by WSECU, Washington State EBT cardholders can receive two free admission tickets every day, and just $2 for each additional guest.
Put on your princess dress, pirate hat or fairy wings and head to the Hands On Children's Museum for a spooky, but not scary, family-friendly fun time. It's guaranteed to put a smile on your little pumpkin's face.
Sponsored