CHAPEL HILL, N.C. — North Carolina will be able to host fans in Kenan Stadium starting Saturday, Oct. 10 when Virginia Tech comes to Chapel Hill. The news comes after North Carolina Governor Roy Cooper announced that venues that seat at least 10,000 people can begin operating at seven percent capacity on Oct. 2, which is when his current executive order on coronavirus pandemic restrictions expires.
"We do believe that outdoor events are safer than indoor events," Cooper said in a news conference.
Seven percent of Kenan Stadium's capacity translates to roughly 3,570 fans.
"We are thrilled that we will be able to start welcoming spectators back to Kenan Stadium in October, and we are hopeful that the number of people allowed in our stadium will safely increase as Fall progresses," UNC Athletics Director Bubba Cunningham said in a release.
"We will be particularly excited to have parents and students back in our stands; they were certainly missed during our season opener. We are working with health experts and ou University on plans for seating, concessions, and continue communication of community standard, with the health of our student-athletes , coaches and staff, and community our top priority."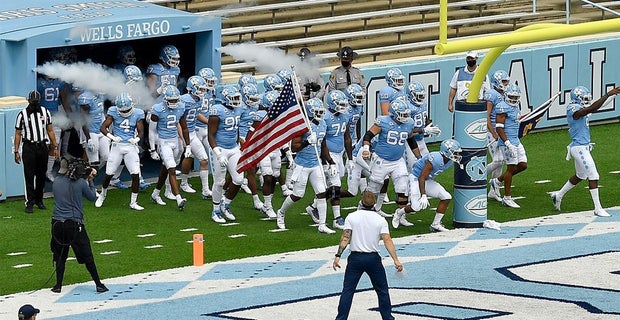 UNC was allowed to host the parents of senior players on the Sept. 12 matchup against Syracuse. Last week news broke that the Tar Heels and other schools in the state would be able to give each player on the team two tickets for parents and family members. In total, UNC would be allowed to give out 350 tickets — 250 for UNC players and 100 for the opposition.
But North Carolina's Sept. 19 game vs. Charlotte was canceled due to contract tracing and quarantining among the 49ers' program. The Tar Heels have been unable to find an opponent for this weekend, originally an open date for Carolina.
Leading up to UNC's opener head coach Mack Brown pushed for parents to be allowed to come watch their kids inside Kenan Stadium.
These parents need to be at that game," Brown said "… I've talked to so many of our parents and they've never missed a game. The players want their parents and the parents want to be in. The parents are going to come to town anyway. And they're going to be outside the stadium or having to try to find a place to watch it on TV. … this isn't a health issue."
North Carolina defeated Syracuse 31-6 on Sept. 21. With the cancellation of the Charlotte game, the Tar Heels will have 20 days before they take on Boston College in Chestnitt Hill on Oct. 3. In a zoom press conference on Tuesday with the media, Brown said that with the extra rime they are working on fundamentals and are doing a lot of scrimmahing and work with younger players to build depth. 
"What we told our players and coaches is let's just start the season over," Brown said. "Syracuse was a game; it's done. So we're two weeks out from the opener. Let's just go back and restart. And that's what we're trying to get their mentality to be."