As with other successful properties, such as Legacy West in Plano or Market Street in The Woodlands, the goal with North City is to create a mixed-use urban village, said Steve McKeever, owner of McKeever Companies.
McKeever, a Fort Worth native, is spearheading the 300-acre North City development at the intersection of I-35W and US 287 in one of the fastest-growing subdivisions in the country. North Fort Worth is "ripe" for this type of project, McKeever said.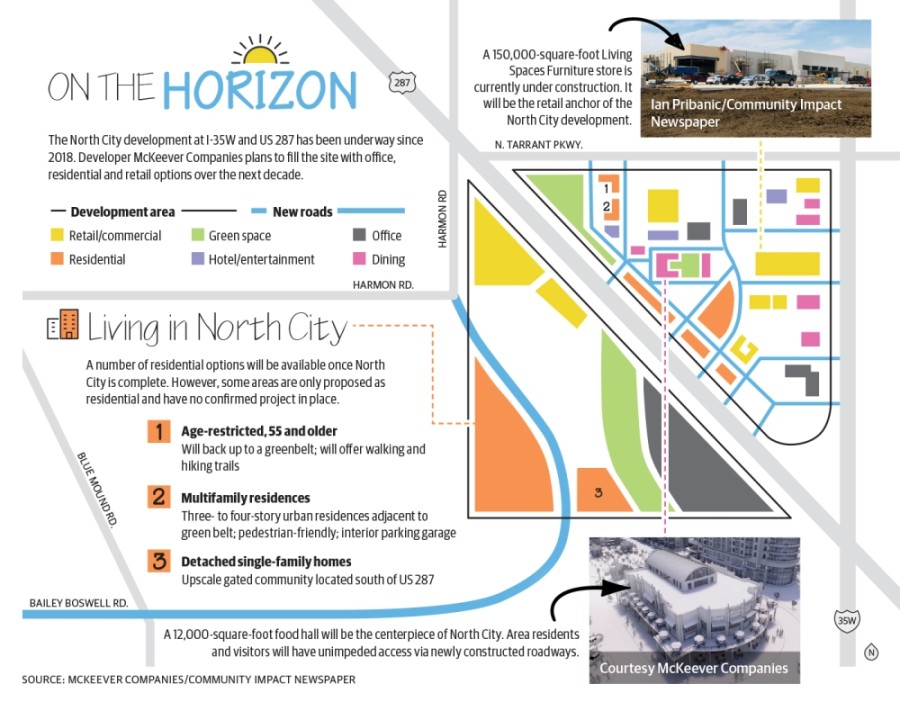 "The group developing it … We all want to do something that's good for Fort Worth," he said. "We want [people] to say, 'Let's go to North City.'"
With a $150 million investment already in place, McKeever and 32 partners from the Dallas-Fort Worth area are facing a number of challenges.
For one, to get quality retail options, projects of this size need "drivers," McKeever said.
"Street traffic, residential and office … The more of those you have, the more traffic you drive, and the more rent people can pay," he said.
To accomplish that goal, the first phase of the project is focusing on experiential retail. The northern portion of the site is anchored by a 150,000-square-foot Living Spaces Furniture store. A Schulman's Movie Bowl Grille has also committed to the site, McKeever said.
One setback caused by the coronavirus pandemic has been the exit from the project of at least 14 restaurant and retail brands, including well-known names, such as Lava Cantina, Yard House and Pappadeaux's. Those companies have hit the pause button for the time being, McKeever said.
"A lot of retail centers went above and beyond with restaurant concepts and entertainment venues, [such as] trampoline parks and indoor go-kart tracks, but those were the most impacted by COVID-19," said Max Schwartzstein, a commercial broker in the Fort Worth area.
Other drivers for North City will include music venues and outdoor entertainment, such as movies for children, McKeever said.
"We're not sure what the outlook is post-COVID-19," he said. "Stores are going smaller, but we've worked very hard and have been patient to be able to create an experience—not just a strip mall."
Part of the experience will be residential options, including active-lifestyle housing for residents age 55 and older. Other options include single-family homes and multifamily apartments, McKeever said.
"We want a place that businesses want to locate next to," he said.
The development is currently ahead of schedule on pedestrian-friendly, age-restricted and multifamily residences that will run along a greenbelt. Located west of Living Spaces and north of US 287, the three- and four-story buildings will each include an interior parking garage.
A 20-acre tract south of 287 is the site for single-family detached homes within a gated community. Currently in the engineering stages, the residential developments are expected to break ground in 2021.
Purchased in 2018, the entirety of the North City site is set to be developed throughout the next decade, McKeever said.
"The challenge for that is developing a site plan that allows the traffic to flow to and across to some of the residents that are already there," said Dennis Shingleton, the Fort Worth City Council member for District 9.
To alleviate congestion and help drive an estimated 2.5 million visitors per year, developers have proposed a number of new roads and extensions to existing roadways.
The current site plan for the development includes extending Tehama Ridge Parkway across North Tarrant Parkway and extending Bailey Boswell Road from Blue Mound Road to US 287.
Another ambitious aspect, McKeever said, is a possible six-lane bridge that will traverse 287 and connect North Tarrant to Bailey Boswell.
"You can't get the office without the urban village, and we think we can still pull this off," he said.