James McCormick spent 45 years working in the energy industry. Christopher Graham was a master technician at BMW. Claire Barnes enrolled at LSU, then decided she wanted a more personal college experience.
The three come from different paths, but they have one thing in common: They have all found belonging and purpose as students at FranU.
"A bigger campus was overwhelming for me," said Barnes, who began at LSU in 2016 as a microbiology major. "I really enjoy the smaller campus here. The class sizes are smaller, so I'm getting to know everybody. If I miss a class, I know I can reach out to a classmate or the professor to catch up. Sometimes, they'll reach out to me before I even ask them."
After transferring, Barnes began at FranU in fall 2018. She is now a biology major focusing on pre-professional human medicine.
"We also have microbiology classes, so I'm getting that as well," she said. "I'm getting to explore a lot about the human body, anatomy and physiology, which I really like. The professors know everybody's names and are very good about communicating with us. I feel more like an individual and not just a number."
Barnes has also found it easy to become involved in FranU campus activities. This year, she is the vice-president of the FranU Student Government Association. She said school leaders are great about spreading the word about events in multiple ways, including emails, posters and more.
"It's obviously been more difficult to have anything this year, but we're still working on ways to have events for the whole community and keep people involved," Barnes said. "That's a big part of life at FranU and it's something we want to keep going."
McCormick feels that same sense of camaraderie with the professors and fellow students in his Catholic theology and catechesis certificate program.
After working for decades as an employee and consultant for Shell, McCormick decided the time was right to pursue deeper studies about his Catholic faith. He briefly considered a graduate-level theology program in New Orleans. Then he met FranU's Sister Martha Ann Abshire at a local gathering.
"I made the connection that FranU is not just a nursing school anymore," he said. "I called up Dr. (David) Whidden in the theology department. He explained that this program is structured for laypeople looking to learn more about their Catholic faith. It's 24 hours of course credit over two years. It struck me as being the perfect deal."
McCormick has not been disappointed.
"Everyone has been amazingly warm and supportive," McCormick said. "It's an interesting blend when you have a class of mid-career or late-career diaconate candidates in the same room with 18- and 20-year-olds. It makes for wonderful conversations and a very rich experience."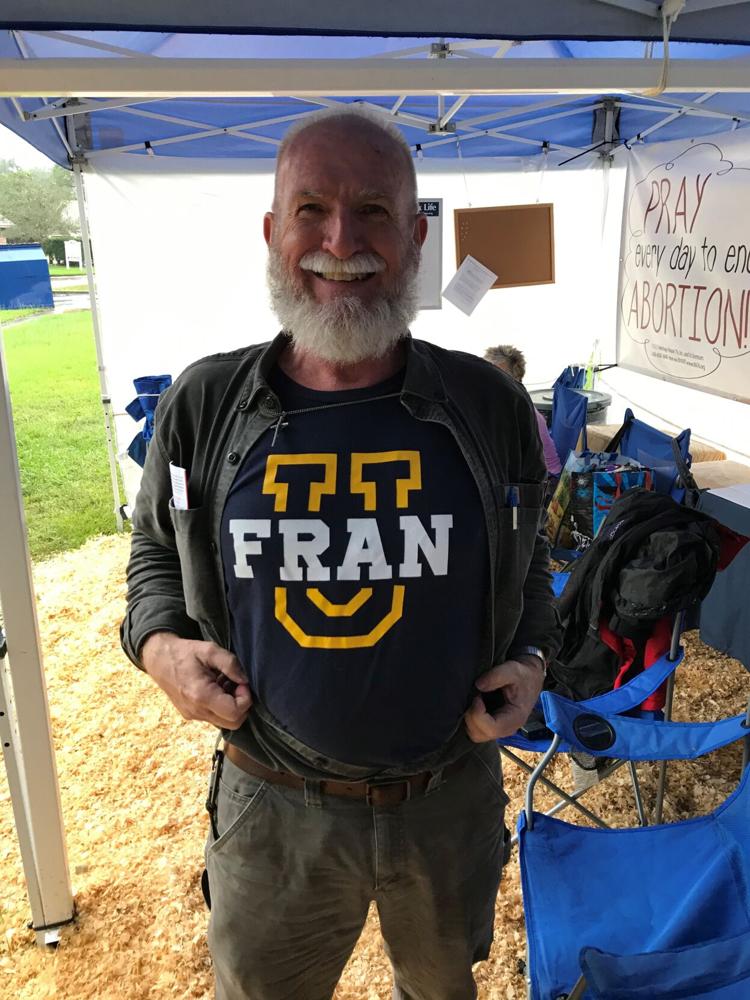 McCormick said he also appreciates hearing the perspectives from his classmates who are on different spiritual paths.
"What we hear during our class readings is slightly different because the Holy Spirit speaks to us individually," he said. "There are just so many opportunities for education in so many different ways."
As a teen, Graham wasn't sure how many educational opportunities he would have. Following his parents' divorce, Graham became homeless and dropped out of high school. He landed a job as a porter at BMW North America. His bosses noticed his mechanical talents, and Graham was eventually promoted to a technician. He later completed BMW's demanding in-house program and became a master technician.
The career was a good one and helped Graham support his wife and four sons. But he never forgot the calling of medicine that had been with him since he was a child.
"I had a first aid kit wherever I went," Graham said. "When I went to the store with my mother, I would always go to the medical section. I'd always have to grab a box of Bandaids or something like that. No one in my family was in medicine, but it was something I was always drawn to."
Graham had put those thoughts aside until 1989 when he met Dr. Arnold Feldman, an anesthesiologist. Feldman would bring his BMWs to the shop and insisted that Graham work on them. The two developed a friendship, and Feldman encouraged Graham to pursue his medical dreams.
"He kept telling me I needed to go to medical school or nursing school," Graham recalled. "He really sparked this interest in me that had been dormant for a long time, but that started coming back."
Once Graham decided he wanted to pursue his medical career, he thought about enrolling at Southeastern Louisiana University. His wife and many friends and family had had positive experiences there. But something compelled him to FranU.
"My own internal compass was pointing me in that direction," he said. "Some people doubted me, but I knew it was where I needed to be. I never doubted it. I loved the smaller classroom sizes. I was also able to be very active in things going on around the school. I was a magician and did magic shows at some events. I took some pictures for the yearbook. The teachers were amazing. They saw me working so hard and saw that I had a family, and they really helped keep me going."
That hard work paid off when Graham graduated in 1999 and received the Dr. John Beven Program Award, given to the nursing student "who most exemplifies the art and science of nursing."
These days, Graham is a psychiatric nurse with Amedisys, a job that he says he has fallen in love with. Two of his sons, Stefin and Justin, now attend FranU. Stefin graduated from FranU's nursing program in 2017 and is now working on his doctorate of nursing practice. Justin is in the FranU undergraduate nursing program.
"There are just good people at FranU," Graham said. "They really practice the Catholic faith and believe in their mission. I had such a great experience there and I'm proud that I'm still able to be part of it through two of my sons."